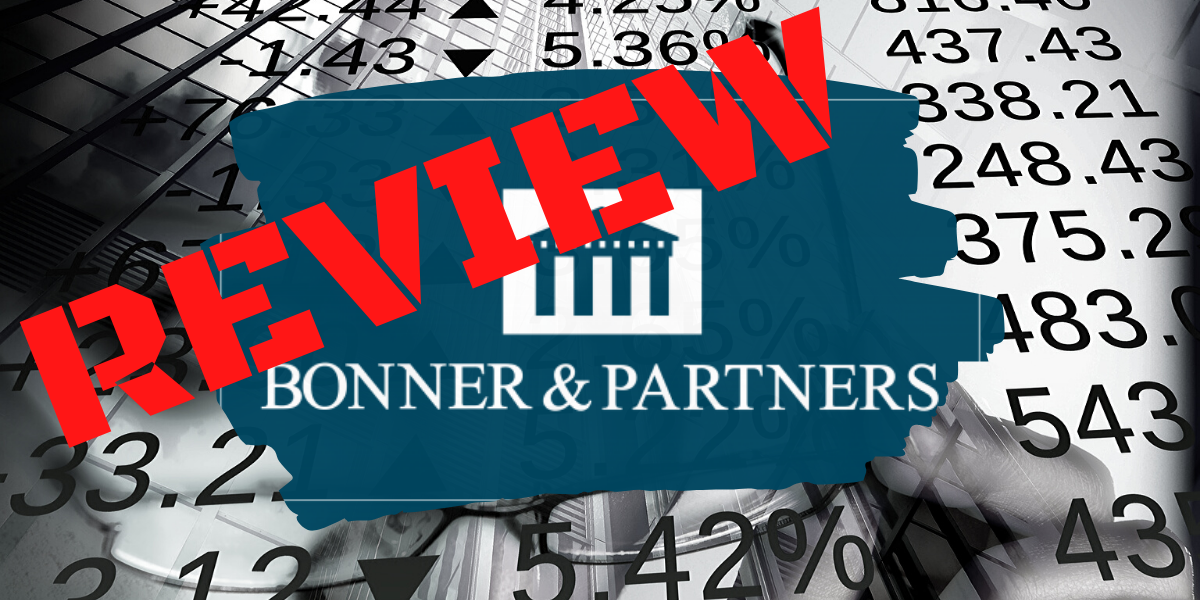 Bonner & Partners Review – Legit Investment Research?
Is Bonner & Partners a legit investment research company? Can you trust their recommendations? Are they a scam? Are their subscription services even worth it?
These are all important questions that should be answered before trusting your financial future to a company like this, and in this review we'll be looking into exactly this.
In this Bonner & Partners review post we'll be going over the different services the company provides, the experts on the team, track-records, complaints and more.
Let's begin with an overview...
Company Overview
Name: Bonner & Partners
Website: bonnerandpartners.com
Founder: Bill Bonner
Products: Financial & investment newsletters
What Is Bonner & Partners?
Bonner & Partners is a Baltimore, Maryland-based research firm that, in a nutshell, provides newsletter-based services that keep readers up-to-date with economic news, provide specific investment recommendations, analyses and more.
The company was founded in 2009, but has roots that trace back to 1978 with the founding of The Agora, by Bill Bonner. The Agora is a larger umbrella company in which many other investment-based research firms have been formed under, such as Agora Financial, Money Map Press, St. Paul Research, and others.
On the website's homepage it is started that Bonner & Partners is the "largest underground research network on the planet", but this seems to refer to The Agora company which B&P is under. This could very well be true, with The Agora being a "consortium" of more than 40 other businesses, B&P being just one of many.
Who's Behind It?
Bill Bonner is the founder and the guy who started it all. He is an expert in economic and financial matters, but doesn't actually provide specific investment recommendations... instead leaving this up to other members on the B&P team.
Besides writing for news outlets and popular financial websites like Forbes, Bonner has also co-authored three New York Times best-selling books, which include "Financial Reckoning Day: Surviving The Soft Depression of The 21st Century", "Empire of Debt", "Mobs, Messiahs and Markets", with his latest book being "A Modest Theory of Civilization: Win-Win or Lose", published in 2019.
He is the one who basically paved the path for the whole "investment newsletter" realm that is so popular online today.
*More info on the rest of the Bonner & Partners team in a bit
Other FAQ's
Yes. The company is registered in the US and provides legitimate subscription services.
They are a research company that provide newsletter services to subscribers. Some of these services simply provide high-level overviews of the economy and politics, while others provide specific investment recommendations and analyses.
Their track-record isn't all that transparent to the public, and it's always suggested that you do your own due diligence rather than just blindly following advice. Furthermore, they do not provide personalized or individualized investment advice and are not an investment advisor (we'll talk more about this).
No, refunds are not available, at least not in the traditional sense. More info on this later in the review.
No, Bonner & Partners is not BBB accredited. However, being accredited is far from being a tell-all sign of legitimacy, and this shouldn't deter potential subscribers.
Experts/Editors
All of the current experts/editors that provide newsletter services under the Bonner & Partners name include the following:
Bill Bonner - Founder of it all. As already discussed, Bill doesn't actually provide investment recommendations, instead providing insight into how financial markets really work, valuable investment strategies, information on where people go wrong with investing and more. He can best be described as a contrarian economist.
Jeff Brown - Jeff is a former high-technology executive with over 30 years of experience. He has an excellent track-record as an angel investor in tech startups and provides specific investment recommendations in the tech & biotech realm. Before providing any picks, he is known to travel around and gather first hand intel, by meeting with other tech executives, visiting suppliers, etc - and he has a lot of knowledge on what a good tech startup takes from his own experience developing and running such companies. It's also worth mentioning that he has a Bachelor's degree in Aeronautical and Astronautical engineering along with a Masters degree in Management, the major being corporate finance.
Dan Denning - Before joining the team at Bonner & Partners, Libertarian and global market analyst Dan Denning founded his own investment research firm called Southbank Investment Research, which is still in operation and is one of the leading research firms in the UK. He is also an author, having written The Bull Hunter in 2005, which has received some pretty good reviews on Amazon and is about investing in global markets.
Tom Dyson - Different from most on the list, Tom travels the world with his family, having been to North America, Europe, Africa, the Middle East, and Asia... all while writing for the Postcards from the Fringe newsletter. Before all this he used to be a banker and money manager in London.
As you can see, the expertise of these guys varies quite a bit, and accordingly the type of information they provide varies a lot in the different newsletters provided...
Products/Services
What they provide is newsletters at their core, with some of the premium publications also providing specific investment recommendations and whatnot.
Let's start with the free publications...
Free Services
Bill Bonner's Diary - In this daily newsletter service Bill Bonner provides ideas and insights into the worlds of business, politics, and the financial world, which are always pretty interesting through his contrarian eyes. This is a very broad-level newsletter, focusing on global economics. There are no specific investment recommendations given via this service, but Bill will share opportunities and markets that he is interested in and believes have potential.
The Bleeding Edge - If it's a basic overview of what's going on in the tech world and potentially good opportunities that you're looking for, then this might be for you. Here Jeff Brown provides high-level insights into the world of tech investing, which often provide glimpses into investment opportunities that are rarely talked about in the mainstream media.
Postcards From the Fringe - With an editor that travels the world with his family, here subscribers are provided with insight into markets and the global economy from someone who often has first-hand knowledge of what he's talking about. This newsletter is sent out every weekday and provides all sorts of various information, keeping readers on their toes.
Paid Services
The Bonner-Denning Letter ($199/yr) - This is yet another newsletter for those looking for contrarian insights into how the markets work, political, financial, and business. It's similar to Bill Bonner's Diary service, but provides more in-depth information as well as collaborative insight from Dan Denning. But don't expect any specific stock recommendations here... this is for those who just want to keep up-to-date on what's going on and where things are heading - on a macroeconomic level.

Editors: Bill Bonner, Dan Denning

The Near Future Report ($199/yr) - Headed by tech expert Jeff Brown, The Near Future Report is a tech investment advisory service focused on large-cap investments, leaning towards the less risky, but less-profitable side of things. Subscriber are provided with:

Monthly newsletters that give insider insights on current and developing trends in tech, such as 5G, AI, etc., as well as specific investment recommendations
Trade alerts with price instructions for buying/selling
Access to a model portfolio where recommendations' performance can be monitored and more
Editor: Jeff Brown

Exponential Tech Investor ($4,000/yr) - The focus here is on small & micro-cap tech companies that are positioned for "breakthrough growth" - specifically those that are dealing with new & cutting-edge technology that have the potential to double or triple in price within 18 months. Jeff Brown makes a lot of effort to find opportunities before they become mainstream. Subscribers are provided with:

Monthly newsletter issues that provide in-depth market analyses as well as specific investment recommendations
Trade alerts and updates on positions when necessary
Model portfolio access to view recommendations' performance
Editor: Jeff Brown

Early Stage Trader ($4,000/yr) - This is another premium investment advisory service by Jeff Brown that provides recommendations on tech stocks. What subscribers are provided with here consists of small tech stocks that can bring fast returns. Jeff is specifically looking for companies in their very early stages here, as the name of the newsletter suggests, which have potential for big growth. Subscribers get:

The "Early State Trader Manifesto", which is basically an introductory info packet that goes over how everything works, the strategy, etc.
Monthly newsletter issues that provide at least 1 new investment recommendation each as well as accompanying detailed breakdowns/analyses of the companies
Updates & alerts when it's time to make a trade
Model portfolio access to view the performance of recommendations and more
Editor: Jeff Brown
Costs & Refunds
As you have just seen, the price of a subscription can range from being free, all the way up to $4,000 per year. As you'd expect, the more expensive subscriptions provide more in-depth, more inside-type information, whereas the free newsletters, for example, just provide very broad, high-level overviews of what's going on - and the free newsletters are also used as a lure to bring in new subscribers, which will then be pushed to buy into their other paid newsletter services.
The Refund Policy Isn't Very Clear
In the refund policy, which is located in the Terms of Use page, things aren't made very clear. They state that you "may receive a refund of your subscription fee minus the equivalent of one-month pro-rated charge".
Okay, so you may get a refund if you request one within 30 days... but then again you may not.
After looking at the different paid services offered, it seems that NONE of them actually provide refunds. Instead, they provide a credit-back guarantee.
Not a money-back guarantee, but a credit-back guarantee. Their policy lasts for 90 days, and if a subscriber requests a refund within this time-frame they are able to receive credit towards another Bonner & Partners purchase.
Example: If you buy Early Stage trader for $4,000 and request a refund within 90 days, you will be given a $4,000 credit that you can use to spend on other subscriptions at Bonner & partners... NOT THE TYPE OF REFUND POLICY WE LIKE TO SEE!
That said, if you would like to cancel your subscription and receive credit, you can contact support at:
800-681-1765 (open Mon - Fri between 9am and 5pm)
services@bonnerandpartners.com
*Note: In the complaints section we'll go over how some subscribers have been able to actually get money-back refunds.
Track-Record
For the different services that do provide specific investment recommendations, there is no clear track-record/performance-record available to the public. Once a subscriber, one has access to the model portfolio where the performance of the recommended investments can be monitored, but not before buying in.
However, some of the services have received some fairly good independent reviews/ratings, many of which come from subscribers.
For example, The Near Future Report has a 3.3 out of 5 star rating on StockGumshoe with a number of positive reviews, such as this one from someone more than happy with his predictions of rallying stocks...
... as well as this one from someone claiming they "made more money than I [they] have lost"...
*Note: A rating above 3 is actually pretty good when it comes to these sorts of services.
Early State Trader has even better reviews, with a 4 out of 5 star rating on StockGumshoe and one subscriber claiming they have made good money following the recommendations...
But this still doesn't paint a very clear picture as to the overall performance of their services.
Of course in the promotional material their services seem like a sure-fire way to strike it rich, but as we'll see in this next section... things aren't very transparent...
Complaints & Concerns
1. Promotional Bombardment
Like most similar services out there, if you subscribe to any of this company's newsletters, or if they get ahold of your email address somehow, you will likely receive a lot of promotional emails, especially if it is one of the free or lower-cost newsletters offered. Upsells galore.
The subscriber review below states that "once you are on their email distribution list you can never leave"...
2. Lack of Transparency
Transparency is key for building trust. Unfortunately, just about every investment newsletter service lacks in this area.
One comment from a disgruntled subscriber to their Exponential Tech Investor service wrote that Jeff "removes his losing picks rather quickly while continuing to tout his winning picks"...
*Note: It's worth pointing out that there really aren't too many comments as negative as that shown above.
3. Misleading Marketing Material
The marketing material can be misleading, which goes hand-in-hand with what was shown above. Often times Bonner & Partners' services are promoted to seem as almost sure-fire ways to get rich, with big winners being touted and past losing recommendations being conveniently forgotten.
Not only that, but they often use the old "free report" promotional tactic where they lure in new subscribers with "free reports", but in order to get these reports one must subscribe to one of their paid (not free) services. A good example of this would be the "McCarthy Chip" teaser that was used to lure in subscribers to The Near Future Report.
4. No Refunds
As we went over, there aren't any refunds. Instead they just give out credit towards another purchase, which is just a way to keep from giving people their money back.
There have been some complaints from people subscribers who are upset with this, and many of whom seem to be unaware of the strange refund policy, such as that shown here...
*Note: Some subscribers have actually had success getting refunds by complaining through the BBB. You can leave a complaint with them if you'd like to attempt this.
5. No Pump & Dump Safeguard Policy
Now we certainly are NOT accusing them of any illegal activity, but we did notice that there isn't any sort of policy safeguarding against pump & dump activity, such as a policy restricting employees from purchasing recommendations before they are published to subscribers, which is something you sometimes see with other similar investment advisory services.
6. "Not An Investment Adviser".. ?
In their Terms of Use they state that they are "not an investment adviser"...
Now, this may be concerning, considering the fact that with some of their services they provide specific investment advice.
However, it's nothing to be concerned about. This is just a way for them to legally cover their a**es if & when a recommendation goes bad... so that they don't get sued. Just about every research company like this has a statement of this nature somewhere on their website.
Who It's Best For
Of course the target audience of the different newsletters available will differ because of how the focus of each newsletter differs.
With the newsletters that don't provide investment recommendations, but rather just provide insight into the markets - these are more suited for politically right-leaning individuals who are fans of contrarian viewpoints, as you will often hear from Bill Bonner and others on the team. For example, you might hear about the state of peril that the US is in because of economic trends, foreign policy and trade deficits, etc.
With the newsletters that do provide investment recommendations, there isn't going to be any political talk, and most are focused on tech trends and investing in companies that are in good positions to capitalize on future growth - that you often won't hear about in the mainstream media... so if you are into this sort of thing then they may be for you.
Pros v Cons
Pros
Nice variety of newsletters provided
Provide information, both stock picks and contrarian viewpoints, that you won't hear often
Some very knowledgeable and experienced members on the team
Service are good for keeping up-to-date on new opportunities
Cons
Refund policy isn't very good
Misleading promotions
Heavy on the promotional emails
Risk involved - as with any service that provides investment recommendations
Conclusion - Should You Subscribe?
Bonner & Partners is a legitimate company under the umbrella of The Agora, the largest independent publisher of financial information in the world. They provide a variety of newsletter services focused on different things and edited by different analysts/experts.
The company and services they provide are legitimate, but whether or not you should subscribe completely depends on what you are looking for. So it's not a question we can answer for you. Furthermore, since there is no clear track-record for their investment recommendation services, this makes the decision a bit tougher.
We hope you enjoyed the review and found it helpful. If you are looking for an investment advisory that we do recommend, and with a good track record, Stock Advisor is it.
Now it's your turn: Let us know what you think about Bonner & Partners in the comment section below...