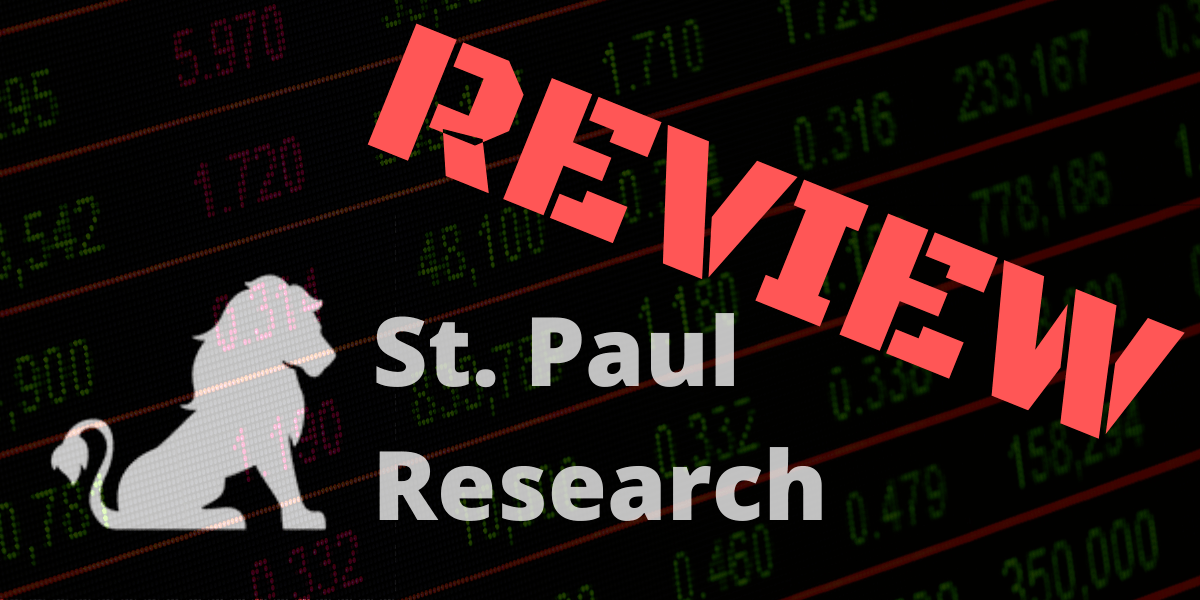 St. Paul Research – Scam or Legit Company? [REVIEW]
St. Paul Research's investment advisory services are always promoted as being some amazing new opportunity... but can you really trust this place? Is it a scam company?
These were the types of questions that came to mind and that I set out to answer after coming across some of the promotions for their various newsletters... and in this review I will be answering exactly this.
So, let's get to it...
Overview - What Is St. Paul Research?
Company: St. Paul Research
Type: Financial research firm
Website: stpaulresearch.com
Products/services: Investment newsletter subscriptions
St. Paul Research, in a nutshell, is an investment advisory firm that employees financial experts to provide investment advice via subscription publication services such as newsletters, very similar to The Oxford Club and Maulden Economics.
The company was founded in 2019 and is a franchise of Agora Financial, the much larger financial advisory firm.
The name, "St. Paul Research", likely comes from it's location, which is 808 St. Paul Street in Baltimore, Maryland... the same location as Agora Financial.
At this time they are not BBB accredited, but nothing should be assumed by this... although it would be nice to see.
Links:
Contact Information:
Phone: 1-844-370-6635
Email: feedback@stpaulresearch.com
Address: 808 St. Paul Street, Baltimore, MD, 21202
*Or you can submit a support ticket through their Contact Page.
Products
The core of what they offer are financial newsletters. These range in price greatly, some being completely free and others costing a couple grand per year to subscribe to.
No matter what your investment preference or situation you will likely be able to find a newsletter that at least somewhat fits your needs.
They employ a handful of analysts to run their newsletters, all of which have great backgrounds and seem well qualified... some with 25+ years of experience trading on the floor, others with experience managing multi-million dollar hedge funds, etc. A list of their advisors (analysts) can be found on their website here.
Paid Newsletters
42-Day Retirement Plan - The goal here is to help people achieve a good retirement in just 42 days. Subscribers are provided with quarterly reports of "retirement windows" that exist, which are hot investment opportunities.
Buyout Millionaire's Club - This subscription is all about helping subscribers get in on opportunities to capitalize on company mergers/acquisitions, which often send stocks soaring in price (the right stocks of course).
Contract Income Alert - This newsletter's focus is on bonds, and not just any bonds... but buying bonds at a discount.
Dollar Trade Club - Subscribers here get real-time market analysis, recommendations, and more from two of the analysts here. There is a focus on opportunities that aren't mainstream yet.

Editor: Alan Knuckman & Zach Scheidt

Family Wealth Circle - The models provided to members with this subscription are comprehensive for managing family investments. There are 3 different models provided to follow along with depending on your approach and situation.
Infinity Circle - Here you get information from the 3 professionals: Zach Scheidt, Alan Knuckman, and Beau Henderson. Everything from options trading to asset maximization is covered. Lots of variety here
Income On Demand - The strategy subscribers are guided through here is making money through options trading... and is advertised as selling options.
Lifetime Income Report - The focus here is on investing in good companies that pay good dividends. Information on tax reduction strategies is also provided so that subscribers can keep more of what they earn.
Lifetime Income Report Pro - This includes the Lifetime Income Report, plus members also get another level of service on top of that... focused on growing income, market trends and opportunities, and more.
The Profit Wire - The focus here is on how big news effects stock prices... and more importantly on investing in stocks before the big news hits the media. Dave Gonigam has spend decades running newsrooms for Fox, CBS, ABC, and NBC, and he is the man behind it all.
Strategic Retirement - Retirement Beau Henderson runs this newsletter which has the aim of helping retirees make the most of their money. Subscribers are kept up-to-date on laws/rules that can affect retirement as well as provided with information on ways to make more of what money they have.
Weekly Wealth Alert - If you're looking for recommendations to make fast money then this might be for you. The focus here is on providing subscribers with short-term option recommendations that expire in 2 weeks or less and have the potential for good profit.
Zach's Weekly Squawk Box - Subscribers to this get high-level information and recommendations weekly, as well as the ability to submit questions to the team.
Free Newsletters
The Daily Edge - This free newsletter provides subscribers with income opportunities of all sorts, such as retirement savings, investment opportunities, and profitable market ideas in general. It has a very broad focus.
Whiskey & Gunpowder - Here subscribers get market commentary that can be bold at times, and is said to not be politically correct, which most readers like. This newsletter was ran by Agora Financial for years but was discontinued... and now brought back in 2019.
Rich Retirement Letter - As the name suggests, this newsletter is all about retirement. The focus here is broad. Subscriber will get advice on everything from maximizing Social Security to finding purpose in life after retirement. Beau Henderson, certified success coach and financial advisor, is the editor.
Books & "Free" Ebooks
The editors working here at St. Paul Research have also written a number of books and "free" ebooks. These are often given away when you subscribe to certain newsletters and are used for advertising purposes.
Books:
The books, just like any book, can also be purchased independently.
Customized Social Security - Written by Beau Henderson, this book teaches readers what to avoid, what all benefits exist that they are entitled to, and provides plenty of examples, worksheets, and checklists. Maximizing Social Security is the goal.
30-Minute Retirement Guide - Zach Scheidt's book here goes hand-in-hand with his Contract Income Alert newsletter and is all about buying corporate bonds at low prices.
Congress' Secret $1.17 Trillion Giveaway - Here readers will learn about an opportunity to invest and make money that comes, largely, from legislation passed and amounts to over $1 trillion. Zach Scheidt is the author.
Bull Market Manifesto - Alan Knuckman and Zach Scheidt teamed up for this book. 41 trading secrets are provided that they claim you won't hear from the media.
Big Book of Income - Yet another book by Zach Scheidt, the Big Book of Income was written to help retirees collect passive income to cover the rising costs of living.
Ebooks:
The ebooks are almost advertised as being "free", yet are only given out when people subscribe to paid newsletters. These cover all sorts of various opportunities and are used to bring in new subscribers from different marketing angles.
Some (of many) include:
Seven-Day Weed Contracts: How to Get Rich as America Goes Green (review here)
The Blockchain Revolution
The Ultimate Retirement Loophole
How to Double Your Income During Trading Windows
Recommendation Performance
As a provider of investment advice one of the most important questions you can ask is: "how well does their advice perform?"
Sure, in the promotional material you are always shown winning trades and great predictions, but how often does this actually happen?
There really isn't much information to go off of here because St. Paul Research does not make their recommended portfolio histories available to the public, but here is some of what we do know:
And there are a number of performance complaints with the BBB about newsletter services that have been offered by Agora Financial and are offered by St. Paul Research now too...
You can also find reviews on Trustpilot that don't have the best things to say when it comes to the recommended investments...
That said, there are people who are more than happy with the recommendations provided and the advice given... and you also have to take into account these two factors:
People are much more likely to be vocal with complaints and negative opinions than they are if they'd had a positive experience.
Not all trades are winners and many people probably join, lose a trade or two, and then give up and complain.
I wish there was more clear information I could provide here but there isn't.
Complaints
Because St. Paul Research is so new there aren't really any complaints about the services provided.
However, we know that this company is under the umbrella of Agora Financial and some of their newsletters carried over to the new company... which have complaints about investment performance as I just went over above.
The more common complaint, however, seems to stem from the deceptive marketing practices that the companies employ, which often lures in new subscribers in misleading ways.
There also seem to be some people who have had trouble getting refunds through Agora and there is no good reason to doubt that it won't be the same for St. Paul Research.
Note: A lot of people do get refunds though, as they should. It seems that if you submit a complaint to the BBB you are pretty much guaranteed to get a refund.
Concerns
They Don't Provide Investment Advice...?
On their Terms & Conditions page they clearly state that the "content in our publications is for general information only and is not intended to be relied upon by users in making (or not making) specific investment decisions".
Now this may come as a surprise... after all, some of their newsletters provide specific investment recommendations.
However, it is common and necessary to see a statement like this from investment advisories. The fact of the matter is that they don't know anyone's personal situations and no one is going to have a 100% success rate... so they have to cover their butts legally.
Is St. Paul Research a Scam?
The only reason I feel the need to answer this question is because I know a lot of people are asking... and the answer is No, St. Paul Research is not a scam.
Just like their parent company Agora Financial, St. Paul Research uses somewhat misleading ways of advertising new opportunities to lure in new subscribers... which is the main reason people call them a scam. However, they are not and what they provide does have real value... although those that have been mislead into subscribing may feel a certain way about things.
The bottom line is this: their marketing is over-the-top and over-hyped... but... they do have highly qualified market analyst professionals working for them that do provide quality advice.
Pros v Cons
Pros
Subscribers can follow along and ultimately make professional trades without having any experience (not with all of the newsletters offered, but with many)
Simple layout that is easy to follow - often the newsletters consist of 1) a monthly in-depth newsletter, 2) weekly updates, and 3) trade alerts to let subscribers know when to buy/sell.
Advisors/editors have good backgrounds and are highly qualified
Allow refunds if customers aren't happy
Cons
Misleading ads (teasers)
Prices can be very high
Getting refunds may be difficult
Risk involved (as with any investment opportunity) - some people lose money
Conclusion
Okay, so let's do a quick recap here:
St. Paul Research is a franchise of Agora Financial.
Many of Agora's newsletter services and editors have moved over to St. Paul Research.
The core of what they provide is newsletter, which are usually structured so that subscribers can follow along with recommended investments that the analysts make.
The performance of investment recommendations seems to be spotty. There are quite a few complaints from newsletter subscribers, but you have to take these with a grain of salt at times because of how people are more likely to leave reviews of negative experiences rather than positive.
Hopefully this review gives you a more clear picture of what exactly St. Paul Research is and whether or not you can trust them.
They definitely aren't a scam, but don't fall for the marketing hype of how you will be able to make this amount of money in this amount of time. And... or course... never invest more money than you can afford to lose. There is definitely risk involved with the recommendations made to subscribers, as there is with any investment opportunity.
Please leave any comments or questions below. I like to hear back from my readers 🙂
Before you leave: Feel free to check out my review of Stock Advisor, which is one of the very few investment advisory services that I actually recommend.
Also, if you are looking for a different kind of income opportunity you can look at this program I've been using since 2015 to earn passive income online... it's something you might be interested in (but has nothing to do with investing by the way). And also feel free to check out my top income ideas for a list.