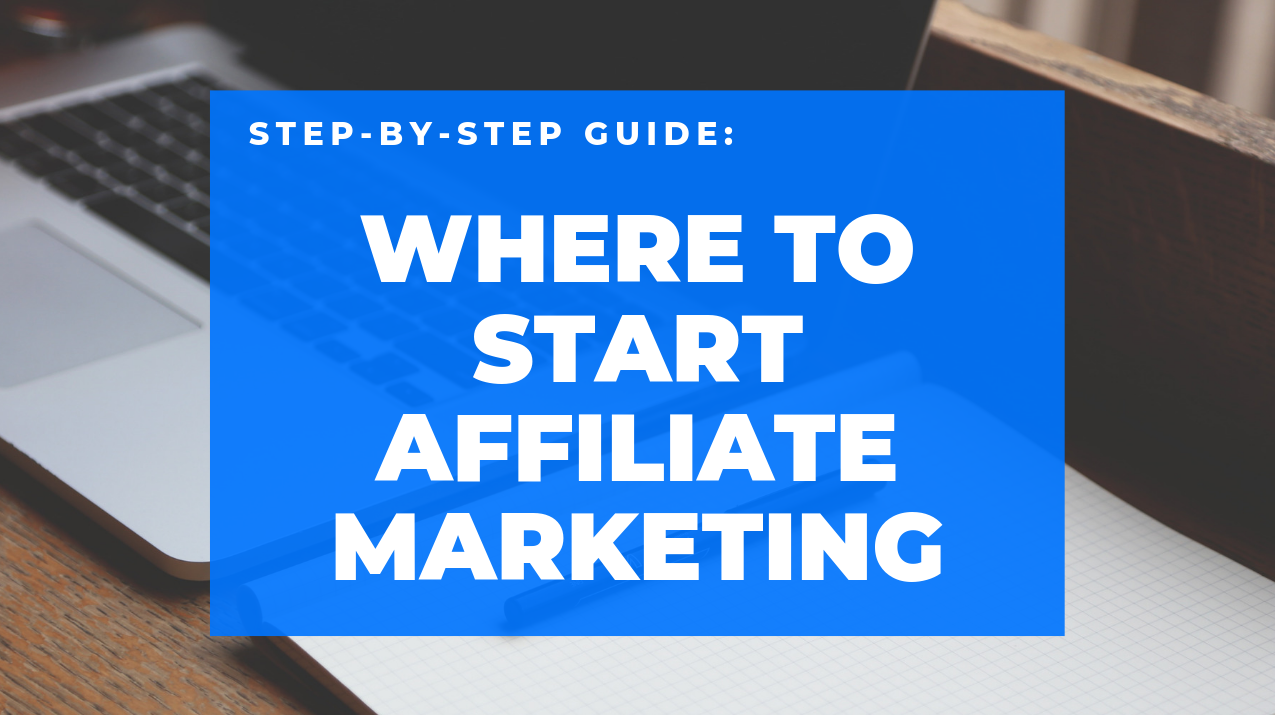 Where to Start Affiliate Marketing – Step by Step Guide
If you are looking to start affiliate marketing you have a big choice to make... Where to start!???
There are lots of options to choose, and unfortunately they are not all equal. While one option might be good for one person another option might be better for the next. 
In this article I'll be going over the main choices you have at hand, what might be better for some people and what is my recommendation for the majority of those looking into this.
It's not a secret that most people who get involved in affiliate marketing fail. I don't have any statistics to base this statement off of, but having been involved in affiliate marketing since 2015 I know this to be the truth.
There are a lot of bad choices you can potentially make that will end up being nothing more than a waste of time. And worse yet, there are so many scams plaguing the online money making world that you could also potentially fall victim to one of these.
It's no wonder you are looking for good information on where to get started affiliate marketing. This is something everyone should do.
Should you create a website, market affiliate products on social media, post links in some forum, start a Youtube channel, get involved in email marketing? 
We'll get into all of this, but first let's briefly go over what exactly affiliate marketing is.
Affiliate marketing in a nutshell
Affiliate marketing is when you sell other people's stuff and earn commissions doing so. Well, you aren't actually 'selling'. You are just promoting products online and earn commissions when you help make a sale.
Here's how it works:
You promote a product you like with your unique affiliate link
Someone clicks on your link and is directed to the seller's website, such as Amazon for example
They purchase the awesome squeaky dog toy you were promoting
You get paid a commission for helping make that sale
It's a rather simple business model and is easy to get started with, which is why it is a popular choice among people looking to make money online. Not only that, but it also requires little to no startup cost.
Sound like what you thought it was and are you still interested? 
Let's discuss your options...
Different Options
*You can jump to the next section titled "the best route to take" if you want to know your best option.
5. Social Media
One of the easiest ways to start affiliate marketing is to promote products through social media outlets like Twitter, Facebook and Instagram -- although not the most effective for most.
Most people have personal Facebook pages and you can promote any sort of affiliate product you would like to. But, it's within the best practices to not be overly "salesy". No one is going to click on an affiliate link that is being pushed down their throat.
Be helpful and place your affiliate links naturally. 
Facebook Groups and Pages:
If you don't want to promote on your personal Facebook page you can also go the route of posting in groups or even on a branded page. I'm sure not everyone wants to annoy their friends with product promotions. And besides, most people don't have a massive social media following that is going to lead to much success, which would make this option not a very good choice.
If you were to create a Facebook Page this would be more for keeping your audience updated on your brand. And you don't have to have a company to create a page like this. You could create a page centered around funny cat videos and call it Daily Dose of Cats (probably already taken). If you did this you could attract followers by a variety of different means and subtly promote cat products.
Groups are more for interaction, which makes complete sense. Your options here are to simply join a Facebook group that has to do with a topic you like (there are groups for everything: hiking, makeup, pets, gadgets, and probably even belly dancing) and promote products within it. HOWEVER, you have to be careful with this because it is an easy way to get kicked out. If there is a topic you have a lot of enthusiasm over you may want to think about creating your own group. This way you make the roles.
4. Youtube
Youtube is so big that it get's its own little section in my article. And besides, it doesn't really fully fall into the social media category, although some people consider it social media.
Affiliate marketing via Youtube can be very effective. When it comes to purchasing products online there is a problem... You can't feel and touch the products! But watching a video about a product can really help. Not only that, but people are more willing to trust someone who they can see and hear rather than just read what someone wrote.
In fact, there is a good chance you looked up where you should start affiliate marketing on Youtube to begin with.
But there is a problem. The problem is that this just isn't meant for everyone, which is the reason I don't have a Youtube channel where I broadcast my face everywhere and promote affiliate products. Not everyone wants to get behind a camera or a on a webcam.
However, if you do there is certainly plenty of potential. The highest paid Youtuber of 2018 was a 7 year old who brought in $22 million. His channel is called Ryan Toys Review and although much of his income nowadays comes from exclusive deals he (his parents) makes with big companies, affiliate marketing no doubt contributes to some of this figure.
Strategy:
One of the easiest ways to go about affiliate marketing on Youtube would be to do product reviews. It is pretty straightforward -- you review a product and include an affiliate link so that people can purchase it below the video. You see this kind of thing all the time.
You could also choose other ways to market products. For example you could do a "how to" video on hitting a baseball and promote some product that is supposed to help with this.
Advice:
If you do go the Youtube route try to remain as relaxed as possible and speak in a conversational tone, as if you are talking directly to someone. This can be difficult at first but you will get better.
3. Forums (Reddit)
Yes, that is a post about two cats fighting pictured above. More cats on the internet... Of course.
But anyways... Another option you have is to do affiliate marketing on forums like Reddit. This would be similar to doing it within a Facebook group, since online forums are places where people share their ideas and views. 
It's another free way to do affiliate marketing but of course it isn't nearly as easy as it may seem.
You can't just go around posting affiliate links. They will be marked as spam and your account will be banned. Subreddit moderators have the most leeway when it comes to posting links like this but even they can't go crazy doing it.
It is also "frowned upon" to do too much self promotion. So if you are planning on linking a bunch to your own website or Youtube channel, which then promotes a product, that isn't a good idea UNLESS you are providing helpful content. But as a general rule of thumb it is stated that 10% or less of your reddit postings should have self promotion.
According to a quote on reddit:
"It's perfectly fine to be a redditor with a website, it's not okay to be a website with a reddit account." - Confucius
Ya... apparently Confucius said that... lol.
If you are going to pair affiliate marketing with Reddit, it is best to do indirect affiliate marketing which would be when you link to your own website or something, as discussed above. Just be sure not to overdue it and be helpful. It's all about being helpful.
2. Email Marketing
I'm sure we've all gotten emails at one point or another that were promoting products -- as in affiliate marketing. Many promotional emails frustrate us to no end and often are deleted without even being opened. 
However, email marketing in conjunction with affiliate marketing is yet another path one could take. It's pretty self explanatory -- you send out emails with affiliate links in them to your subscriber base. And of course you don't want to bombard people with promotions. Always focus on helping and providing value first.
The problem: Most people looking into affiliate marketing are just getting started and don't have an email list, which is a list of email subscribers you can blast emails out to with an autoresponder like Aweber or Getresponse. It's true that you could buy one but this would require a fair cost and if you don't have experience in email marketing it likely isn't going to turn out too good.
Having been involved in affiliate marketing myself for years now, I've seen many people really ramp up their affiliate earnings when they started to incorporate email marketing into their daily work routine.
Again, this is not going to be a starting point for most people, but it is an option that is worth mentioning -- and it's an option that you can actually mesh together with having your own website, which I'll talk about now...
1. Website

*
Number 1 on the list is affiliate marketing with your own website. This is pretty much a requirement if you want to be successful unless you have some massive Facebook following or Youtube subscriber base, which most of us do not.
The idea is simple: You create a website, attract visitors to it and promote affiliate products. But of course it is a bit more complicated than that, as I will get into.
The Best Route to Take
As mentioned, creating your own website and affiliate marketing from there is what I would suggest for the majority of people out there. In fact, even if you do have a lot of followers on Facebook or a big Youtube subscriber base, I would still recommend it.
Lots of upsides to having your own site
There are a lot of upsides to having your own website. 
First off... A lot of affiliate programs actually require that you have a website before you are approved. So in some cases this is a must. 
Second, you have total control over your site and what you promote. Unlike promoting on Youtube, Facebook and on forums, you don't have to follow a bunch of guidelines. It is your website and you own it.
You can make your website as spammy with affiliate links as you want to -- although this is definitely not suggested because it likely will not convert well.
A Website is the cornerstone of online business
It all starts with a good website. Even if you have a big Youtube channel or Facebook following you can promote to, having your own site and promoting it can be a gamechanger. This is why you see so many social media icons and Youtubers with their own sites nowadays.
With a website you can...

Get free traffic from Google, Bing and Yahoo
Promote a Facebook page or vice versa
Get traffic from a Youtube channel if you have one
Get people to sign up for an email list and then do email marketing
Monetize traffic in other ways such as with banner ads
There is a lot you can do.
How It All Works: