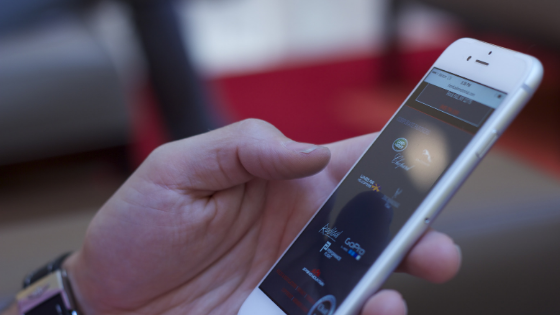 45 of the Best Apps for Making Money 2019
There has never been a time where you could earn money in so many ways with your phone.
No matter if you are looking for just a couple extra bucks a day or a part-time to full-time income, there is an app for that.
Below I've compiled a list of 45 of the best apps for making money in 2019. Many of them I have personally used while others I have know to be good from friends and independent research.
So without further ado, let's dive into this...
Feel Free to Jump Right to Apps That Pay You In The Following Areas..
List of 45 Awesome Apps for Making Money
You ready? Let's begin with apps that can make you money and full under the category of shopping...
Shopping..
Cashback
1) Ibotta is easily one of my favorite cashback apps. They used to mainly provide cashback on grocery items and normal shopping but have since expanded to reward users for paying from hotels, travel and much more.
So get some money back on that half gallon of skim milk you've been buying weekly, or maybe on the next Uber ride you have to catch--all it takes is uploading a receipt or linking a loyalty card. Ibotta gives cashback with purchases of over 300 brands/companies--and you can get that cashback in gift cards and PayPal cash.
2) DOSH is another great app for getting cashback and might be preferable to some. With DOSH you simply connect your credit card to the app and then go about your merry way. When you spend money at any of the 1000's of stores/restaurants they are partnered with--you can earn up to 10% back!
3) Ebates is easily one of the most well-known of these types of apps, but for some reason I would go with either of those mentioned above first--not that this app is any worse than the rest.
They are partnered with over 2,500 stores to help you get that hard earned money back. In addition to cashback, you can also get coupons and promo codes with Ebates--and be alerted on sales.
I used 4) Checkout 51 years ago but have since stopped, not because it wasn't good, but just because I started using Ibotta more. Anyhow, Checkout 51 is very popular--and is even advertised on the shopping carts at my local Giant Eagle (a grocery store in my area).
With Checkout 51 you can get coupons to save before you head to the store and then use the app to get cashback when you shop--pretty nifty.
5) GetUpside is an app that I think everyone should have on their phones--it helps you get cashback at the fuel pump--which unfortunately takes a good chunk of our paychecks.
It's pretty simple--the app shows you gas stations nearby where you can get cashback, you fill up your tank, upload your receipt and that's that.
As I'm writing this I am able to save $0.57/gal at a local BP gas station near me!
Another good app for cashback--that works differently from most--is 6) Shopkick. With this app you can earn "kicks" to go into stores, scan barcodes of items on your phone, purchase products with a linked card and upload your receipt. Viewing online products can also earn you kicks--which by the way can be redeemed for gift cards.
Coupons
7) Swoup, while not technically an app that makes you money, does save you money while out shopping so I thought I'd include it too. This is a coupon app (but not your typical one) that allows you to browse through coupons, save them, and then when you shop the discounts will be automatically applied if you use your linked card.
Swoup does a good job at learning your preferences and showing you offers that you are likely to be interested in.
Mystery Shopping
Have you ever wanted to "mystery" shop? Sounds mysterious and fun, does it not?
The 8) Mobee app makes mystery shopping something easy to get involved with. Instead of having to go through some hiring process or applying for a mystery shopping position, you just get the free app. You will be able to choose "missions" in your area that you can complete and answer questions about--then submit them for review and be rewarded.
Shop for Someone
9) Instacart pays you to buy groceries for people. When people are lazy or can't get to the store for some reason, they post the task on Instacart and you can pick it up to make some extra cash.
So next time you are at the store, maybe you want to consider picking up some groceries for a stranger and getting paid for it.
Paid to stay in shape..
Did you know that there are apps that will pay you to stay in shape--or get in shape?
10) HealthyWage has an app that is actually supported by the government to help get the population in shape.
With this app you can potentially win up to $10,000. How it works is you set a weight loss goal and pay a monthly amount for the duration of your challenge--and if you meet your goal you have the potential to win big.
Pretty cool right?
11) Sweatcoin is another app that will pay you to stay in shape but this one works completely differently. With Sweatcoin you get paid for taking steps. For each step you take you earn 0.95 Sweatcoins which can later be redeemed for cash, fitness gear, donated to charity and more.
You can simply have this app running in the background of your phone throughout the day to calculate your steps or you can connect it to a Fitbit or Apple watch.
Investing..
If you are into investing and would like a super easy way to make money with it, then 12) Acorns is an app you should seriously consider. What this app does is 'scrapes' your purchases to the nearest dollar and invests that money for you in an ETF.
You hook it up to your card, and when you spend $17.47 at the grocery store, it rounds it up to $18 (the nearest dollar amount) and the $0.57 extra gets invested. Additionally you can choose to invest extra money or increase the amount of money invested per purchase.
Paid to take pictures..
13) Foap is perfect if you like to take pictures--and if you want to make money for taking those pictures--assuming that you have a smarphone that takes good pictures.
When you take pictures and put them on Foap, they are available for brands and agencies to purchase--and each time a picture of yours gets purchased you earn $5 (pictures can be sold unlimited times). They also have "missions" available where users are given the task of taking pictures of specific scenes, items, etc. where you can win up to $100.
Another good app for all the smartphone photographers out there is 14) Snapwire. This app is very similar to Foap but places more emphasis on challenges. You can get exclusive access to paid photo requests in addition to uploading photos to your portfolio that are available for sale at any time. The longer you stick around and the better reputation you build--the more requests you will get naturally.
Some other good stock photo apps where you can easily sell your photos from your mobile device include...
15) Stockimo
16) Shutterstock Contributor App
App + Car = Money..
Ridesharing
I'm sure we've all heard of ridesharing before--you know--when you earn money on the side driving people around in your car as if you are a taxi.
17) Uber and 18) Lyft are the two most popular ridesharing apps out there. They give you the potential to earn anywhere from side-gig income to full-time income--but definitely require more work than many of the other apps listed here.
If you don't have much spare time to dedicate to it, you can always simply turn on the app as you drive about on your normal routine--and see if there are any paying riders who you could earn from without going too much out of your way.
19) Kango is often described as "Uber for kids", and it is. If you have childcare experience, are over 21 years old and have a car--you can apply--then you can pick up jobs that parents post to be their child's sitter, transport their child from point A to point B, etc.--$20 minimum per job!
Food Delivery
You can also potentially earn good money in your spare time by using your car to deliver food, groceries, beer, etc. to people with apps like 20) PostMates, 21) Grubhub and 22) UberEats.
De-cluttering..
It's true what they say--what's one man's trash is another man's treasure (or woman's). So next time you are thinking about getting rid of that old collection of records or pile of 'junk' collecting dust in the garage--why not make some money from it?
The 23) Mercari and 24) Letgo apps are great for selling just about anything used. They could be compared to Ebay and Craigslist respectively, but are nice little handy mobile apps that make things easy for you.
I've had good success with Letgo (just sold an old computer for $210 this week). All you do is snap a few pictures of your item, set a price and add a description if you want, choose a category--that's it--now local buyers can contact you and arrange a meetup to buy your stuff. The cool thing is that if you don't describe your item the app actually uses AI to describe it based on the picture, and this is surprisingly accurate at times.
25) Decluttr is great if you have a bunch of DVD's, CD's, video games or books collecting dust that you need to get rid of.
And if you are a bookworm and have loads of books laying around, you might find the 26) BookScouter app useful. With this app you can easily sell textbooks--which makes it great for the college student who still has last semester's books they don't know what to do with.
For Selling Used Clothing
You could sell used clothing on Mercari or Letgo, but 27) Poshmark is focused entirely around selling clothing and caters mostly to the fashionistas out there. Got a Coach purse you no longer want or an expensive pair of Louis Vuitton jeans that don't fit? Then this might be your best bet.
Poshmark is also a social app--which means you can build a following of people who like to buy your stuff. Some women make a living selling fashion through this app.
Other good alternatives for selling fashion and cleaning out that closet include apps like..
28) Vinted
and 29) Tradesy.
For dog lovers..
If you are a dog lover and looking to make some extra money in your spare time with an app--then 30) Wag is a great app for you. With Wag you can walk and house sit dogs in your area to make some extra money!
Do random tasks & gigs..
With 31) Task Rabbit you can become a "tasker" and get paid to help people out on all sorts of things, ranging from packing & moving to mounting & installation to handyman repairs and more.
The onboarding process requires you to attend a tasker onboarding session in your city--this is to ensure that taskers know what they are doing and can do the work.
32) Gigwalk is a similar app but used by companies to have people do simple tasks. Tasks you can pick up include things like taking pictures of products in a store, checking product prices, taking pictures of houses for insurance purposes, etc. Some gigs pay out as little as $3 and don't take long at all while others pay more and take longer.
Play games..
33) Lucktastic rewards you for playing casino style games on your phone, like scratchers, lottos, or even trivia--and you have the potential to win $10k instantly--not that this will ever happen. What you can expect to earn are tokens, which can be redeemed for gift cards for over 30 brands and retailers.
Another option you have for winning rewards by playing scratchers, lottos, Blackjack, etc is the 34) Lucky Day App--although I would go with Lucktastic personally (not as many complaints).
Get paid to download apps..
Would you believe me if I said there are apps that will pay you to download apps?
It's true.
35) AppBounty
36) Boom Gift
37) AppNana
..and 38) AppMan all do this.
How? They get paid by app developers to promote their apps and pay users as incentive to download and use them. Not only is it super easy but you also might find some apps you really like--but don't expect to make much!
Most of the apps you get paid to download are games where you can get paid more the more you use them.
Small tasks & surveys..
39) Swagbucks is one of the most popular survey sites out there--and they have a mobile app so that you can make money taking surveys on the go. Most surveys pay $0.25 - $2.00 and you can also earn by playing games, watching videos, completing offers, downloading apps and more--they do it all.
40) Ipsos Mobile 41) Google Opinions Rewards and 42) iPoll are other apps you can use to take quick surveys and get paid for it. These are more focused on surveys only.
43) Inbox Dollars is another option that is more like Swagbucks--meaning this place offers a variety of ways to earn besides just surveys.
Paid surveys don't pay much, but being able to take them on the go with your mobile device allows you to make a few bucks the next time you have an extra 15 minutes of lunch break--so they might be worth a try.
Rent your stuff..
Do you have an extra room in your house, a guesthouse that no one uses, or maybe even a sailboat at the dock?
You can rent them out to people and make some money while they are of no use to you.
44) AirBNB makes this simple. Post your room for rent and manage reservations--and of course be sure to make it presentable so that you get good reviews!--all transactions are handled through the app and the review system allows you to check out potential renters before you let them stay at your place (or boat!).
45) Getaround is a great app is you have an extra car you don't drive and would like to earn money renting it out to other people. Don't worry--they do a good job at not letting drunk drivers and such rent out vehicles. They say the average owner makes $1,000's per year renting their cars through this app.
Top 10 List
Ibotta for cashback on shopping
Foap for making money taking pictures
Acorns for investing
Letgo for selling unwanted items locally
Uber for ridesharing
GetUpside for saving money on gas
Swagbucks for surveys and small tasks
Poshmark for selling old fashion
AirBNB for renting out that spare room
Mobee for mystery shopping
It's quite a challenge to pick the top 10 from a list of apps that vary so greatly in earning potential and purpose, but if I had to only pick 10 this would be the list. It includes a good bit of variety and all are great apps that can be trusted.
Which Apps Should You Use?
This all depends on what you are looking for.
Are you looking to earn just a small amount of pocket change in your spare time? Then maybe apps like the Swagbucks and Inbox Dollars app are for you.
Or if you just want to earn some cashback on the shopping you are going to do regardless--get Ibotta or DOSH.
Are you trying to make a significant income? Then maybe you want to get the Uber or Lyft app and apply to be a driver--some people make a living doing this.
Does making an extra couple grand a year sound nice--and do you have a car that sits in you garage collecting dust? Then maybe go for the Getaround app and rent your car--or an extra room in your house with AirBNB.
Does this help?
Did you enjoy this article? If so, be sure to give it a share.
Best of luck to you in your app earning adventures!