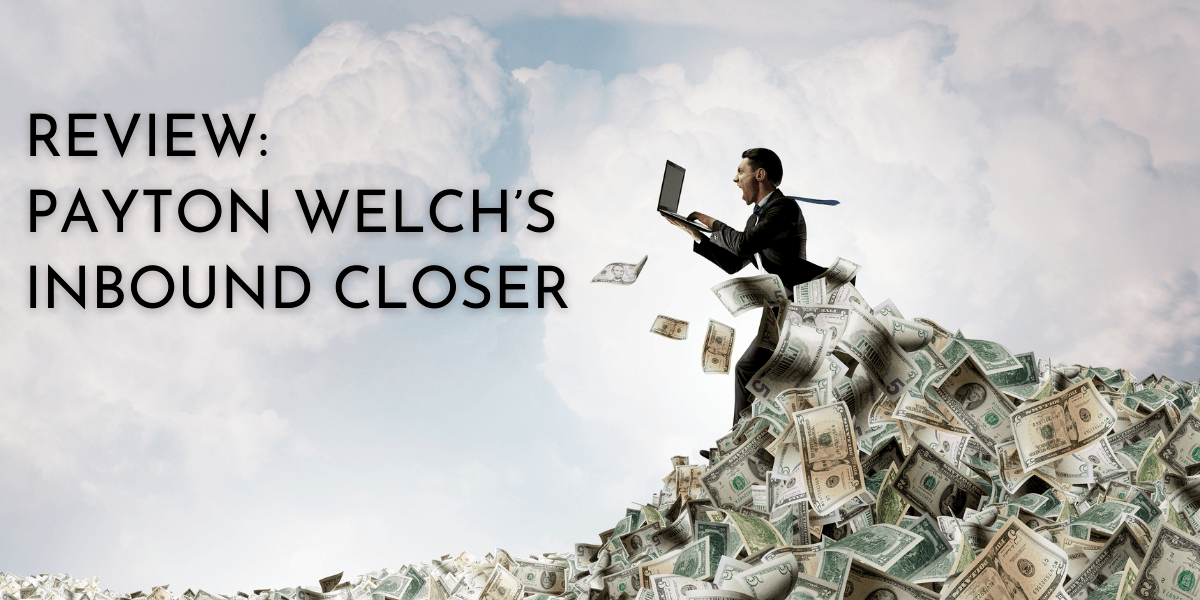 Is Payton Welch's Inbound Closer Legit? – A Miraculous System?
We all do want to get rich, don't we? However, finding a way to get at the middle of the green pasture that we covet the most seems to be a life-long search. As early as we can, we do our own search. How early do you work for it? Nineteen? Twenty-one? Twenty-three? It seems like a little too late if you are in your 40s and still haven't found it, doesn't it? No worries. Payton Welch's Inbound Closer promises to catch up with those years you lost and earn overwhelming commissions "right away." That seems impressive and miraculous. Nonetheless, is Payton Welch's Inbound Closer legit? How legitimate is it? Isn't it just another guru scam prowling on the web? Let's find that out.
The Basics

Product: Inbound Closer
Owners: Payton and Taylor Welch
Service Offered: Inbound Closer Training
Website: https://inboundcloser.com/
Cost to Join: $997
Inbound Closer is an online course system that promises individuals quality training to be "master closers" and a platform that they could use to meet some possible potential employers looking for closers to work for them.
The program is presented to be owned by a man named Payton Welch, a digital marketing consultant. He is the brother of Taylor Welch, the CEO of Traffic and Funnels, another program promising almost the same pitch promising to "help client businesses grow."
Though the video advertisement of Inbound Closer presents Payton implying he is the owner of the program, Taylor clearly stated on the site of Inbound Closer his absolute ownership of the program saying "Well, as Payton explained to you on the last page, the Inbound Closer isn't the only business that I own and operate."
This would be the very reason why you would see Taylor's name more often, if not always, in the entirety of this article instead of Payton's.
Anyway, Taylor stated that he owns a $21MM company by teaching or mentoring online businesses how to generate income up to seven to eight figures through inbound marketing and closing processes. He boasts of mentoring 757 business owners who "trust" him and rely on Inbound Closer to aid in catering their inbound leads. That said, it seems like Taylor is using his connections to lead companies to Inbound Closer to serve as opportunity providers for salespersons covered by Inbound Closer.
As Taylor brags his grip on various companies by being their mentor, he claims that he could easily get Inbound Closer mentees the perfect opportunities from these companies that "follow his advice." According to Taylor he could easily hand opportunities on the silver plate by simply vouching on an individual's skills and credibility to his connections. Hence, and basically, Inbound Closer itself trains individuals and hands them opportunities by linking them to "pre-vetted clients with cash-rich, profitable and thriving businesses."
Further than that, one of the things that makes the offer more luring is the program's promising $980 commissions you would earn by diving into the said opportunity brought by the program. If you would visit Inbound Closer's website, you would be overwhelmed how the said figures are mentioned over and over again. And the dreamy part is that Taylor even mentioned that you could even earn "more money than most neurosurgeons after 8 years of schooling." Taylor even described the opportunity as the "fastest and surest path." Wow!
If that's the case, do sign me up! Oh, wait. Something smells like dead fish here. Let's find that out.
How Do I Join Inbound Closer?
Enrolling for the program wouldn't be a problem to anyone. The website claims that Inbound Closer is always in search of closers. It says that it is the very reason why instead of charging enrollees a $2,000 fee to join the program, it only charges a one-time $997 fee to its enrollees. Inbound Closer somehow implies that it is making prospect enrollees a great deal by giving them 50 percent discount just to get them enrolled and address its affiliated companies' need for more closers.
According to Taylor, he posted the advertisement video on the website (though it seems to be there at the very start and would stay there forever) as a message that they are in need of closers. Taylor stated:
"Yep, you're only seeing this video right now because the shortage of closers has shot demand through the roof and that demand has forced me to temporarily lower this $2,000 investment for you. That's right. Since you've just committed to becoming an Inbound Closer, since you've proven you're hungry for those job-replacing commission checks and since you made the smart decision of investing in yourself at the perfect time; on this page only, everything today, for just one easy investment of $997.
"Since you're seeing this video right now, it means hundreds of those highly committed closers like you are seeing it too. And you better believe they're taking advantage of this temporary discount because they want access to the group before the demand balances back out and while my clients have a desperate need for closers."
Nonetheless, and of course, it has always been $997 as it is just one of the ways of Inbound Closer's methods to instill the idea among its prospects that it is doing them a great favor. Oh, you almost got us there, Taylor!
The Service: Inbound Closer
By joining the opportunity, Taylor promises to grant you the essential courses that would make you an effective salesperson closing deals just by using your phone and reading a six-page PDF file.
The website of the system offers the Inbound Closer's program called the Six-Figure Closer Certification Program that gives you access to various lessons and mentorship. It also includes a mentorship under Eli Wilde, who worked for Tony Robbins. Taylor claims that Wilde used to work as a lead closer at Tony Robbins closing more than $100 Million sales for just a year. Currently, Wilde is working as a lead trainer for Tony Robbins' personal team of Inbound Closer as Taylor claims him to be the "best closer on earth."
Inbound Closer also offers modules that would guide you in various topics before getting certified. The modules are divided into seven. That said, here are some of the topics that are covered in the said modules.
Taylor described the modules as something that would optimize an individual's system and mindset. He describes it as a high-performance program for "identity-reengineering." He stated that the modules would "rewire unconscious beliefs that have kept you trapped in a limited existence and install a clear vision that pulls you into a future you design. Your friends and family will be shocked when they see your transformation and you'll command respect from everybody you interact with."
Impressive and magical, don't you say? Well, the government should then consider this program and use it to convicts, perhaps?
The modules promise of Wilde's exact closing system that he allegedly used to close $100MM deals for Tony Robbins. Furthermore, Taylor mentioned that Wilde would provide the literal word-for-word instructions and spiel that mentees could use in each phone call to close a deal.
Alright, it is not clear whether Eli Wilde is related to Oscar Wilde but with how Taylor describes him, he seems to possess a silver tongue that could beat Shakespeare and Plato.
The last modules would provide you some coaching points from Wilde using his "Nine-Figure Closing Script." Taylor said that the "advanced" closing script is developed through Wilde's success of closing 3,300 high-dollar deals. Hmm... Quentin Tarantino should feel threatened about this.
Besides the modules, Taylor promises to send an invite for Client-Connection Mastermind group to mentees who would be certified. The invite gives the said individuals the access to a group of companies looking for closers trained by Taylor's group. According to him, these businesses are paying $18,000 just for the "connection service" Inbound Closer is offering. Furthermore, he highlights that the companies are actively hiring closers and are charging at least $5,800 for their high-dollar offers while attracting 7-10 inbound leads per day minimum. Lastly, Taylor describes the companies as opportunities "begging to shower you in $980 commissions."
With that, Taylor stated:
"Imagine if I Invited you into the group and you had high-caliber clients practically handed to you on a silver planner because I turned you into a world-class, closing master; vouched for your credibility and skill and then connected you with an A-list client! It's simply the fastest way to start earning those thousand-dollar commission checks and turn this into your full-time, six-figure hustle as soon as possible."
That sounds truly promising, doesn't it? An online course that would fashion in becoming a "world-class" closer and would hand the opportunities on silver plate. That would probably make life easier, wouldn't it? Nonetheless, how true is it?
Claims: True Success or a Luring Baits?
The program promises to pull you out of your boring job and sets you "dead-center in a thriving $129 billion-dollar industry that will stuff your pockets with daily commission checks of $980 or more."
By inviting you to the Client-Connection Mastermind group, Taylor promises that you would have the liberty of choosing among the 312 pre-vetted business owners who have joined the group just to search for closers that he and Wilde trained.
That is truly promising and dreamy. I am also impressed when I first read its persuasive lines and pledges. However, how legit is Peyton Welch's Inbound Closer program? Can you really earn here?
That said, Taylor provided some advertisements of employers who seem to be in desperate need of closers as they promise overwhelming compensations. He even posted some testimonies from the closers that were trained by the Inbound Closer program.
Whew! Just looking at those gratifying offers would surely persuade you to join the program. However, some people seem not to buy it as many deem Payton's advertisement video vague due to its lack of information while promising lucrative opportunity.
Who can blame these people? Besides the enticing testimonials that Taylor posted on the website, you won't find any other sources that rate the entirety of the program itself.
Furthermore, we just can't help but wonder how you would earn $40,000 a month just through your phone, a PDF file and a script? What are they selling? Cracks?
Is Payton Welch's Inbound Closer Legit?
Despite the claims of Inbound Closer in aiding its folks in generating a huge sum of income every month through phone calls, Taylor insisted that things still depend on the persistence and dedication of an individual. That is true!
However, Inbound Closer, being one of those hyper-idealistic programs out there, consistently highlights just the flawless facts and situations for closers while leaving other downside possibilities.
Though it might be true that there is a demand for closers everywhere, it seems impossible to constantly have this "high demand" at all times as Inbound Closer claims. This is due to the fact that Inbound Closer is just using the same advertisement on its page over and over again implying that there is a constant need for closers.
Nonetheless, it could mean two things: there might really be a constant demand for closers or there are no sufficient numbers of enrollees trusting the program that would supply Taylor's affiliate companies with the closers they need.
That said, is Payton Welch's Inbound Closer legit? Well, we wouldn't be able to prove that without facts to scrutinize. Though, then again, Taylor provided some testimonies, you sure don't want to trust the information provided by a man who has a sole motive to impress you, do you?
Weighing Things: Pros and Cons

Before you dive into this ambitious program, you might want to review these crucial points and ponder about things.
Pros
The program is owned by Taylor Welch who is the CEO of a well-established company that also helps other companies in growing their businesses.
In any case I forgot to tell you, the program assures 100 percent money-back guarantee in any case you are not satisfied with the service it provided.
The income being promised by the program is surely overwhelming!
Cons
Though it is true that earning thousands of dollars could take you out of your boring job, these things seem to be too good to be true. You can always believe the claims made by Taylor and his closers, but should you?
That said, there are no other forums, articles or even reliable business organization reviews that prove the claims being made by Inbound Closer.
Taylor seems to imply that there is always a constant demand for closers. However, you couldn't always be certain of getting fair leads in this opportunity as the market is unpredictable.
Conclusion: The Verdict

Inbound Closer promises to lead you to a lucrative path. However, without enough proof besides its claims, you might want to take this opportunity with utter caution.
Though it is true that no opportunity is a picnic, you might prefer choosing an opportunity that won't just offer you the plain positivity but so as the truthful downsides it has. Unfortunately, Inbound Closer only offers its prospects all the good things just for the sake of attracting them. With that, should you really trust Inbound Closer? Should you gamble your future for this opportunity? Does it really offer a comfortable haven for you or an absolute abyss of uncertainty?
Thank you for reading this article! I hope that you have pondered a lot of things by reading this review. Nonetheless, if you are still looking for a better way to earn, we can help you! We have been doing it since 2015 at the comfort of our home! If you are interested, click here to discover it!