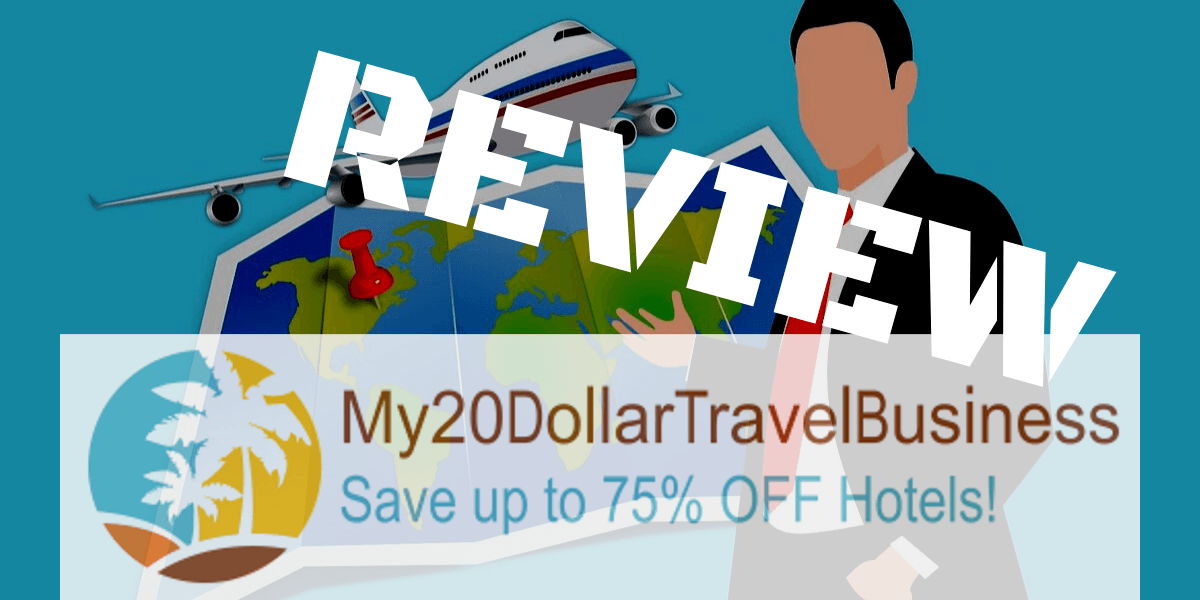 Is My 20 Dollar Travel Business a Scam? – REVIEWED!
You asked and we're here to answer: Is My 20 Dollar Travel Business a scam?
They say you can become a member for the price of a pizza, enjoy massive discounts on travel, and earn boatloads of money in the process... but is this really all true?
On the website they show incredible offers that even make me want to join...
But... after review it appears that this business isn't quite as good as they claim to be.
I did a lot of digging around and in this review I'll be going over what exactly My 20 Dollar Travel Business is, the travel discounts available, the business opportunity and compensation plan, complaints and more.
What Is My 20 Dollar Travel Business?
Name: My 20 Dollar Travel Business
Owner: Steve Gresham
Type: MLM travel business
Cost to Join: $1, $20, and $50 memberships available
Overview
My 20 Dollar Travel Business (M20DTB) is a travel discount membership program that has a MLM business opportunity attached to it. It was created by Steve Gresham, the creator of the now defunct and eerily similar My 1 Dollar Business opportunity.
Members are able to enjoy savings of up to 90% on condos, up to 75% on hotels, and save on car rentals, cruises and other travel expenses.
The cost to join starts out at $1 for a 30 day trial, but this doesn't give you access to much and in order to actually earn any real money with the business opportunity, it will cost at least $20/mo.
They claim that you can earn $2k to over $10k a month, but as we'll uncover in this review... this isn't a very plausible outcome.
Membership Savings
As mentioned, you will be able to save money on all sorts of travel/vacation related expenses, including cruises, car rentals, and hotels.
There are 3 different membership levels but only a Gold or Platinum Membership will give you access to the Travel Engine and membership savings.
Trial Membership - $1 for 30 days
Gold Membership - $20
Platinum Membership - $100
The Gold and Platinum Memberships provide the exact same benefits as far as travel savings, the only difference is that the more expensive Platinum Membership gives you more opportunity with the Compensation Plan, which we'll get to here shortly.
Travel Engine
The travel search engine will give you the ability to search for different travel related deals and see side-by-side price comparisons with large sites such as Expedia, Hotels.com, etc.
*Note: While this opportunity is advertised as a way to save up to 90% on condos and up to 75% on hotels, this certainly should not be expected.
On their website they state that there have been "over 4 million memberships sold" and that the travel engine is powered by a company with an A+ BBB rating that has been around over 20 years. But we are given no information as to what the name of this company is.
It seems that My 20 Dollar Travel Business is simply a business opportunity created around an existing travel platform... we just don't know which.
The Business Opportunity
Besides the vacation and travel discounts that come with the membership you will also have access to the business opportunity, which is a MLM (multi-level marketing) business structure.
The idea is that, because the travel industry is so massive, and because everyone wants to save money when they travel... then it should be easy to sell people on the My20DollarTravelBusiness opportunity.
Some people might join just to enjoy the travel discounts while others might join to participate in the business opportunity and enjoy travel discounts.
There is a 'pay it forward' mentality. Recruitment is the name of the game and after you recruit in at least 2 people you are supposed to help them recruit in at least 2 people each... and so the multi-level marketing structure expands.
Cost to Join
As already mentioned above, there are 3 different membership levels you can join at:
Trial Member - $1
Gold Member - $20
Platinum Member - $100
However, if you want to participate in the compensation plan then you are going to have to be come a Gold or Platinum Member.
The Compensation Plan
There are 3 ways to earn with the My20DollarTravelBusiness compensation plan and you must recruit at least 2 people to join before you can receive commissions.
1) Fast Start Commissions
When you get new members to join you will earn Fast Start Commissions of 50% of their membership purchase.
Refer a Platinum Member for $100 and you earn $50
Refer a Gold Member for $20 and you earn $10
Refer a Trial Member for $1 and you earn $0.50 (Trial Members are automatically upgraded to Gold Membership after a month)
2) Personal Residual Commissions
The Fast Start Bonus only pays commissions on the price your new recruits pay to join, which covers their membership for the first month.
But what about after that? What about the subsequent monthly membership payments of members you recruited?
This is where the Personal Residual Commissions come into play.
Starting on the 2nd month after your new recruits join you will earn 25% commissions of their membership cost each month going forward.
You will earn:
$25/mo from Platinum Members
$5/mo from Gold Members
$0.25/mo from Trial Members
3) Team Bonuses (2 x 10 matrix)
The Team Bonus structure is a 2x10 matrix. You are at the top, there are 2 positions under you on level 1, there are 4 positions on the next level down at level 2, then there are 8 positions and so on.
The structure branches out by a multiple of 2 on every level and goes down a total of 10 levels.
You will be able to earn 5% commissions on membership payments down these 10 levels.
Level 1: 5% - 2 positions
Level 2: 5% - 4 positions
Level 3: 5% - 8 positions
Level 4: 5% - 16 positions
Level 5: 5% - 32 positions
Level 6: 5% - 64 positions
Level 7: 5% - 128 positions
Level 8: 5% - 256 positions
Level 9: 5% - 512 positions
Level 10: 5% 1,024 positions
Your goal is to recruit 2 people in, get them to recruit 2 people in, and so on. However, anyone can recruit as many people as they want and the extra recruits will fill open positions in the structure.
The Compensation Plan In a Nutshell
You earn 50% commissions with the Fast Start Bonus when you personally enroll a new member. This commission comes from their first month of membership payments.
From the second month onward you will earn 25% Personal Residual Commissions from everyone that you personally enrolled.
You will receive 5% commissions down 10 levels through their 2x10 matrix Team Bonuses on a monthly basis.
The Catch
The catch to all of this is that your membership level will directly affect your earnings.
Trial Members Can ONLY Earn:

$0.50 Fast Start Commissions per member
$0.25 Personal Residual Commissions per member
$0.05 Team Bonuses per member down 10 levels

Gold Members Can ONLY Earn:

$10 Fast Start Commissions per Gold Member
$5 Personal Residual Commissions per Gold Member
$1 Team Bonuses per member down 10 levels

Platinum Members Can Earn:

$50 Fast Start Commissions per Gold Member
$25 Personal Residual Commissions per Gold Member
$5 Team Bonuses per member down 10 levels
How Much Can You Make Realistically?
The opportunity is presented as being a way to earn $2,000 - $10,000 per month and is said to be "very simple". But this is extremely misleading.
They even give an example of how "easy" it is to make $10,000+ in monthly income...
You and your team can "jump straight to the top" by going Platinum...
But the reality is much different, and this is the reason the Consumer Awareness Institute found that 99% of participants in MLMs lose money, after analyzing 350 different MLM business opportunities.
First off, even if you do refer in 2 people, the idea that everyone else in your downline will do the same down 10 levels with over 2,000 positions is absolutely absurd.
A more realistic representation of what will happen is something like this, which has empty positions throughout:
And the idea that you will be able to fill all positions down all 10 levels with Platinum Members is also absurd.
When they say that you can earn $10,270 a month... they are talking about in the perfect scenario... with every position filled and every member being Platinum.
Income Disclosure
There is no income disclosure by the My 20 Dollar Travel Business company.
We can only speculate as to how much members earn.
Based on earnings from other MLM's reviewed that do provide income disclosures, such as Shaklee and Mary Kay, the potential earnings aren't looking very good.
Member Reviews/Complaints
Upon first glance it appears that this business has incredible reviews. With over a 4/5 star rating on Facebook from real people how could you go wrong with a business like this?
However, after looking a little more closely and digging deeper it appears that most of the ratings and reviews written are from people just trying to promote the business and make money.
There aren't really any good sources of member reviews about this company. However, I do have a few complaints of my own.
#1 - Lack of Transparency
No earnings disclosure... no information on the Travel Engine that this company is piggybacking on... Where is the transparency here?
#2 - Misleading Income Claims
Yes, it is true that you can make $10,270 per month if everything goes absolutely perfectly... but you also have a 1 in 3,748,067 chance of getting attacked and killed by a shark!
#3 - Lack of Ingenuity
This company was basically put together to turn a Travel Engine into a business opportunity. The product here is a Travel Engine that already exists and the creator threw together a compensation plan on top of it.
It's not the amazing new business that it may seem to be.
FAQ's
Is My 20 Dollar Travel Business a scam?
​​No, at least not in my opinion. While transparency of this opportunity could be improved and it could be represented in a much more honest way, it still is a real opportunity in which you can get nice discounts on travel and potentially make money.
Is My 20 Dollar Travel Business a pyramid scheme?
This is a grey area. The MLM business model does have a pyramid structure but according to the FTC legitimate MLMs sell products while pyramid scheme scams do not, instead relying on incoming investments from new recruits to pay off older members.
Since there is a real product here it isn't a pyramid scheme.
Recommended: Difference between MLMs and Pyramid Schemes
Is My 20 Dollar Travel Business BBB Accredited?
No, they are not. The Travel Engine they use is said to be accredited and to have an A+ rating with the BBB, but as mentioned they don't provide any information as to what the company behind their travel discount membership is. But the M20DTB company is not accredited.
Conclusion - Worth Joining?
The decision of whether or not to join is ultimately up to you, but overall this does not seem like a very good quality opportunity.
MLMs are bad enough as they are, and this seems to be one that is just piggybacking on another company and overall lacking.
The reason so few people make money with MLMs is because of their pyramid structure, which provides the top few percent sitting pretty at the top with kickback commissions while actually making it more difficult for the majority at the bottom... leading to a not so great opportunity.
This is why I stick with affiliate marketing and recommend this business model if you are looking to make money online. No commissions get passed up and there is no recruiting.
What I'd recommend for anyone interested is the Wealthy Affiliate program, which I joined in 2015 and am still a proud member of.
Take care and be sure to leave any comments/questions below. I like to hear back from my readers 🙂