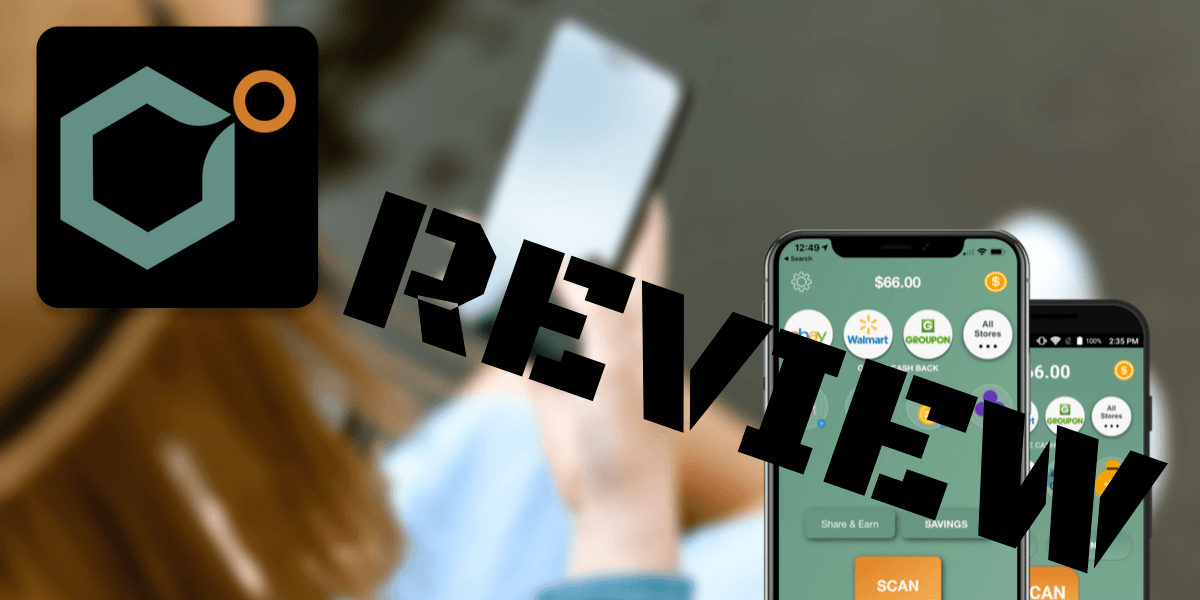 Is CoinOut a Scam Cash-Back App? – REVIEWED!
You asked and we're here to answer: Is CoinOut a scam?
The answer is no... they really do pay people to upload receipts. This is awesome and all, but the next logical question to ask is: how much can you actually make? In which the unfortunate answer is: not very much.
But overall CoinOut is a nice little app for making some extra change that you otherwise wouldn't be making. In this review we'll be covering all you need to know... how the app works, how much you can realistically make, cash-out options, complaints and more.
What Is CoinOut?
App Name: CoinOut
Type: Cashback app
Website: CoinOut.com
Cost: Free
Ratings: High on both Google Play and App Store
Overview
CoinOut is a free app that allows you to easily earn small amounts of cash-back for uploading receipts of store purchases and then cash out your new-earned money for cash or gift cards.
Some things that separate this particular app from competitors, such as Ibotta and DOSH (both on our list of top 45 apps for making money), is its simplicity and the ability to get cash-back from anywhere that gives valid receipts.
The app received a lot of media attention after being featured on the hit show Shark Tank on ABC in 2018, which led to a deal between the CoinOut's CEO, Jeffrey Witten, and one of the investment "sharks", Robert Herjavec.
Here is a brief overview of how it works, but we'll go into more detail next...
How It Works
1. Download The App for Free
The app is completely free to download and use. How the heck can they pay people money and allow the app to be used for free? I'll go over this shortly. It is available for android devices on Google Play and for IOS devices on the App Store.
After downloading the app you will enter your phone number and they will send you a password code to confirm your phone.
That is all you have to do to get started.
*Note: Before cashing out money you will have to fill out your profile more, such as your name, email address, etc.
2. Scan Receipts (or Email Them In)
Next you will take your receipts from wherever it is that you just shopped and upload them with the app.
When you open up the app you will see a large "SCAN" button in the middle of the screen... you can't miss it.
When you click on this things couldn't be any simpler.
The app will use your phone's camera and provide a rectangular area to take a picture of the receipt in. You are going to want to zoom in enough so that the edges of the receipt are close to the border of the frame.
Some of the requirements for the receipt include that it is:
No more than 2 weeks old
Includes date, store, total, and items bought
Only 1 upload per receipt
No coupons, lotto tickets, barcodes or bank receipts
*Note: A lot of receipts have a bunch of promotional crap beneath the purchase information, such as coupons, etc. This doesn't need to be included in the frame.
What Types of Receipts Does CoinOut Accept?
They say that they accept all kinds and this seems to be true as long as the requirements above are met.
Grocery store receipts, sporting goods receipts, gas station receipts, clothing store receipts, restaurant receipts, etc... all seem to be fair game.
After uploading the receipt cashback will usually be credited to your account instantly. It will be labeled as "active" if it has been approved and "pending" if not.
*It's nice that they give you cold hard cash, and don't have some confusing point system like a lot of apps do.
e-Receipts
If you make a purchase at a store and choose to have a receipt emailed to you then you can get cashback by emailing these receipts to receipts@coinout.com.
3. Online Shopping
When you shop online through the app there is no need to upload receipts.
You will be able to click on "all stores" to see all of the available sites you can shop on to earn cash back.
This will bring up a list of the various stores and some details on the cashback offer, including how much you will get back.
There is a long list of stores that CoinOut is partnered with here. Some of these include:
Hotels.com
Target
The Home Depot
Groupon
Ebay
Macy's
Travelocity
Sam's Club
Overstock
JCPenny
Warby Parker
Kohl's
GameStop
GrubHub
iTunes
Asos
eBags and more...
After clicking to "shop now" within the app you will be directed to either download a store shopping app, if available, or you can just go to the website.
Your purchase will be tracked automatically and cashback will be put in your account after your purchase is approved. The time frame for this will vary depending on the store. It can take several days and you will be notified via text message when it goes through.
4. CoinOut Badges for Extra Cash
The badges section provides promotional offers, bonuses and badges.
For example, right now they are offering me a 2x badge if I purchase something through the app as talked about above... at any store.
This will then provide me with 2x the cashback from in-store purchases for one week... not too shabby.
You will find all sorts of promotional partner offers in this section, and these change frequently. Some other examples of what is available to me right now includes...
$1 cash bonus for getting a free Clearcover car insurance quote
$1 cash bonus for joining Zebit
$50 cash bonus for creating a Chime bank account with a $200 direct deposit
$10 cash bonus and 2x badge for creating an account with Acorns, the popular investment app
5. Cash Out
The good news is that there is no minimum to cash out.
Even if you only have $0.06 in your account you can cash out.
The options are PayPal, Amazon gift card and direct deposit.
PayPal is the only option with a minimum, in which you must have at least $10 to make a withdrawal.
6. Referral Program
Currently they are giving members $0.75 for every confirmed referral.
You will be able to go to the "share & earn" area inside the app to get your own unique referral link, which you can then use to get people to join.
*If you want help out this blog then you can sign up through my referral link here: https://coinout.com/referrals/new?r=HYGJXJQ. I'll get credited with $0.75 and you will get credited with the feeling of helping someone out 🙂
To be honest, the referral program is a letdown. Cashback apps like Ibotta offer $5 per referral... but it's better than nothing.
Earning Potential
Don't get too excited now. If you thought this was a way to make bank then you thought wrong.
You won't be able to just upload receipts all day... there is a limit.
Receipt Limit
The receipt limit will change on an ongoing basis. You will have to login to the app to see what the limit is at any given time.
Usually this is around 6 - 7 receipts per day, which should be plenty for most people.
I'm not entirely sure what they look at when coming up with the limits.
Featured Retailers Bonuses
On the homescreen they will sometimes have badges for featured retailers where you can earn a little more than usual.
A Realistic Look at How Much You Can Earn
It seems that there is no "normal" rate. I've personally been earning $0.06 per receipt and have heard of others earning the same... as well as some earning $0.07 - $0.10. However, there are a lot of people complaining about only earning $0.01 - $0.02 per receipt.
Does the going rate change? Does it depend on where you live?... where the receipt is from, etc.?
We don't know. They don't offer an explanation for this but it does seem that if you upload more than 1 receipt per day the reward amount will decrease as you go.
If you earn $0.06 per receipt...
Let's say that you are earning $0.06 per receipt. Now if you upload 7 in one day that equals $0.42. And if you upload 7 per day for the whole week that will equal $2.94.
Now let's say that you have a 2x badge... this would mean you can earn close to $6 per week.
There are other bonuses too, such as the promotional offers under the badges section. But you won't always find something you are interested in here.
This is pretty much a best-case scenario however. It seems that most people using this app are earning $10 - $20 every 6 months or so. The numbers will vary greatly so unfortunately there is no good earning estimate I can give.
CoinOut Hacks
Unfortunately for those looking to hack the system, it doesn't seem there is any easy way to do so.
When you upload the same receipt more than once your account may be credited with money for a short period of time, but it will likely be labeled "pending", and will soon be canceled.
As a little trick I scanned a picture of my keyboard. This resulted in a quick +$0.06, which was soon taken back out...
There is no information as to what exactly the app looks at with receipts.
Does it look at the receipt number and the items bought? And then validate them with the store?
If it doesn't then it may be possible to fudge some numbers on the receipt to make it appear as if it is a new one, but this might not be worth it because if they find out they do hold the power to close your account.
The only real hacks are to play by the roles. Try to earn badges and max out your daily allowed receipts each day.
User Ratings/Complaints
There are a few complaints we'll go over, but overall the app has very good ratings.
On Google Play there are over 11k ratings with an average of over 4 out of 5 stars. And on the App Store there are over 37k ratings with an average of over 4.5 out of 5 stars... pretty darn impressive.
But there are several complaints worth mentioning, which include:
Low Pay
As mentioned, sometimes you will only get as much as $0.01 for a receipt, which isn't really worth it. The only reason for using this app is the hopes that you will get more than that.
But we don't really know why the payouts can be this low sometimes.
Some people claim that after using the app for a while it happens, such as this person claiming that you will only earn about a penny for each receipt after the first week...
Photo Capture Issues
What do you do if you went on a shopping spree and the receipt is longer than the scan window?
Well, this seems to be a problem that there isn't any good answer for since they want to see all of the listed items on a receipt.
The good news is that most receipts will fit... assuming you aren't a shopaholic.
Concerns
Is CoinOut a Scam?
CoinOut is not a scam, far from it.
They do pay their members and are a well respected app.
As mentioned earlier, they even have the famous investor from Shark Tank, Robert Herjavec, investing in the app.
The app makes its money from partnership promotional deals and affiliate partnerships. For example, when they get someone to shop at one of their featured stores, they get a kickback from the purchase total. This is how most cashback apps work.
Is CoinOut Safe?
Yes, about as safe as an app like this can be.
Your money that you earn within your account is even insured by the FDIC up to $250,000... not that you will even come remotely close to earning anywhere near this amount however.
Pros v Cons
Pros
Very simple to use (a caveman could do it!)
Can upload receipts from anywhere
No point system, just cash
No minimum cash-out amount
Direct deposit available (it's rare that apps like this offer such an option)
FDIC insured account
Cons
Very low pay
Receipt scanning difficulty at times
No explanation as to how much you will earn per receipt
Final Thoughts - Worth a Try?
Overall I think that CoinOut is a nice little app that deserves it's place on many people's phones.
It won't earn you as much as apps like Ibotta do per cashback offer, but the upside to CoinOut is that you can upload ANY receipt, which is something no one else is really allowing.
Just don't expect too much. If you use the app remind yourself that, although not much, you are basically earning free money.
You can also check out our list of 45 apps for making money if you are looking for some other options--or RebateKey, which is an awesome website for huge discount shopping that most people don't know about.
Also, don't forget to take a peek at how I make a living working online--if passive online income is something that is of interest to you.
Now it's your turn: What do you think about CoinOut?
Leave your comments/questions below. I like to hear back from my readers 🙂