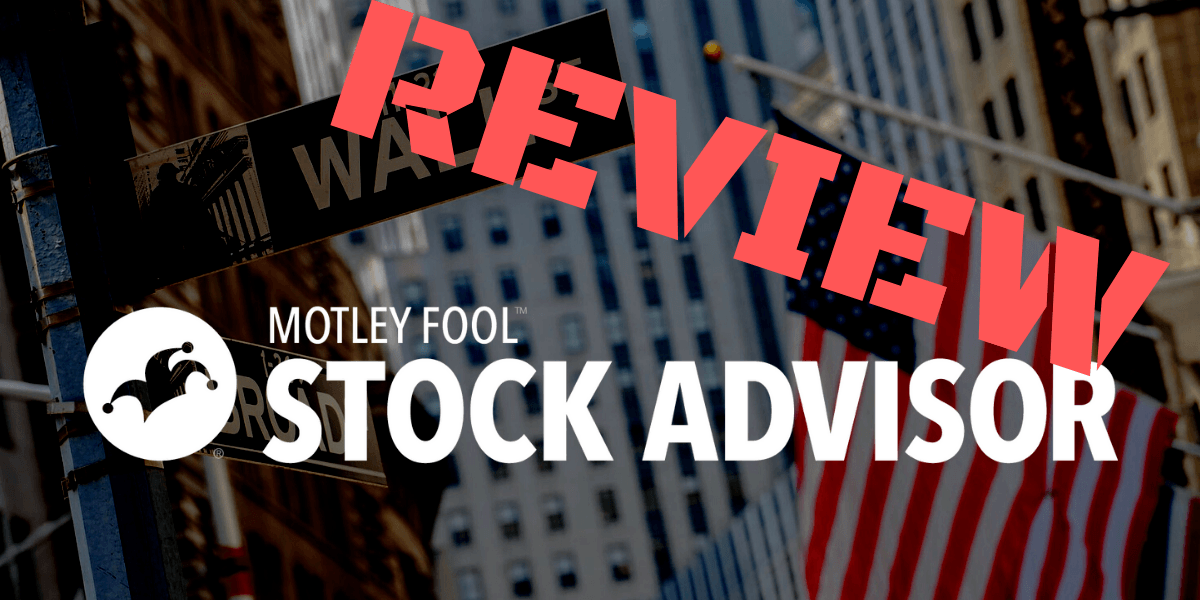 Is The Motley Fool Stock Advisor Worth It? – Read First
Is Motley Fool's Stock Advisor trading service worth it?
Of course in the promotional material they tell you about how they recommended Amazon.com, Netflix, Costco and other big winners before they became household names... and they make it seem like the best & most safe investment advisory in the nation, but this is the promotional material... which usually leavse out the negatives.
This is where we come in. In this review we'll be going over what exactly Stock Advisor has to offer, who the masterminds behind it are, past performance, complaints, concerns and more.
Let's get to it...
What Is The Motley Fool Stock Advisor?
Name: Stock Advisor
Product Type: Investment advisory service
Publisher: The Motley Fool
Editors: Tom & David Garner
Cost: $19/mo or $199/yr (promotion right now for $99/yr)
Overview
Stock Advisor is a subscription trading service provided by The Motley Fool investment advisory firm, which has founded in 1993 and continues to have a pretty solid reputation (although not accredited by the BBB for some reason).
The company provides various different trading services, but the Stock Advisor is considered their flagship service and has been around since 2002, being run by Motley Fool founders Tom and David Garner.
Stock Advisor provides specific investment recommendations so that even newbie investors with no experience can follow along and trade like a pro, and they also provide a bunch more value, such as educational material for those that don't want to just follow along but also want to learn the tricks of the trade.
The focus here is on buying & holding. Stock Advisor uses good ol' fashion fundamental analysis, not analysis of price charts for days on end.
So, if you are a day-trader looking for short and sweet profits, this isn't for you. But, if you are a long-term type of person who wants to make money from investing in sound companies that are fundamentally good investments, then keep reading.
As a subscriber you can expect to...
"Buy businesses, not tickers" - They look for strong management and a good vision, not completely obsessed with price
Be in it for the long-term - This isn't day-trading. With stock advisor they follow the approach of a lifetime investor.
Have a diversified portfolio - As is necessary, Stock Advisor wants to help mitigate risk by providing recommendations in diversified industries.
"Fish where others aren't" - Thinking on your own and not following the crowd can have a huge upside in investing... because you can get in on new opportunities before others. Stock Advisor is well aware of this.
Know the score - Yes, Stock Advisor is one of the few transparent trading services available, so you will know how well their recommendations actually perform, even losers.
Is The Motley Fool Stock Advisor a Scam?
No, The Motlety Fool Stock Advisor is not a scam. This is a legitimate trading service provided by a legitimate and reputable company.
Can you make money with Motley Fool's Stock Advisor?
Absolutely. Although past performance doesn't guarantee future success, the historical performance of Stock Advisor's recommendations have well out-performed the market (we'll go over this).
What You Get
What you get as a subscriber consists of a mixture of stock recommendations, reports, access to the community, and education.
1 - New Recommendations
With Stock Advisor they keep things simple... 2 new recommendations per month, each one being hand-picked by either David and/or Tom Gardner, the co-founders.
In addition to providing subscribers with 2 new picks, you an also expect a very detailed monthly newsletter going over exactly why the new recommendations ought to be good. From the accompanying newsletter you will learn things like:
What exactly the company does
Clients and customers the company has
Management
Potential risks
and of course why they think it's a good idea to buy
Tom and David look for undervalued companies when picking stocks. It doesn't matter whether it is a small-cap or large-cap stock, if it looks undervalued enough by the market then it might be on their radar.
2 - Best Stocks to Buy Now
Additionally, members will be provided with 10 stock recommendations each month.
Both Tom and David both give their 5 favorite stocks on the Buy Now list.
Here's how the recommendations work...
Okay, so with the 2 new recommendations and the 10 Best Stocks to Buy Now given every month you get 12 total.
The layout of this could change, but at the moment members are provided with the recommendations like so:
1st Thursday of the month you get a new recommendation from Tom
2nd Thursday you get a new recommendation from David
3rd Thursday you get Tom's top 5 recommendations in the Best Stocks to Buy Now list
4th Thursday you get David's top 5 recommendations in the Best Stocks to Buy Now list
Details on any stock recommendation provided can be found along with the analysis of the stock, which can be read in full detail or in a short and concise summary.
3 - Starter Stock Picks
For new subscribers they also provide what they consider to be the Top 5 Starter Stocks.
These recommendations are all about providing a nice foundation for those just starting out. These are more stable and provide a solid investment base in case another recommendation would not go as planned. This often differes from their new recommendations (often growth stocks).
At the moment of this review these starter stocks include:
Amazon.com
Alphabet (Google)
Intuitive Surgical
Facebook
Axon Enterprises
4 - Premium Reports & Articles
In addition to the detailed analyses members receive from stock recommendations they also receive premium articles and reports.
These are written by staffers at The Motley fool and the topics they cover can vary widely.
5 - Premium Community Boards
As a premium member you will get access to various discussion boards where you can communicate and discuss strategy, opinions, and anything related.
There are over two dozen different discussion boards focused around different topics, which include things like:
Investing strategies
Personal finance
Retirement
Financial planning
Industry discussions and more..
These discussion boards are great and can provide you with little golden nuggets at times. You never know what you might learn from like-minded individuals with similar goals to you, some of whom likely have much more experience.
6 - Education
In addition to the stock picks, articles, analysis, etc... there is also a large library of educational materials, such as in-depth guides in which one can learn the strategies that are being used.
This is great for anyone looking to do more than just follow-along with their advice.
Other Nice Features
7 - "Favorites" and Watchlist Features
A nice little feature you will get access to inside your Fool account is the Favorites area. Here you can follow stocks that you have an interest in and be provided with their current prices, daily % changes, trading return over the past year, and more. With this feature you get instant alerts when there are new buy alerts, sell alerts, and large price changes of your favorite stocks.
The Watchlist feature isn't anything amazing, but also helps subscribers stay up-to-date with news and analysis of certain stocks so that you can focus on what your interested in and ignore irrelevant news.
8 - Ability to Link Brokerage Account
To make things a little easier and more streamlined, members have the ability to link their MF account to their brokerage accounts, this way one can automatically receive buy/sell recommendations.
9 - The Stock Screener
This is a simple but helpful tool that helps search for stocks. Members are able to filter for stocks based on the market sector, price volatility, asset class, advisor recommendation conviction strength, and dividend yield.
10 - Scorecard
The Scorecard allows members to easily monitor stock performance. Current prices, purchase prices, dates, percentage changes daily, etc. are all monitored for an easy understanding of how something is performing.
Cost
To subscribe and get Premium access there are 2 options:
The yearly price is advertised as being at a discount, for $99/yr instead of $199, but this could just be a marketing stunt. We don't know if it is ever actually sold for $199.
After subscribing the subscription will automatically renew unless cancelled. This is something that is important to note because there are quite a few complaints from people who claim they did not know this and were surprised when they saw their credit cards being charged.
Refunds
If you were to subscribe and not like what you receive luckily there is a 30 day money-back guarantee for the yearly membership. However, there doesn't seem to be any refunds if you are paying monthly... but you can just cancel when the month is up.
In order to get a refund you can contact them at:
Email: membersupport@fool.com
Phone: (888) 665-3665
*Note: There are not pro-rated refunds. So if you cancel 6 months in you will receive nothing, including if you cancel at the 32 day mark (although they might decide to help you out if it's this close).
Performance
The big question that everyone wants to know is that, if they subscribe to Stock Advisor, how well they can expect their portfolio to grow?
Well, past performance certainly does not predict future success, but it does give you a good idea of what you probably can expect.
As of right now, a $10k starting investment in 2002 (when Stock Advisor began) would be worth right around $200k at this moment...
Their average stock pick is up 392% since inception. However, this figure is distorted from incredibly profitable winners that they got in on early, such as Amazon, Netflix, Booking.com and others.
The good news is that, unlike a lot of investment advisory agencies that provide little to no transparency with their past recommendations (St. Paul Research, RagingBull, etc. cough cough), Motley Fool provides 100% transparency with theirs.
Members are able to see all of their previous recommendations since inception in 2002. This includes the stock names, ticker symbols, recommendation dates, risk score, who it was recommended by, return, and even the return compared to the S & P 500...
It doesn't get any more transparent than this. They disclose the winners as well as the losers. Nothing is hidden.
So... expecting an average return of 392% probably isn't a good expectation... but you can get a more clear picture of what to expect by looking at the performance stats they provide.
Concerns
Transparency = Good
One of the concerns with investment advisory services like this is always transparency. But, as we already know, The Motley Fool is very transparent with their Stock Advisor service... and all of their services.
And there's more.
Besides disclosing all of the recommendations made, they take things a step further and require their staff members to disclose current individual positions on their Fool.com profile pages.
Pump & Dump = Well... You Decide
Some companies providing similar services safeguard against potential pump & dump schemes by restricting their staff from investing in recommendations due to potential conflict of interest.... BUT The Motley Fool actually encourages investing from their staff members... the reason being that they don't want to hold their employees back from great opportunities and they think it's a good thing for them to practice what they preach. Additionally, they have will skin in the game if they invest. [They have since updated their Terms & Conditions]
So, you decide whether this is good or bad. It could be seen both ways because there is still the potential concern of pump & dump type of activity to profit from recommendations... not that there has ever been any evidence of this.
No personalized investment advice here = ???
As stated on their Terms of Use page, they do not provide any personalized investment advice.
Now this is something that might seem a bit concerning but really isn't at all. The reason they mention this is because they do not know subscribers' individual situations and can't provide personal recommendations based on them. They also make this statement for legal purposes so that subscribers can't try to come back and sue them when a recommendation goes wrong, which does happen.
Subscriber Reviews & Complaints
The Stock Advisor has an average rating of 3 out of 5 stars on Stock Gumshoe with quite a high number of votes. This isn't that great, but it certainly isn't bad either.
Many of the subscriber comments are more than happy with the service provided. You see a lot of long-term subscribers who have been around for years, which is great to see, such as the man below who claims he has been a subscriber for 4 years and that "they've given me some great ideas"...
Another very informative and detailed review from Stock Gumshoe claims that "Stock Advisor is one of the best investment newsletters out there", siting it's transparency and out-performance of the market...
Motley Fool has a slighly better rating on Trustpilot... however this is for the company as a whole and not specifically Stock Advisor...
That said, we were able to find a decent amount of recent positive comments from subscribers to the Stock Advisor service who are overly happy with the results...
... including a member who has been around for a whopping 12 years!...
Lots of positive reviews to be seen, but there are some complaints worth mentioning too. Let's go over a few...
Click-Bait Marketing
The somewhat misleading marketing tactics used don't go over too well with some people. There have been multiple similar complaints about new investment opportunities being teased that seem to only be click-bait...
Refund Issues
And then there are the complaints dealing with refunds.
Remember, the trial period in which you can get your money back is only 30 days. This person wasn't too happy with this after passing the 30 day mark due to being out of the country...
They probably make exceptions in some cases, but the policy states 30 days so mark your calendar!
You also have to remember that there are no pro-rated refunds. This has been another source of complaints.
Auto-renewal
The auto-renewal feature is also a source of complaints. There are complaints with the BBB, such as that shown below, from subscribers who claim that they did not agree to such renewals. However, they did legally... just without knowing it.
Now you know!
Lost Money
And lastly, of course, there are complaints about having lost money following the Stock Advisor's advice.
We know that Stock Advisor's recommendations have greatly outperformed the market, yet there are still some complaints from people who are upset having lost money following the advice given.
Why is this?
Well, first off, not all of their recommendations are winners and it is understandable to be upset after losing money. And second, some of these complaints seem to be premature and written in the short-term... but remember that Stock Advisor is all about long-term investing.
Pros v Cons
Pros
One of the most transparent stock advisory services you will find
Provided by a reputable company that has been around for years
History of outperforming the market
Lots of long-term subscribers
No experience needed - Beginners can follow along with the recommendations made and trade like a pro, without actually being a pro
Very detailed analyses - Subscribers aren't just given baseless recommendations.
No timing the market - Unlike some stock recommendation services where you can miss out on an opportunity even if you jump on it right away, with the long-term investing strategy here this is highly unlikely.
Cons
Risk involved - as with any sort of investment opportunity
Not all recommendations are winners
No quick profits/day-trades
No pro-rated refunds
Marketing material can be misleading - While The Motley Fool certainly is more ethical with its marketing than some of the other places out there, it can still be misleading.
Motley Fool Stock Advisor vs Alternatives
There are a plethora of different trading services out there that provide investment recommendations and reports. Companies like Raging Bull, St. Paul Research, Agora Financial, Maulden Economics, etc. all provide various investment newsletters and similar trading services.
Because of all these options it can be difficult to make a choice as to which is right for you. And while we don't know your personal situation, what we can say is that out of all the companies mentioned above (and plenty of others) The Motley Fool is easily one of the most trustworthy.
The fact that they are transparent with their track record is such a big deal. This is rare to find with the similar options and this is a major reason why we like the Stock Advisor service.
The type of investing that Stock Advisor preaches and recommends is likely the reason for their market-beating performance over the years. They are all about good old fundamental analysis whereas a lot of other services lure in subscribers with the hopes of making quick and easy profits (which usually don't seem to turn out too well - probably the reason for the lack of transparency).
Who Stock Advisor Is Best for
The Stock Advisor is good for someone looking for a reputable stock advisory service, who is patient and willing to invest for the long-term, and who isn't looking for quick profits.
Some investment recommendations may not do much of anything for months, and some may even lose value in the short-run. But this is Warren Buffet style investing and what happens in the short-term isn't what's important.
Conclusion - Worth Joining or Not?
Opinions will vary but, generally speaking, if you are willing to invest for the long-term then you will likely find the service well worth it. The Premium Reports & Articles alone can be worth the money and this is just a small piece of what is provided in there premium Stock Advisory service.
Overall Motley Fool's Stock Advisor is by far one of the better and more trustworthy trading services that we have reviewed, and this is something we'd recommend... assuming you aren't looking for fast returns.
> Get 50% Off Stock Advisor Here <
We hope you enjoyed the review and found it helpful. If so, please share this post to help spread the word!
Also, leave any comments or questions below. We like to hear back from our readers 🙂