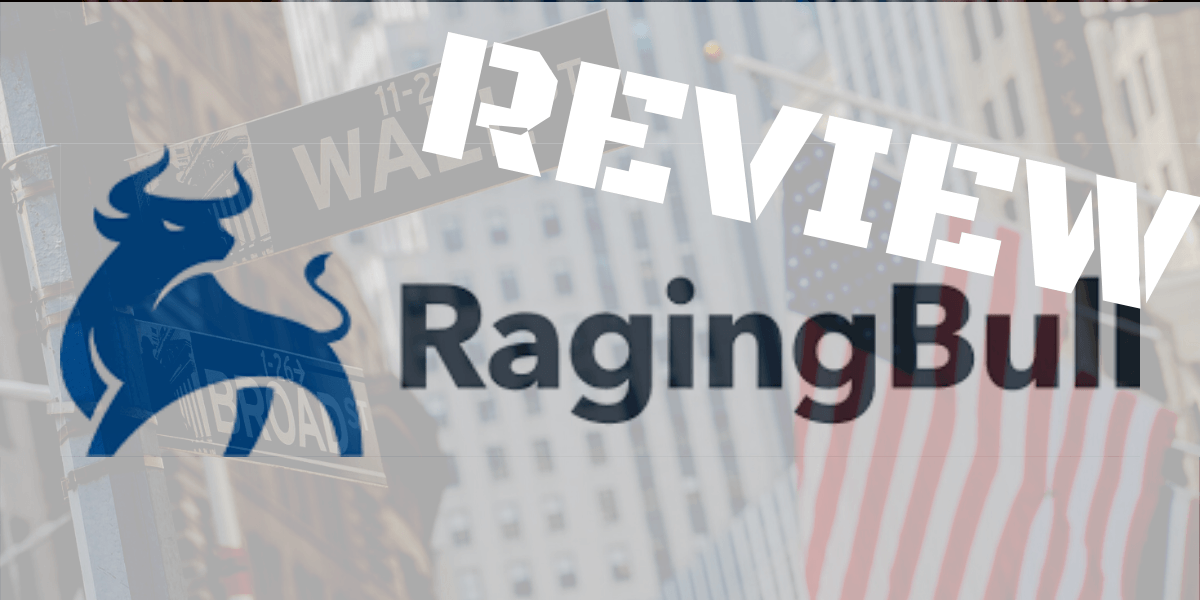 Is Raging Bull a Scam? – Read Before Investing
Can you trust the investment recommendations made? Will they make you money? Or is Raging Bull a scam?
We aren't talking about the 1980 sports film nor are we talking about the Raging Bull roller coaster at Six Flags amusement park. What we are talking about is the heavily promoted Raging Bull investment advisory service that is often promoted in misleading ways and leads one to believe that they are sure to make money, and lots of it.
However, things aren't always as they seem and in this review we'll be going over a few things you should know about this place beforehand... including what all they have to offer, complaints, concerns, refund policy, pros v cons and more.
Overview of Raging Bull
Website: ragingbull.com
Type: Educational website for stock trading
Founders: Jason Bond & Jeff Bishop
Services: Trade recommendation services
What is Raging Bull?
RagingBull is a stock-trading educational website designed for both new and experienced traders who are looking for expert stock-pick recommendations, ideas, and training on various trading methods.
The website was founded in 2010 by the collaboration of Jeff Bishop and Jason Bond, both self-made millionaire traders.
It is mostly geared towards the beginner trader and offers a handful of different follow-along trading programs where members are told when and what to invest in, some affordable and some very expensive for those looking for a more guided hands-on approach... and they offer a free 7-day trader bootcamp...
*Be warned that if you sign up for their free bootcamp you will be bombarded with promotions from them trying to get you to buy into their paid trading programs.
The company is not BBB accredited but do have a B rating, neither bad nor good. However, they do have quite a bit of negative complaints from members who have not been pleased with their experience, which we'll be covering later in this review.
Overall it seems that joining could very well be of financial benefit, but due to lack of transparency and trustworthiness, and other reasons we cannot recommend joining.
Products/Services
There are a variety of different trading services offered at RagingBull.com. They vary with the focuses and methods of trading, but are all laid out in a "follow-along" style where members are told what to invest in and when, which makes it easy for those without even the slightest bit of experience.
Below we'll be breaking down the different trading services by the "experts" that run them, which include Kyle Dennis, Jason Bond, Jeff Bishop, Petra Hess, Jeff Williams, and Davis Martin--followed by their top-notch and ultra-expensive VIP trading services.
*Note: The prices listed below are as they are listed on their respective websites. Some claim to be discounted yet are likely never sold at the "full price".
Kyle Dennis
Kyle Dennis is one of the younger experts at RagingBull.com but has had quite the success story, having went from $80k in student loan debt to making over $1 million in trading profits while working in real-estate.
He is the founder of Biotech Breakouts, a trading program that he developed himself that focuses on investment opportunities in the biotech industry, which is offered at RagingBull.
He doesn't have decades of experience on the NYSE trading floor nor has he managed multi-million dollar hedge funds... but he has been very successful with his investment picks to date and this is why he's on the team.
His trading services at RagingBull.com include:
Dollar Ace - A membership for Dollar Ace provides you with trade recommendations for option contracts trading under $1. Kyle developed a scanner that hunts down these low-priced contracts and he picks the ones he feels have the most potential. Members will receive video trade alerts via email, SMS, and in the members area... and will be able to view the model portfolio live.
Price:

$

7,497

$4,997 - lifetime membership
$

3,997

$2,497 - 1 year membership
FDA Insider Alerts - FDA Insider provides members with stock recommendations that have potential to increase in price due to FDA approval, disapproval, rules/regulations, etc. Here Kyle and his team look for catalyst events, pair them with a bull-ish looking price chart, and do additional research into potential investment opportunities. Members will receive commentary, tips, educational materials, and... of course... buy/sell alerts for specific recommendations.
Sniper Report - Kyle claims that this is "the most valuable newsletter I have ever created" and is primarily focused on finding trades that have the potential for large returns of 100 - 300%, whether they be short day trades or longer-term swing trades. Like his other services, subscribers are told what to invest in and when, as well as stop loss, target prices, and exit alerts.
Option Rocket - As the name suggests, this service is all about providing options investment recommendations. Here Kyle uses what he calls his I.G.N.I.T.E strategy where he looks at what Insiders are trading, at Growth prospects of a company, at News (both past and future catalyst potential), Institutions and what the "big money" is investing in, Technicals and what the price charts say, and lastly the Earnings to predict catalysts and future growth. Members are told what to trade and when; and this takes place in a 3-step process: 1) Place option trade with 50% stop loss, 2) Sell 1/2 of the position after it hits the target price, and 3) Ride out the price with hopes of big returns.
Jason Bond
Jason Bond is one of the most well known on the RagingBull.com team. He is a professional trader, an entrepreneur, and the founder of Jason Bond Picks, which is his most popular trading service.
Coming out of $250k in student loan debt (similar story to Kyle Dennis listed above), he was able to trade his way out of the hole and go much higher, making millions.
As mentioned, he is one of the co-founders of RagingBull.com and has his own Jason Bond Picks service, which is promoted through the Raging Bull website.
Jason Bond Picks - This is his baby. Jason Bond Picks is a very large subscription-based trade alert service that offers recommendations for different kinds of trades, meaning that different types of traders may find value in it. Members get access to a chatroom of "intra-day" trades, up to 10 larger swing trade alerts each week, and longer-term trades as well via email and SMS alerts. The main focus here is on small-cap stocks and penny stocks, which let us remind you can be very volatile.
Price:

$1,497/yr (includes a free video training collection supposedly worth over $4k)
Weekly Windfalls - This is a newer trade recommendation service by Jason Bond that focuses on options trading... and that he claims is "the most consistent options strategy on the market". So far there isn't too much history with it. Members will get alerts for trades, information about stocks on the watch list, access to the model portfolio, education and more.
Price:

$1,999 for a year membership
$2,999 for a lifetime membership
Jeff Bishop
Jeff Bishop is the other co-founder of RagingBull.com and also founded the Weekly Money Multiplier website. He has more experience than most of the other experts with over 20 years of trading experience, and he was a mentor for Jason Bond in his early days.
Besides all of that, Jeff is very proud to be a member of the elite MENSA society, which is a society for people with IQ's above a certain level that very few people get into (he loves to mention (brag about) this).
Bullseye Trades - Members of Bullseye Trades receive just one good trade per week. This is nice because too many trades can be a little overwhelming. The goal is for Jeff to find trades that will bring in at least 100% profits, and the focus is on options contracts. Members are told what to invest in and when.
Price:

$3,499

$599 for a lifetime membership

$1,197

$399 for a year membership

$158

$49 for a week trial
Total Alpha - This trading service is also focused on options trading because this is what Jeff excels in. In particular, with Total Alpha Jeff recommends volatility bets, in which you are long and short on a stock at the same time. It's not a directional bet, you just want the price to move. Members are provided with recommendations and instructions on exactly how to place their bets.
Petra Hess
Petra Hess started her trading service as recent as 2017 after starting trading in 2009 and having much success.
She comes from an incredibly diverse background, and not the type of background you may expect from someone offering a trading service, some of which includes apprenticing a blacksmith, trading horses in Europe, and running an Ostrich farm in Canada.
Some promotions of hers state that she has made over $2.6 million trading stocks, but according to TradingSchools.org there hasn't been any evidence of this.
Petra Picks Gold - With a Petra Picks Gold subscription members receive daily updates on stock watch lists as well as video updates. Petra is a user of technical analysis to find her recommended trades, but other than that there isn't much information provided on her process. Recommended buys/sells are communicated via email and SMS message.
Price:

$1,497

$797 for yearly subscription

$399

$297 for quarterly subscription
Jeff Williams
Jeff Williams has over 15 years of experience trading with most of his expertise in penny stocks, small caps, and options. Before this he was a school teacher in New York, which may not seem very relevant, but provides him with the skills needed to help teach newbie traders his methods.
Penny Pro - Penny Pro, as the name hints at, is all about trading penny stocks. Here Jeff uses technical analysis and news to find good recommendations and provides lets members know about them via watch lists and alerts for specific buys/sells... and additionally there is a scanner. All in all there are lots of trades to potentially make here and members will be able to watch him make live trades. Members are also provided with educational material such as a video library and webinars.
Price:

$1,598 for a yearly subscription
Profit Prism - This service is for people who have very small accounts and would like to increase them fast. Here he teaches members a 5-step trading method that takes a conservative approach. The goal is to find small consistent wins, not risky large potential trades. Members are provided with real-time alerts on trade recommendations and over 100 educational videos teaching his method to trading.
Supernova - Another service geared toward small-caps trading, a membership for SuperNova will provide you with about 1-3 trade recommendations per day, most variations of swing trades. Members will be alerted for new trades and also provided with educational material on this particular trading method.
Davis Martin
And the last expert on the list at RagingBull.com is Davis Martin. He isn't all that well known but apparently has done very well for himself. His specialty is trading options, SPY options more specifically.
Daily Profit Machine - With this trading service subscribers get access to an educational video library going over analysis, adjusting to pullbacks, taking profits, etc. Members also get trade alerts in real-time and daily swing-trade videos where Davis provides insight on the market and potential upcoming trades. The focus is, like many here at RagingBull.com, on options trading and supposedly the recommendations provided in this membership have been surprisingly accurate, although the exact track record is unknown.
VIP Trading Services
If you are looking to go all-in and really want some serious guidance with your trading then you may want to look at the various 1-on-1 VIP trading services offered, which you can imagine cost a lot more than the membership listed above.
These services include:
RagingBull Elite
This is the most expensive and elite service that they offer and includes the most. Not only will members get access to all the trading services listed above and all the VIP trading services listed below, but they will also be granted access to all the live mastermind meetups around the US. Members will also get access to any new services that become available in the future. Here you get everything they have to offer.
Price: Not listed; must call RagingBull at 833-795-5547 to get a quote.
Millionaire Roadmap
This is Jason Bond's premium service, which provides more of a hands-on experience than his other services. Members will get access to three of the expert traders on the team's live-streaming accounts as they make trades in real-time (includes Jason Bond, Nathan Bear, Kyle Dennis, Bart Van, and Taylor Conway), and also receive trade alerts and access to the daily watch list of potential trades on their radar.
The different experts have different techniques which allow members to learn more than one method, such as using TPS to trade large cap stocks, vertical spreads with options, finding catalysts in the market, etc.
Traders Council - This service is advertised as a way "to triple your account almost overnight". A membership for Traders Council will provide one with a 12-week educational bootcamp, over 150 videos on trading strategy, access to the premium chat room where trade ideas are shared and lots can be learned, trade alerts, and personal mentoring from Davis Martin and Jeff Williams.
Kyle Dennis' Nucleus Program
Here members get direct access to the expert, Kyle Dennis, via the live chat room, weekly live trading, live market talk and more. Of course members are also provided with alerts on what to buy/sell and when.
The level of access one gets to communicate with Kyle is what makes this program a VIP service. Members can actually ask the expert questions via the chatroom and get answers directly from him.
Additionally, members that buy into his Nucleus program also get a full membership for his FDA Insider Alerts program
Thoughts on Services Provided:
The trading services provided are of good quality in some ways. They have nice layouts and make it easy for anyone to follow along with. However, our concern is the lack of professional backgrounds coming from the "experts".
Many of the experts here at Raging Bull have no formal trading background and/or much of any relevant background in the trading world, which is the opposite of what you find with investment advisement agencies that provide similar services, like Mauldin Economics and St. Paul Research.
That said, there certainly doesn't mean that they aren't successful with what they do.
Track Record
What are the track records like for these trading services? This is the question that everyone wants answered, or at least should want answered. However, there is no clear answer.
Due to a lack of transparency, we don't know the full track-record of the various trading services offered by Raging Bull.
Of course in the promotions they always talk about trades that went according to plan, big winners, but what about all the losers?
Well, what we do know is this:
However, what's strange is that the overall rating on trustpilot is extremely high and most ratings are overly positive...
*Fake or encouraged positive reviews? This is always a possibility.
But anyways... moving on...
Kyle Dennis' Sniper Report has a 3 out of 5 star rating for investment performance, also on Stock Gumshoe.
Davis Martin's Daily Profit Machine program has received complaints on Trustpilot from members who have lost money from his recommendations...
And there are several other sources of negative performance reviews we came across, such as this review from the BBB's website in which the person complaining claims that they "lost money with each and every one of their [RagingBull's] services"...
But this is about all we know about the track record. All we can do is piece together some information like this... and unfortunately it doesn't paint a very clear picture.
Some people claim the services have made them all kinds of money while others claim they have lost all kinds of money. Which is it?
There have been some attempts to get RagingBull to disclose performance data, but they have fallen short...
*Note: We'll also be going over some complaints that members have with performance of recommended investments.
Concerns/Complaints
#1 - Their trade recommendations are "not intended to be investment advice"...?
If you've read the disclaimer you may have been alarmed by what is stated.
They state that they are "not registered as a securities broker-dealer", which is expected... but they also state that "we are neither licensed nor qualified to provide investment advice" and that what they do provide is "not intended to be investment advice"...
Whoooah.... what???
It seems to me that providing investment advice is the MAIN THING that they do at RagingBull.com with their various trading services... and they are telling use that this isn't true?
Well, believe it or not, this isn't as alarming as it seems and every investment advisory agency like this has similar statements in their disclaimers. This is just to cover their a**es legally in case someone tries to sue them over a losing recommendation and things like this.
It's nothing to worry about.
Pump & dump concerns
Then there are the pump & dump concerns, which are serious especially when dealing with the small-cap stocks and penny stocks that are often recommended in the various services.
And here is another complaint from someone who claims they are front running the microcap stocks that are often recommended...
Now is there any proof that they are doing any of this? No, not really. BUT there are complaints about people having trouble getting into trades early enough that claim it is impossible to get in when the experts do... which would mean that the experts are benefiting from all of their subscribers buying in after they do.
*Note: Investment advisory agencies like Agora Financial and St Johns Research require their expert advisors to wait a period of time before buying in on a recommended investment, but it doesn't seem that RagingBull has any such policy in place.
Trouble getting into trades
There have been multiple complaints about this...
Misleading sales pitch
And, as we should expect, there are some subscribers that don't care for the "misleading sales pitch"(s) that make these trading services seem like some sure-fire way to strike it rich...
Lack of transparency
The lack of transparency when it comes to the investment performance of the different trading services they offer is definitely a noteworthy complaint.
That said, just about every company out there in this business lacks in this area.
No Refunds
As if all that is listed above isn't bad enough, they also don't offer any refunds...
Refunds
RagingBulls refund policy is cut and dry... there are NO REFUNDS no matter what. It doesn't matter if you no longer like the trading service you signed up for or if it isn't performing well... there are no refunds.
So be certain that you want to subscribe before actually doing so.
You should also be aware that when you sign up for any of the services offered your payment will be placed on auto-renewal, meaning that if you buy a 1-year subscription it will renew automatically the following year.
If you do want to fight tooth & nail for a refund you can try by contacting them:
Email: support@ragingbull.com
Phone: 1-833-265-1270
Contact page where you can submit a contact form
Pros v Cons
Pros
Well laid-out trading programs; easy to follow
Provide educational material in addition to just trade alerts
No experience needed to follow along (although it's never a good idea to just blindly follow advice)
Different trading services offered with a variety of different trading methods
Cons
Lack of transparency; we don't know the historical track-record of the services offered
Misleading marketing material
The "experts" lack professional backgrounds in trading (some may not see this as being a con)
No refunds whatsoever
Can be difficult to get into trades fast enough after alerts for them to be very profitable
Risk involved (as with any sort of investment opportunity)
Is RagingBull.com a Scam?
No, it wouldn't be right to call RagingBull a flat-out scam. However, we can all agree that they are involved in some shady activity.
First: They should tone-down their marketing material. It misleads people into thinking they struck it rich and most of the time ends in disappointment.
Second: They need to be more transparent with the performance of the different trading programs offered.
Third: They should have some sort of policy in place that doesn't allow experts to place trades before blasting out recommendations to thousands of subscribers... which they are obviously making lots of money from.
Yes, if they took action in this manner they would not make as much money... but this is the right thing to do.
Conclusion - Worth Your Money?
This is a question that largely depends on individual experience. If you were to join one of the trading programs and profit handsomely from the recommendations made then of course it would be worth it, but if not then it would be disappointing and not worth the money.
Unfortunately there is always risk involved with investing and, because the lack of a transparent track-record, there is no very good way to predict how well your investments might do if you do join RagingBull's services.
Ultimately the decision is yours to make and we hope that the information provided in this review will help you make that decision.
RagingBull isn't a scam, but certainly doesn't seem to be the most trustworthy source of investment advice either. I'd recommend Motley Fool's Stock Advisor service much more.
Please leave your comments/questions down below and be sure to share this post if you found it helpful 🙂