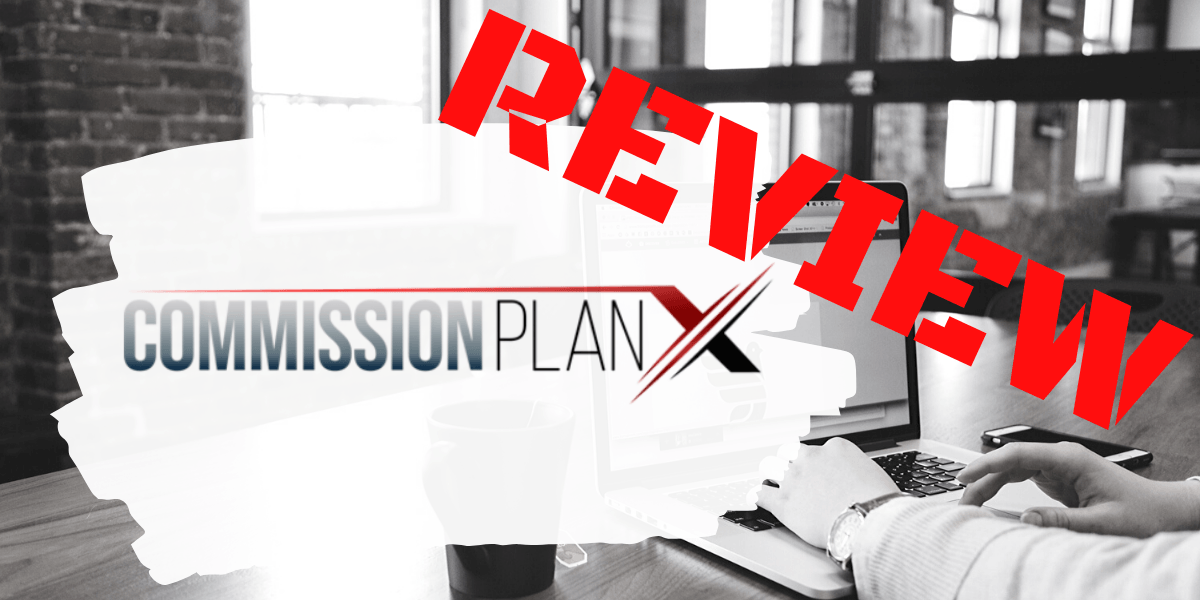 Commission Plan X Review – Legit $477/Day System?
If you're wondering if Commission Plan X is legit and can actually make you money, then you are in the right place.
In this review of the Commission Plan X system I'll be going over what it is, how it works, and whether or not it can make you money.
Spoiler Alert: I don't think it will produce a very reliable means of online income... for good reason.
I first came across the program after finding spam in my inbox, which is probably the same way you came across it.
I've been making money online since 2015 and am well-aware of all the scams out there, but for some reason these systems still catch my attention, and so I decided to check it out.
It's advertised as "This "Weird" Commission Plan Made An EASY $1,500,000"...
And right from the start things just didn't seem very legit. There are quite a handful of red-flags that caught my attention, some of which include:
#1 - It just sounds too good to be true
Come on now, how many times have we all heard of ways to make boatloads of super easy money online? And how many times do these sorts of opportunities turn out to be complete scams?
A "weird" commission plan that can make an "easy" $1.5 million. And the guy even says that it's not a question of "if" you'll get paid, but a question of "how much", as if you are guaranteed to make money with this. Best yet... it only takes 15 minutes to set up...?
It certainly sounds too good to be true, but I was still interested in learning more at this point. It had my attention.
#2 - I "Must Act Now!"
Of course they say that you have to sign up right away to reserve your account, when in reality there is probably no limit as to the number of people they will let sign up for this. The more people that buy in the more money they make.
From first glance this doesn't strike me as the type of program where there would be a limit to joining.
To add more of a sense of urgency, they make it seem as if there were 45 spots open but now there are only 7 left...
Furthermore, he claims that "this video will vanish into thin air" after today, which is a complete lie that is easily proven false.
#3 - "The typical purchaser does not make any money using this system"
That's a pretty concerning statement, and I found it at the bottom of the sales page, conveniently written in incredibly small print and in a color that was blending into the background, making it very difficult to see...
This is basically how people can lie to your face in their sales material but get away with this crap legally.
Another red-flag that I noticed was that in the disclaimer they mentioned "greedymenor.com".
Now why on earth would they be mentioning this? Who knows... maybe it was created by the same people, maybe it's a revamp of the old system, I really don't know.
What I do know is that Greedy Mentor was a scam "make money online" mentoring program that has since vanished from the face of the internet.
#4 - Fake testimonial videos
In the video presentation we are shown testimonials from people who have supposedly been using this system to make lots of money. However, they are fake.
The person I took a screenshot of above I noticed was very vague with what he was saying, referring to Commission Plan X as "this new online thing" (haha), and I also recognized the guy from other testimonial videos I'd seen before for other make money products.
After a quick search I was able to find his profile on Fiverr, through which he sells his video spokesman service...
There were also other fake testimonials as well... all talking about how this system has changed their lives... but all completely and utterly fake.
#5 - Massive price discounts
Massive price discounts are usually a sign of a low quality product. And when I went to exit the ridiculous video presentation I was presented with a whopping $30 off discount, which is a lot considering the retail price is only $47 to start out...
Did this prove anything? No... but it did raise my suspicions.
But anyways... let's take a look at what this program is all about, how it works, and most importantly... whether or not it will make you money...
Commission Plan X Review
Product: Commission Plan X
Creator: Dylan Gardner
Cost: $47 - but heavily discounted to $17 if you try to exit the sales page
Recommended?: Not really
What Is Commission Plan X?
It's advertised as a "weird commission plan", and at first I was thinking that this was all just marketing hype, but it is actually a pretty unique, interesting, and "weird" way to earn commissions that is taught in this program.
In a nutshell, Commission Plan X is a training program/system that teaches people how to earn money via affiliate marketing through a rather unusual strategy of using other people's work... which I'll explain in more detail soon.
Affiliate marketing is where the money comes from. This is a legitimate online business model and is actually what I do to make money online. To be brief, it is when you promote products online and earn commissions when you help make sales. The core of affiliate marketing is always the same... you promote products and earn commissions... but there are a thousand and one different ways to go about doing this, and this program provides a unique method to doing so.
Who Is Dylan Gardner?
I haven't been able to really find any information on Dylan, whom is the creator of this system. He claims to be a millionaire, but I don't know whether or not to believe this.
It's definitely a bit suspicious when product creators hide their faces. After all, if you created an amazing product that was making people rich, wouldn't you want to take all the credit? This is usually another sign of a product not being very good.
How It Works
In a nutshell how it works is like this: You will find products that you want to promote on Clickbank. Then you will find relevant articles that these products can be promoted through, and you will link them using a certain system. Next you will promote the article on social media and when people click on it, read the article and (hopefully) purchase the product you are promoting... you earn a commission.
Ads for the products you choose to promote will be displayed on the relevant articles you use.
The training provided on how to go about doing this is broken down into 6 steps.
Step 1: The Setup
This involves joining two places, Clickbank and Cool Links.
Clickbank is an online product marketplace where you will be able to find digital and physical products (ebooks, info products, course, online programs, supplements, etc.) to promote and earn commissions from. This is free to join.
Cool Links is a program that allows you to link online business systems together, and in this case link articles with affiliate links. I've never actually used the program, and the information available on it is almost nonexistent, but this is what I've gathered from my research. And this will cost money. It's $1 for a 7 day trial and then the price jumps up to $34.95/mo.
Step 2: Organization
Here you will be taken through the process of keeping everything organized. There will be lots of affiliate links, images, etc., and this training goes over easy ways to store things. Google Sheets is used as the preferred organization method, which is a free spreadsheet alternative to Excel.
Step 3: Research
Here you will do 2 things: find a product you want to promote and find a relevant article you could share to promote your product.
The first step is to find a product, which you will be doing on Clickbank. You can find products in just about any niche possible here, so there are plenty to select from. The platform is mostly geared towards digital products, but has physical ones as well.
In the training you'll then be shown how to find relevant articles to promote your selected product, which you'll be searching for on Google.
Example: You could promote a weight-loss product on Clickbank through an article on weight-loss... pretty straightforward.
Step 4: Build A Campaign
This will be done using the Cool Links program that you'll have to join. Basically you'll be learning how to overlay ads for your selected Clickbank product on the relevant article you selected. You'll also learn how to add meta tags that provide a brief "click bait" summary of the article, and you'll be shown how to test out your campaign.
Step 5: Post Your Link
The last step of getting everything started is to actually promote your campaign, which you are taught to do via Facebook and in comment sections, both of which are free forms of advertising. You will be using the link that Cool Links provides to do this.
Posting on Facebook is pretty self-explanatory, but what we're talking about by posting in comment sections is posting links in the comment sections of websites and YouTube videos mostly.
You find relevant articles and YouTube videos and you spam the comment section with your links... that's how it's done pretty much.
Step 6: Daily tasks
And this last step just goes over what you should be doing on a daily basis to keep things running.
Ya, I know... not much of what you are told in the video presentation is true
The video is filled with misleading information. Dylan claims that he is paying people and that is where people joining this system are making all their money, which doesn't make much sense considering the fact that this program is about promoting Clickbank products...?
Much of what we are told doesn't really make sense.
Cost & Refunds
The retail price is $47. But as mentioned earlier, this price drops down to just $17 if you try clicking away from the sales page (during the second video after the initial signup). So, if you do want to buy into this then definitely try this out.
And if you decide you want a refund then you're in luck. This program is sold over the ClickBetter platform, and they have a 60-day money back guarantee:
"If for any reason at all you are not 100% satisfied with your purchase, just let us know within 60 days and we'll provide you with a prompt, hassle free refund."
However, I think it can still be somewhat of a hassle trying to get your money back here.
Why I Don't Think This Will Work Well
It just won't create a reliable source of income.
One thing I will give the creator of this system credit for is his ingenuity. There are many clever and sneaky ways to make money online, and it's interesting to see the different methods people figure out.
That said, there is no way this is a reliable way to actually make money online. Money can be made, undoubtedly, but I just can't see any way to consistently make money doing this.
You have a product you are promoting >> when someone purchases the product you receive a commission >> you have a relevant article that you are going to lure people in with >> but the main problem here is the traffic source, which Facebook and comment sections.
2 Reasons Why This Won't Work Well
#1 - There's an element of "virality" here
Facebook is a heavy focus for traffic that is covered in the training... and what you need to try to do here is share posts on that have the potential to go viral. This is the only way you are going to make big money doing this, unless you are a celebrity and have some massive following on Facebook already... but then again, if you did you wouldn't be looking to make money online with this system.
Sure, you might get some views posting on your Facebook feed, and there is much more potential posting in relevant Facebook groups, but much the potential of success is going to rely heavily on that viral element, which is something that is difficult to figure out. After all, most people that have posts that go viral weren't trying to go viral... it just happens.
All things considered, this isn't a way to get consistent and steady traffic... at least in my opinion. But then again... I'm not a Facebook marketing expert by any means.
#2 - People aren't looking to buy things
When people look up product reviews and comparison lists they are often thinking about buying something... not when they just want to read an interesting article, such as the ones you will be sharing on Facebook with this method.
I'm not saying you won't be able to make sales, it's just that people won't be far in the "buying lifecycle"... in fact, they won't even be in it yet. So don't expect many conversions.
#3 - Comments can work, but I wouldn't count on it
When you post comments on websites and below YouTube videos, it's free and this is great, but unfortunately you are at the mercy of the moderator, which would be the YouTube video owner or the website owner. They can delete your comments at anytime... and this happens a lot.
In fact, I delete spammy comments all the time on my websites, such as the one you're on now. I also have a spam blocking plugin that filters out most of them automatically.
Furthermore, people don't go around just clicking links anymore. If someone sense that you are just trying to promote a product, they will ignore your link. Comment section links are definitely not that reliable for this reason... along with the fact that anyone can leave comments and most people don't trust links left in comment sections because of this.
Pros v Cons
Pros
Unique way to make money online
Doesn't require much work (compared to other methods for making money online)
Step-by-step training provided
Free traffic generation techniques taught
Cons
Very unreliable way to make money online (as far as I can see)
Won't help you build a sustainable online business
Will definitely take more work than promotions lead one to believe
Cool Links costs money
Final Thoughts - Worth a Try?
To be honest, I was presently surprised by what Commission Plan X offered after looking into things more. From what the promotional content for this program looked like, I thought for sure it would be some blatant scam.
But it's not a scam. It's actually an interesting way to make money online, although unreliable, and the setup of the program along with the training is decent, especially considering the fact that you can buy all of this at the discount price of $17.
That said, I'm not going to be promoting this to you or any of my readers. I just can't see it being that great of an idea. Sure, it could work... but this pretty much hinges on something going viral (if you're promoting on Facebook). Comments below YouTube videos and on websites can bring in some sales... but I wouldn't expect much here either.
The fact of the matter is that if you want to build a sustainable online business, it takes time and work. Looking for easy and fast cash online never ends well, and it is this type of audience that Commission Plan X caters to.
My personal recommendation if you are looking to make money online would be the Wealthy Affiliate training program, which is what taught me everything and is a program that I'm still a member of. This program teaches a different approach to affiliate marketing, which is much more sustainable and reliable, but unfortunately takes more work.