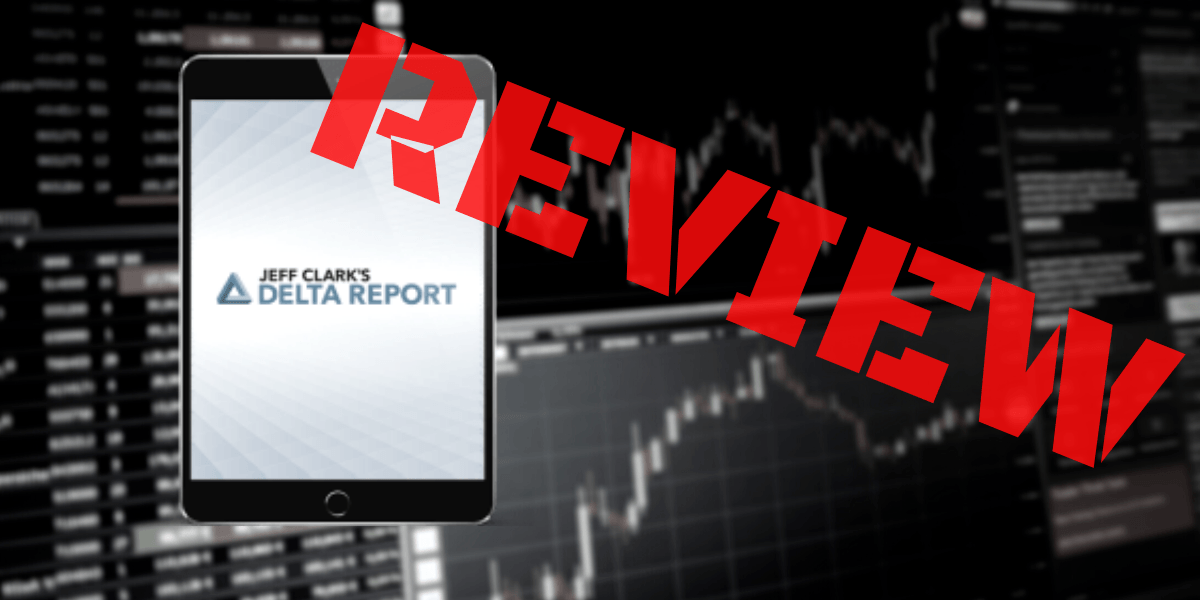 Review of Jeff Clark's Delta Report – Scam or Legit?
Will Jeff Clark's Delta Report advisory service help grow your nest egg, or is this a scam service that should be avoided like the plague?
The marketing material makes it sound a little too good to be true... which is probably why you did a little extra research and landed on my review here now.
It seems that every advisory service is promoted as the greatest thing ever, and as a sure-fire way to get rich... but a lot don't live up to the hype, which is why I decided to dig a little deeper and put together this review for anyone interested.
In this review I'll be going over what exactly Delta Report is and what it provides, the cost & refunds, past performance, complaints and more.
Read before buying...
What Is Jeff Clark's Delta Report?
Product: Jeff Clark's Delta Report
Type: Investment advisory service
Editor: Jeff Clark
Cost: $5,000/yr
Overview
Jeff Clark's Delta Report is a top-tier investment advisory service provided at jeffclarktrader.com. A subscription comes at a high price, but provides subscribers with weekly trade recommendations that have the potential for quick gains.
This advisory service is focused on options trading, and is laid-out in a follow-along style where subscribers are told exactly what to invest in and when to invest in it.
Options trading is more risky than trading stocks, but also usually has the potential for faster profits, which is why Jeff trades them in the first place.
*For more info on what options are and how they work, here is a short informative video:
Who Is Jeff Clark?
Jeff Clark is a veteran trader with over 35 years of options trading under his belt.
Currently he runs several investment advisory services at jeffclarktrader.com, Delta Report being one of them. And before founding his own advisory firm he was working for Casey Research and Stansberry Research (seems to still be writing articles for Casey Research).
The strategies he teaches and uses to recommend investments to subscribers are the same ones he uses for his personal investments.
Before getting into the business of running investment advisory subscription services, Jeff founded an investor educational firm and even, on an unrelated note, developed a curricula for a MBA program.
All-in-all his background is pretty good. He seems like the type of person you'd want to look to for investment advice.
How Delta Report Works
Delta Report is like an upgrade version of Jeff Clark Trader, which is Jeff's flagship advisory service. It also provides regular options trade recommendations, but Delta Report provides recommendations more frequently... this is one of the main differences.
What You Get
Weekly Trade Alerts - New trade recommendations are provided every Tuesday, around 10 am. Each recommendation will be accompanied with details on how you should execute the trade.
Email Updates - Subscribers are also provided with email updates as needed. When Jeff thinks it's a good time to get out of a trade, or maybe add to a position, then he'll let you know. So be sure to stay up-to-date with your email.
Tutorial Videos - There is also an 8-video tutorial series that goes over what you need to know about options trading before getting started, as well as with information on actually doing it.
Delta Direct - This is a real-time feature where members get updated on Jeff's trading ideas/thoughts in real-time, either through the website or the app.
Report - Subscribers also get a report titled Spotting the Perfect Trade: How to Make $1,000's a Week With Options. This report goes over the technique Jeff uses to spot profitable trades, which is great if you are looking to identify your own winning trades and not just follow his recommendations.
All-in-all, what you are getting if you join is a follow-along style trade recommendation service where anyone can join and make professionally recommended trades, similar to many other investment advisory services like The 1450 Club, The Casey Report, Jeff Clark Trader and more.
This is great if you don't have any experience/knowledge trading options, however it's never a good idea to simply blindly follow advice.
Cost & Refunds
The cost of a 1-year subscription for Delta Report is $5,000. This is the most expensive trading service that Jeff offers.
Yes, it's a lot, but overall the service provides a lot and has performed pretty well over the years, which I'll go over next.
Refunds
Jeff doesn't offer refunds for all of his trading services, such as for Jeff Clark Trader, but with Delta Report he does.
There is a 30-day money-back guarantee where you can request a full refund for any reason.
In order to request a refund you will have to contact the customer service team at:
Their office hours are Monday - Friday, 9am - 7pm Eastern Time.
Performance
I've reviewed quite a bit of investment advisory services over the years and most of them aren't very transparent when it comes to the historical performance of their recommendations. They don't show you their track-record... and this can be a big concern.
Fortunately, Jeff Clark provides full track-records for the closed trade recommendations on all of his services, which you can find in total at jeffclarktrader.com/track-record.
I took the liberty of doing the math and below are some stats for the overall performance of his Delta Report service over different time-frames.
If you would have been a subscriber for the past year (at the time of me writing this) then you might have reaped some pretty sweet gains...
Past 12 months of recommendations [Jan 18, 2019 - Jan 17, 2020]
However, if you just recently subscribed then the future might look bleak. At the moment his recent recommendations have been poor...
The past month of recommendations (at the time of this review of course) have provided a net loss...
Past 1 month of recommendations [Dec 18, 2019 - Jan 17, 2020]
*Note 1: These are trades that are closed, so it doesn't match up with the 1 recommendation/week frequency.
*Note 2: The past month's loss was still calculated into the past years statistics, which produced the sizable gain listed above.
*Note 3: We don't know how much Jeff recommended putting into each trade, so the statistics can be somewhat misleading.
There have been periods where Jeff has made consistently bad recommendations for some time, but if you look at the big picture, which every investor should be doing, then his advise has fared pretty darn well.
HOWEVER... that said... there is one major problem with this service that I will talk about in the complaints section next... and you might not be able to expect the same returns as Jeff has had (listed on the track-record page).
Complaints
One good source of complaints I found while conducting my research was Pissed Consumer, which is a website where people usually go to b*tch and complain about things. Some of the more notable complaints that are worth mentioning include the following:
#1 - Trouble Getting Refunds
Apparently some people have been having difficulty getting refunds. Yes, refunds are available, but it seems that the support team can be hard to get in contact with...
#2 - Losing Recommendations
You will also find quite a few complaints from people who are upset with losing recommendations, which is to be expected and is something you will find with any advisory service.
At some points there may be a string of losing recommendations. However, as we went over above, the overall performance of this service has been very good if you look at it from a long-term perspective.
#3 - Misleading Marketing
It would be nice if they toned down the marketing material a bit, but I don't expect to see this happen... as over-hyped promotional material that makes things seem like a guaranteed way to make tons of money seems to be pretty commonplace in the world of investment advisory services.
This is undoubtedly a cause of many complaints, because people subscribe with too high of expectations.
#4 - Difficulty Entering Trades
This is the most concerning complaint, and is the reason I mentioned earlier that you might not be able to expect the same performance results as shown on the track-record page.
Why?
Well, because it can be very difficult, and some say impossible, to enter trades at the right buy-prices...
This is a huge problem and is, unfortunately, something I've come across with other options trading advisory services as well, such as those provided at Raging Bull and Jeff Clark Trader.
For some advisory services, like Motley Fool's Stock Advisor for example, the editors are required to wait at least 24 hours before buying into one of their recommendations. This is to ease concerns of "pump & dump" activity and allow subscribers a fair chance.
However, options trades are usually more short-term and traders need to be quick to act when the price is right. Because of this, waiting 24 hours would make it so that the editors (Jeff in this case) might not get any good trades.
I'm not entirely sure what to think of this all, but there is no doubt that Jeff is profiting greatly by being the first into all of his recommended trades and it's a shame that subscribers often struggle to get in on time, which makes some recommendations useless.
*I'd love to hear subscriber thoughts on this down below in the comment section.
Pros v Cons
Pros
Easy to follow
Well laid out (recommendations, details, updates, etc.)
Advice provided by veteran trader with lots of experience (Jeff)
Full refunds available within 30 days
Low barrier of entry for trades (what I mean is that options take less upfront investment)
Possibility of quick profits
Cons
Expensive
Risk involved (as with any investment opportunity)
Possible trouble getting into trades in time
Customer support team could be better
Options are riskier than trading stocks
Is It Legit?
There are quite a few people calling Jeff Clark's Delta Report a scam, most of them complaining about one of the common complaints I went over above, but all things considered this is not a scam.
It is a legitimate service provided by a legitimate trader with decades of experience.
Conclusion - Worth Joining?
If I was able to solely base my judgement off of the track-record provided then I would say that this advisory service is without a doubt worth joining. Over the long-run it has performed very well, as the track record shows.
However, we know from some subscriber complaints that you can't expect to make the profits that Jeff makes because he is always the first to place a trade and always gets the right price, whereas normal subscribers are left behind and can have trouble getting into trades before the price spikes.
So... this makes the question of whether or not it is worth joining a lot more complicated. And the decision ultimately comes down to you.
If, however, you want an advisory service that also is transparent with their recommendations, but doesn't have the problem of getting into trades too late, then I'd recommend Motley Fool's Stock Advisor service.
Leave any comments/questions below. I'm interested in your take on this service.