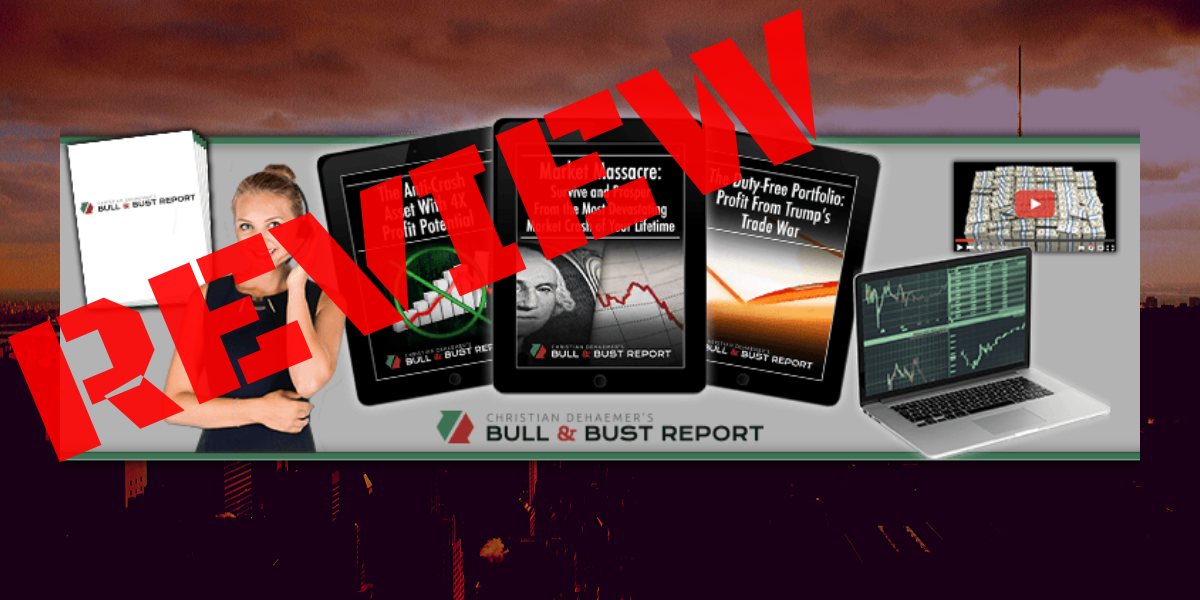 Review of Bull and Bust Report – Scam or Legit?
Will the Bull and Bust Report really help you avoid financial crisis and provide profitable investment recommendations? Is it worth subscribing to? Or is this just another scam newsletter service that you would be better off avoiding altogether?
After all, they do use a lot of scare-tactics to lure in new subscribers, talking about "the omen" and impending financial doom that you must prepare yourself for at once... which to some extent seems a bit far-fetched (although not all too much).
In this review of Bull and Bust Report I'll be going over what you should know beforehand, such as what exactly it is and what it provides, performance, cost & refunds, pros v cons and more.
Let's begin...
The Focus of the Report
The report is focused on helping everyday Americans stay safe in times of financial crisis, which are part of regular economic cycles... and according to these guys... largely caused by the government meddling in things they shouldn't be.
The good news? There are options. There are always options so that you can stay safe in times of financial worry and avoid the downsides of big bursts.
The focus is on the options that Americans have available and how they can actually capitalize on what's going on.
To give you a better idea of what you can expect if you do subscribe to this service, here are some of the recent topics covered in some past reports:
Rising global oil prices, and how you can profit
Investments that can keep you protected in the collapse of the U.S. and global economy
Rising gas prices, and how to profit from China's need for liquid natural gas (LNG)
One investment to protect yourself from the U.S. government's enormous debt levels
The new "age of silver," and how to invest for big gains
One of the more recent promotions I've come across for this advisory service claims that a "market massacre" is coming and that you must be prepared...
The claim is that there is some "omen", and that "you can be 100% certain that a crash will be mere days away".
Here Chris talks about how the Fed meddles far too much trying to manipulate the economy... and soon it's going to create a catastrophe.
The marketing here plays a lot with fear-mongering tactics... or scaring people into subscribing out of fear that if they don't they might "see their financial future destroyed before their very eyes" (also their words).
That said, what he speaks of very well could be true. The fact of the matter is that America's debt, in many areas, is at all-time highs and this, from an economic point of view, can't simply continue to go on without any big downturns.
What You Get
As mentioned, this is a follow-along style advisory service. Subscribers are given specific, actionable investment recommendations and can follow along as they please... but of course I'd never recommend just blindly following their advice. It would be better to use what they give you as a guide, but still perform your own research.
With a subscription to the Bull and Bust Report you will be provided with the following:
12 Monthly Issues of Bull and Bust Report - This is the core of what you get. Each month a new report is sent out and they provide details on 3 or more new opportunities. Chris also takes a broad approach to provide a high-level overview of what's going on and what you should be aware of. In these reports Chris makes specific, actionable investment recommendations.
Weekly Updates - Every week subscribers are also provided with updates on what's going on, which will definitely include anything that might affect their wealth/investments.
Quarterly Market Insight Videos - Four times a year subscribers are provided with a very in-depth report that focuses on what Chris considers to be the biggest opportunity at the moment, which could be focused on preserving or growing wealth. These reports are provided via video.
Up-to-the-Minute Recommendations - When it's a good time to get into an opportunity, or to sell, subscribers are notified.
Model Portfolio Access - Here you can see how all of the investment recommendations are performing.
Members Area Access - Inside the members area you will have access to all that this subscription service offers. This is where you can view the model portfolio and look at new as well as past reports that have been sent out. The special reports, such as the "Market Massacre" report that is being teased (at the time of me writing this), are also included here.
Special Reports - The team is always coming out with new special reports focused on new opportunities. As mentioned, the one titled "Market Massacre" is being heavily promoted at this time, but there are others as well. You will have access to all of these in the members area.
Performance
When you join you will get access to the members area where you can view the model portfolio. Here you will be able to monitor the performance of the investment recommendations made.
However, they don't disclose any of this information up-front. There is no clear track-record, nor are there many subscriber reviews I've been able to find where I can extrapolate information to get an idea of how well the newsletter performs.
Cost & Refunds
The normal cost for Bull and Bust Report is $149 per year. However, it seems that they are constantly running discounts and you can get it for $49.
They also have a deal where you can get 2 years of the report for $79.
So your options are:
$49 for 1 year
$79 for 2 years
*Note: After your subscription runs out they will automatically charge you to renew it. This price will be for "the lowest renewal rate we offer", according to them. And this could be the full price of $149/yr. Just be aware of this.
Refunds
The refund policy states that refunds are obtainable within a period of 30 days. If you don't like what you receive, you can simply request a refund and they will provide one, no questions asked.
You can start this process by contacting them in one of the following ways:
877-303-4529
customerservice@angelpub.com
Or, if you happen to live close by, you can head over to Angel Publishing's physical location:
3 E Read Street
Baltimore, MD 21202
Other costs you should be aware of
You also should be aware of the fact that when you subscribe to Bull and Bust Report you will also be given a free subscription to Energy & Capital. This is listed as "free", but there is a good chance that the subscription will be renewed automatically and you will have to pay for it. I've seen this sort of sales tactic used before. So just be aware of this.
Is Bull and Bust Report Legit?
Yes, it is legit. They might go a little overboard on the marketing material and the fear mongering... using fear-mongering to lure in new subscribers... but the service does provide a lot of value and is legitimate. No scam here.
Pros v Cons
Pros
Easy to follow
Well laid-out (monthly issues, weekly updates, etc.)
Affordable (especially because there always seems to be a discount available)
Provides information on opportunities you won't hear about in the mainstream news
Great efforts are made to bring this information to subscribers (Christian travels all over the world to get first-hand info)
Refunds available within 30 days
Cons
Risk involved - certainly not guaranteed to make money
No track-record provided up-front (don't know how well the recommendations perform)
Marketing material can be misleading
Verdict - Worth Subscribing To or Not?
The answer to this depends on what you are looking for. If you have a contrarian point of view, are worried about future financial crisis and protecting your wealth, and you would like to be provided with professional investment recommendations then this might be worth subscribing to.
But I'm not going to tell you what to do, and unfortunately because there is no clear track-record I wouldn't feel comfortable doing so.
So... the choice is yours. I hope this review has provided some insight into what the Bull and Bust Report provides and whether or not it's what you're looking for.
If you are looking for a more transparent and proven investment advisory service then Stock Advisor is one that I do highly recommend. But it's not the contrarian, crisis-focused style newsletter that Bull and Bust Report is.
Also, since you are of the contrarian point-of-view and have a desire to protect your wealth in times of crisis, Simon Black's Sovereign Man might be worth taking a look at as well.
Comments or questions? Any thoughts or advice? Leave them below in the comment section 🙂