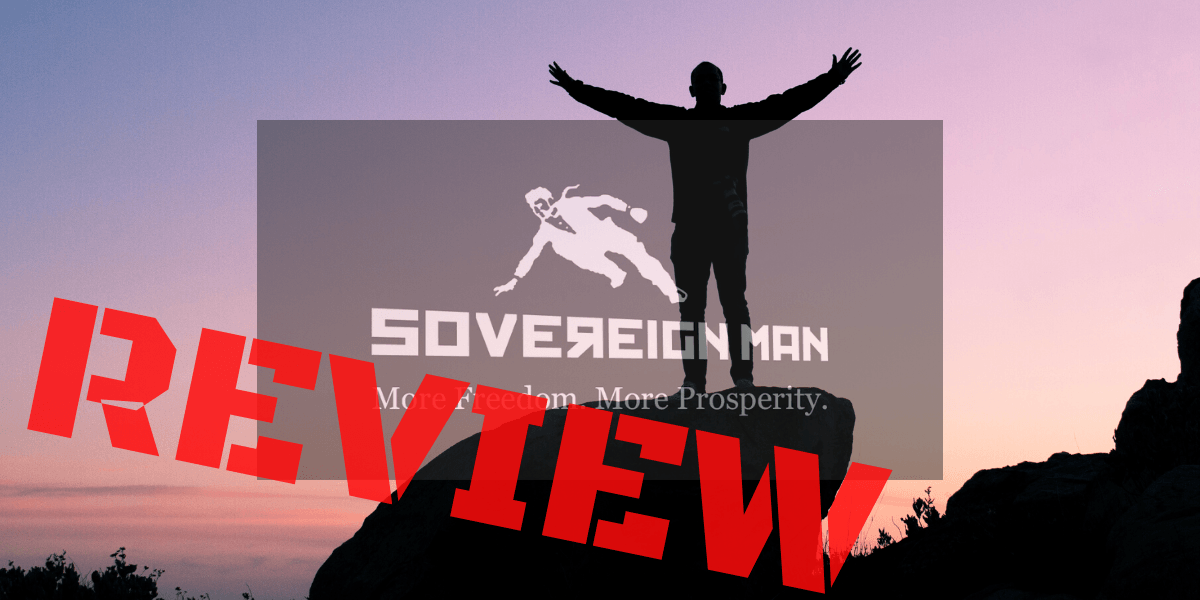 Review of Simon Black's Sovereign Man – Scam or Legit?
Is Sovereign Man a scam? Is Simon Black's service legit?
I recently came across the services offered at SovereignMan.com and became interested, but was a bit skeptical due to some comments about Simon I found online, such as that from an article at Keeping Stock calling him a "snake oil sales person"...
The only way to get to the bottom of things: more research.
And in this review I'll be going over what Sovereign Man is, the different services provided, what I like/don't like, and more.
Let's begin...
What Is Sovereign Man?
Name: Sovereign Man
Founder: Simon Black
Website: sovereignman.com
Company: Blacksmith Global Ltd
Service: Financial advisory service
Overview
Sovereign Man is a website founded by Simon Black that provides services to help people achieve sovereignty over their lives and money.
Both free and paid services are available, which include a free e-letter, membership investment services, and more.
At Sovereign Man there is a very broad and global approach taken. Information is provided on everything from diversifying investments on a global scale, to moving money into off-shore bank accounts, getting second passports and more.
The company behind the service is Blacksmith Global Ltd, which is registered in Singapore... and this makes complete sense knowing that Simon Black is all about diversification and doesn't seem to care too much for the US.
Who Is Simon Black?
As you may already know, Simon Black is a man who is many things. He is an international investor, entrepreneur, and someone who really distrusts the US government... often using the old fear-mongering "the world is coming to an end" sales pitch to lure in new subscribers to his services.
Simon is also a graduate of the famous military academy, West Point, and a former Army intelligence officer, which may sound like a proud past to some, but he calls it all a poor career move... after later doubting the good intentions of wars, governments and the banking system.
He believes in freedom without boarders, and heavily promotes making money in other areas of the world besides where one lives. He also lives by his beliefs, and is a frequent traveler, allegedly going to over 40 countries on a yearly basis, which is an insane number.
All in all there isn't all that much information on Simon, and there's a good chance he wants to keep it that way. But, if you want to get to know more about him and his thoughts then there is an excellent hour long free podcast I came across from Borderless, which I'll include here:
Oh ya... and Simon Black isn't a real name. It's a pen name. The guy here doesn't disclose his real name because he believes privacy is essential for freedom. I'm not sure what I think about this. I would like him to disclose his real name to his followers but I also understand his reasoning for not doing so.
Who Else is Behind SovereignMan.com?
Besides "Simon Black", on the About page of Sovereign Man's website there is also listed a Tim Staermose and Julia Whippo (which are real names).
Tim Staernose is a chief Investment officer based in the "Asia-Pacific region", and I'm guessing probably Singapore because I know Simon really likes investing over there. Tim has two decades of experience in financial markets and has worked at firms as well-known as Lehman Brothers.
Julia Whippo takes care of the operations for Simon's private investment bank, having began her career at Goldman Sachs as a capital risk manager.
What They Offer
What they offer is information and material to help people achieve sovereignty, some of it for free and some at a cost.
Let's go over the free stuff they offer first:
Free Material
Blog - Of course there is the blog that they run, which includes articles written by Simon Black and someone named "Alina", whom I don't know anything about because this name is never mentioned on the About Us page at SovereignMan.com.
On the blog there are all sorts of topics covered. World news, investment opportunities, market analysis, politics, lots of information on taxes, etc.
For example, as I'm writing this the most recent articles are:
These blog posts are usually pretty short and don't go into too much detail, but they are good for staying informed with what's going on in the world and it's nice to see Simon's take on things, which is different than most.
*It's also nice that these blog posts are there to actually provide good information, and aren't filled with sales pitches and links to purchase things.
Free Tools - On the website there is a passport ranking tool that you can use to search for the most attractive passports, if you are looking to get a 2nd one. And there is also a Cost of Living Index tool, which you can use to search for areas around the world that meet your needs based on income and family size.
Free Guides - There are also a handful of free guides available by Simon that provide actionable and detailed information on various aspects of achieving personal liberty and financial freedom. The guides currently available are:
Offshore Banking: How & Where to Open the Best Offshore Bank Account
Save Tens of Thousands of Dollars by Legally Reducing your Taxes
How to Make More Money by Investing Outside the Mainstream
How to Drastically Increase Your Freedom & Protect Your Hard-Won Assets
These provide valuable information, and a lot of it, but you should know that they are part of a sales funnel.
How it works is like this: You can read the information in these guides and be provided with some actionable advice, but will be left wanting and needing more. Then you will be directed to download some other free guide or report, but for this you will have to enter your email address. By doing this you are getting on Simon's email list, and you will receive some promotional emails for the paid products that I'll go over now...
Paid Products
Sovereign Man has a handful of paid products that you can purchase. All these are categorized as either defensive or offensive products.
Defense Products:
These are focused on risk prevention and safeguarding what you have. Simon distrusts any one government and believes in strong defensive strategies through diversification.
#1 - Sovereign Man Confidential - $995/yr
Sovereign Man Confidential, or SMC for short, is Simon's flagship international diversification service.
Once a member, you will get access to the SMC membership area that includes all of the following, as well as years of past archived information.
Video library with over 50 video lessons on things like foreign banking options, 2nd citizenship, tax mitigation, and much more.
Monthly Intelligence Reports that include step-by-step instructions for implementing various diversification strategies.
Quarterly Black Papers, which consist of very in-depth reports on topics like tax reduction strategies, getting second passports, and so on.
Monthly Dispatches that provide all sorts of valuable information from Simon's travels and recent experiences.
Monthly Q & A where subscribers can ask any questions and hopefully get answers.
And subscribers are also provided with the Starter Guide, which can be purchased by itself and I'll talk about it more below.
#2 - Sovereign Man Explorer - $195/yr
Sovereign Man Explorer, or SMX, is all about international diversification. Subscribers are provided with actionable advice and step-by-step instructions on things like opening foreign bank accounts, getting foreign residencies, investing in precious metals, eliminate taxes, and how to "strategically, legally, and intelligently structure and implement your personal Plan B".
What you get is:
The Explorer Monthly newsletter that is like a "Master's Degree in international diversification". Here Simon shares new opportunities he has uncovered during his constant and frequent travels.
Weekly Intelligence Briefs that provide information and opinions on important regulations that are taking place or being proposed around the world.
The Plan B Video Series which is a library of videos that go over how to implement Plan B solutions, such as getting a second passport, opening a foreign bank account, etc.
Sovereign Man Explorer doesn't provide quite as much as Sovereign Man Confidential, but can still has a lot of good information and can definitely help people out who are interested in diversifying on an international level. And it's much less expensive.
#3 - Starter Guide - $249 (one-time payment)
This is one single, massive 80+ page report/guide that "outlines ever step you need to take to protect your family and livelihood". It includes step-by-step information on getting a 2nd passport, saving on taxes, opening offshore bank accounts, structuring your retirement savings, never losing passwords online, and more.
This guide is included with the Sovereign Man Confidential membership, but due to demand and a lot of people asking for it, they now sell it separately.
Offense Products:
These are the products focused on increasing wealth and prosperity, as in investment-focused products.
The 4th Pillar - $1,995
This is an investment advisory service led by Tim Staermose, who is the Chief Investment Strategist at Sovereign Man (mentioned earlier).
Like many advisory services out there such as Utility Forecaster and Options for Income , this is a follow-along service in which subscribers are told:
What to invest in and at what price
When to sell or hold
and How much to invest
The recommendations are based on a strategy of buying shares that are selling for less than the amount of cash the company has in the bank... aka undervalued shares... which become profitable from capital appreciation, currency appreciation, and dividends.
To-date, the recommendations supposedly have a 97% win rate over the last 2 years, and where the average return is 37% (I haven't verified these claims).
As far as markets go, the focus is on Australian and Asian markets. They stay away from US markets because they claim they are "seriously over-valued", which might be true in general, but I would like to see them have a less biased focus and just look for good opportunities.
Private Investor - $2,995
This is their private equity investment recommendation service. Here, Simon Black provides subscribers with actionable investment advice, which comes from Simon and his network of industry experts, entrepreneurs, and other high-level investors.
The focus here is global. Recommendations are made in a variety of industries and all over the world. And as for performance, well, I don't know the win-rate of this service. I can't find any good information on it.
*Note: At the time of me writing this the service is closed to the public. So you may want to check it's availability.
Total Access - EXPENSIVE
As shown above, this is their highest-end membership and the positions open here are limited. The price isn't listed, but I can imagine it costs quite a lot.
This service is top-tier and provides:
Exclusive opportunities
Private investment deals
Exclusive events
and a Network of communication with other members
The Podcast - If you are just looking to stay up to date on what's going on in the world and also learn a heck of a lot from commentary between Simon and other like minded, and sometimes well-known people, then you might want to subscribe to The Sovereign Man Podcast. The focus here is on personal liberty and financial prosperity, and there are all sorts of interesting topics covered and actionable advice provided.
Podcasts are held irregularly, and have no set schedule which is disappointing, but overall the podcast receives very good ratings on Apple Podcasts.
Cost & Refunds
As you can see, the prices vary quite a lot... anywhere from $195/yr for Sovereign Man Explorer to $2,995/yr for Sovereign Man Private Investor, which all provide a lot of value and don't seem to be overpriced in my opinion (although it's hard to place a price tag on info products like this).
As far as refunds go, they have a 30-day money-back policy for all of their products, with the exception of the podcast subscription, which is sold through Apple Podcasts.
There are a lot of investment subscription services that have strict no-refund policies, so it's nice to see that this place actually treats their customers with respect.
And if you do buy and aren't satisfied, you can contact them at refunds@sovereignman.com
What I Like/Don't Like
Like
I think the services offered here are, overall, pretty darn good and provide a lot of value.
It's nice to see a place like this give such a wide-scale approach to their services... helping people with everything from opening bank accounts off-shores to investment opportunities.
Also, it seems to me that Simon Black, although not providing us with his real name, does genuinely care about the service he offers and isn't in it just for the money. After all, he practices what he preaches and some of the services have limited availability, which shows that he isn't just selling a sh*t ton of subscriptions to make money.
Don't Like
There isn't much that I don't like to be honest. However, if there is one thing I'd like to complain about then it has to be the marketing, which I think can be somewhat misleading.
First off, Sovereign Man's products are often promoted with, as I mentioned earlier, the typical fear-mongering "the world is coming to an end" approach, which always has some truth to it but is often exaggerated for promotional purposes.
Second, there are some seriously high hidden costs that it would be nice if they were up-front about. For example, there is a lot of information on getting a second passport in the different services offered... and they recommend a service for only $102,500... which is supposedly $20k-$50k less than other providers. BUT this is still way out of the budget of most people looking into these kinds of services!
Is Sovereign Man a Scam?
I think the answer is pretty obvious at this point. No, this is not a scam and Simon Black, although keeping his real identity hidden, is not a scammer.
The reason I want to address this directly is because at the beginning of this article I mentioned some concerning comments i found about him online. However, these seem to be mostly baseless and after looking into everything I'm not concerned at all.
The services offered by SM are legitimate and they do have real value.
Pros v Cons
Pros
Wide-based approach to achieving life sovereignty and financial freedom
Various services offered and good free information provided
Trustworthy and good quality information provided from people who practice what they preach
Cons
Expensive products
Some hidden costs
Not very transparent with some things (don't even know Simon's real name)
Risk involved with investment recommendations (as there will always be)
Conclusion - Worth Joining?
When I first started my research into Sovereign Man I was a bit skeptical of things but am no longer. Sure, it would certainly be nice if Simon gave us his real name and I do have a bit of a problem with this, but I understand his reasoning for using a pen-name. And, the bottom line is that the services offered by Sovereign Man have real value and provide good quality information.
The decision is ultimately yours, but I think any one of the services offered here could be worth joining, depending on what you are looking for of course. If you are someone who has a survivalist mentality and wants to be prepared for all situations, and has interest in global diversification... then this very well could be a good fit for you.
Anyways. I hope you found this review helpful. If so, please share to help spread the word and to help out my website here.
Also, leave any comments/questions below and I'll get back to you as soon as I can 🙂