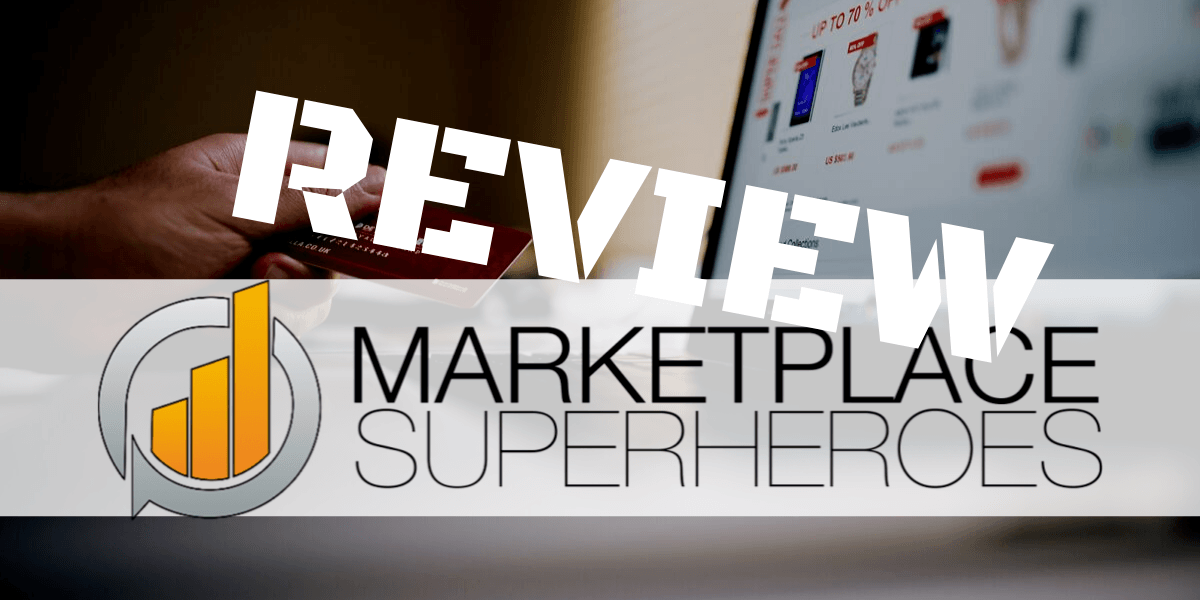 Marketplace Superheroes – Scam or Worth The High Price? [REVIEWED]
With 47% of ecommerce sales going through the Amazon platform, it's no wonder that courses like Marketplace Superheroes are popping up all over to teach people how to take advantage of this opportunity.
But how good is this course actually... and is Marketplace Superheroes a scam?
You've probably come across promotions like this that advertise "free training" and whatnot...
There seem to be a number of different funnels to lure in new customers, such as by signing up for the free training and signing up to watch lengthy webinars, but they all point to the same program.
However, with all the stories of students taking this course and striking it rich, things probably sound a bit too good to be true, which is why you're a bit concerned it might be a scam.
I've found plenty of videos like this that are of students who have had incredible success stories...
But of course they aren't going to tell us about all the students that fail.
In this review I'll be going over what you need to know about the course beforehand... such as the method taught, how it all works, info about the creators, what you get as a member, complaints and more.
Marketplace Superheroes Overview
Course Name: Marketplace Superheroes
Type: Training in Amazon FBA
Website: marketplacesuperheroes.com
Creators: Stephen Somers and Robert Rickey
Price: $997 or $97/mo for 12 months
What Is Marketplace Superheroes?
In a nutshell, Marketplace Superheroes is an online business membership program that includes training, tools, and a Facebook community to learn how to build a successful Amazon FBA business by finding, branding, importing, and selling their own branded products on Amazon... Globally--no experience required.
The main course consists of 12 modules, 2 main phases, and nearly 100 training videos... along with access to their in-house product analysis tool.
Amazon FBA In a Nutshell:
​​FBA stands for "fulfillment by Amazon" and is an online business model where you sell your own products on Amazon and have them deal with shipping, returns, payment processing etc.
Here is a short 2 minute video that explains it perfectly:
Besides teaching people how to create Amazon FBA businesses, it's important to point out how they teach people to do this, which differs from many of the other training courses floating around the internet.
What this course teaches is"How To Build A 5 - 7 Figure Global Amazon Business Selling Simple Low-To-No Competition Products" -- with an emphasis on "simple low-to-no competition products"... which I'll explain more about in a second.
Who Are Stephen Somers and Robert Rickey?
These are the co-founders of the program.
You see Stephen a lot more in the promotions and marketing material. He is the guy on the left and seems to be the main guy behind the sales side of things, but is a successful entrepreneur in his own right.
Robert, the older guy on the right, has been selling on various marketplaces for over 20 years and seems to be the main master behind this method, but both have supplemental skills which is why they make a good team.
Robert already had a profitable online business when Stephen first came across him, which turned into a mentorship where Stephen was able to learn the tricks of the trade and develop a successful Amazon FBA business of his own.
There really isn't that much information on either of these guys, but pretty much everything I can find is positive... no one screaming SCAMMERS or anything like that--so good news.
Oh ya, and they're both Irish in case anyone was wondering about the accents.
Their Unique Approach to Selling on Amazon
The way they teach students to sell in this course is a bit different from what many of the other courses out there teach.
Simple, Boring Products... With Low Competition
They teach you how to find simple products with low competition. I'm talking about products most people would probably call "boring". AND, the focus is on products like this that have been selling for a while, and selling well.
A lot of people would think that the reason the simple, boring products don't have much competition is be cause their isn't much money to be made with them, but this isn't always true and in the MPSH course you will be taught how to really analyze products for potential profitability before diving in head first.
Private Labeling
The focus here is also on Private Labeling, which is different from White Labeling.
With White Labeling you basically just brand a product and sell it, even though it may be the same thing that others are selling. You just slap your brand-name on a product and that is that.
With Private Labeling you take an existing product that is selling and find a way to improve it, brand it, and then sell it. There are some different definitions of these two terms, but anyways... this is how they teach it in this course and this is what you'll be doing.
This takes more work on your part, but it can definitely pay off and really separate your brand from the competition.
Sourcing
Like most programs, they teach you to source from the easiest place to do it, Alibaba.
What you will do is find a product that is a bit different in appearance and then brand it as your own. They will teach you how to negotiate with the sellers, import the products in bulk and all of that stuff.
A Global Focus
At the end of the course you will learn how to take your products and sell them on a global scale, across Amazon marketplaces in other regions of the word. This is something that almost no one else teaches and the potential here is absolutely massive.
I'm not sure why not many courses teach this... I guess it's just because it complicates things more.
Good Approach or Bad Approach: My Thoughts
Amazon FBA is obviously a viable online business option... and an option that can be incredibly profitable IF, and only IF, you hit the nail on the head.
In my opinion the approach they are taking with finding simple/boring products that are proven sellers is actually a really good one because, for 1) there are tons of products out there like this, and 2) obviously because there are many that are low competition due to the fact that not many people would think about trying to sell them.
This is actually a great approach that can be applied to any area of business. There are lots of ordinary products/services out there that can still be tapped into for good revenue, but they just don't catch people's attention.
*I recently tapped into a very old and "boring" niche with a new blog I created and have found it to be a mini goldmine. Lots of hidden gems out there.
This is not a sure-fire approach where you are guaranteed income, but it is something that I like the sound of. Just my 2 cents..
And of course the focus on other Amazon marketplaces besides just the US and Canada is great... there is less competition from sellers on Amazon in Europe, for example.
What You Get as a Member
When you buy into the MPSH core system you also get access to a few bonus products. As you can see above, besides Phase 1 & 2 of the Core System you also get "Fuel Your Empire", "The 1K Day Roadmap" and other products. This is great and all, but the focus of this review is on the core system alone.
As a member you will have access to training, tools, downloadable content and more.
The training consists of video presentations, screen shares and action plans. They don't just tell you what to do, they show you. It is broken down into 2 phases with 12 modules total... which includes nearly 100 videos.
You will also be provided with the product analysis tool they developed to help you find good products, which you will be using a lot, and you get additional things like negotiation blueprints when contacting suppliers.
Phase 1 is focused on Mindset and Research and has 6 modules with 45 videos total
Phase 2 is focused on Importing and Logistics and has 6 modules with 51 videos total
Phase 1
Module 1: Marketplace Mindset

This module gives a big overview of what you are getting into, what you can expect, and has a lot of focus on the mindset you will need if you want to be successful with this. There are 7 videos here.

Module 2: Search Phase

Now it's time to search for products to sell. This module consists of 9 training videos that focus on their strategy for researching good products... which as we know are proven sellers that have been around for a while. You will also learn how to use the product analysis tool called 4S Product Gauntlet to find good opportunities (more on this tool in a minute), which will be used through module 6.

Module 3: Shortlist Phase

Here you will learn how to further narrow down your product selection by filtering out products that aren't great choices. There are 6 videos here.

Module 4: Select Phase I

Now it's time to select the best products you have remaining on the list. 5 training videos are included here.

Module 5: Select Phase II

There is a lot of emphasis on really picking the best choices of products. This is phase II of the selection process and is 7 videos. After this you will have your products picked and will start looking into suppliers.

Module 6: Source Phase

Now it's all about finding good sources. Here you will learn how to find suppliers, negotiate, get product samples, branding, etc. They will guide you through the negotiation process and tell you what to do.
Phase 2
Module 7: Business Structure and Seller Central

At this point you have a products and it's time to set up a seller account on Amazon and learn how to structure everything. 8 videos are in this module.

Module 8: Purchasing and Importing

Here you will learn how to purchase and import your products, which will likely be coming from China if you follow the training closely. There are 7 videos on this.

Module 9: FBA Road Map

There are 5 videos on the FBA process. They cover all the requirements you and your products have to meet to be sold on the platform.

Module 10: Listing Optimization

In this module you learn how to optimize your product listings to get as much organic search traffic as possible, which can potentially be your only traffic source. There are 9 videos on this.

Module 11: Account Management

13 videos in this module will guide you through the daily process of managing this type of business. You will learn all you need to do on a daily basis to keep things running smoothly.

Module 12: International Expansion

And then, of course, you have the ability to expand your Amazon business internationally, in which they provide 7 training videos on. This can potentially be a game-changer.
The course is very well laid out and professional. When you go into either of the phases (phase 1 or 2) you will be able to see an overview of all the modules that looks like this...
And when you click on any module it will open it up for you so that you can access all the different training videos...
Most of the training videos are around 10 minutes in length and consist of powerpoint presentations and screen-casts. They are very easy to follow and as far as I see it, as good as this type of training gets.
They place a lot of emphasis on product research and this is great to see. Product choice is everything and without the right product you simply aren't going to make sales, or at least not many.
The product analyzer tool, which they call the 4S Product Gauntlet, is a tool that they actually created which helps students out in the search of the perfect products to sell.
4S Product Gauntlet
The 4S Product Gauntlet helps you filter through products to find the best opportunities. You will be guided through the process of using it starting in Module 2 of the training.
How It Works: First you look for products on Amazon you'd be interested in selling, enter information into the software such as a product description, ASIN (number found in product listing), price, category, which Amazon website it was found on (.com, .uk, etc.), and the product rank on Amazon.
Then it will be added to your list within the software and you will add additional information during this analysis process.
You will do this with all the products you are interested in and the software will spit out a score for each. The higher score means the product is more likely to be successful.
So in a nutshell this software guides you through the process of analyzing a product for profit potential by having you enter a bunch of details on the product and then giving you a score... and ranking all the products you analyze so that you know what the best choices are.
I think this is great because for beginners it can be incredibly difficult since you don't really know what stats to look at when on the prowl for a product with big potential. This tool makes the process straightforward.
If you want to learn more about this tool you can check out this video:
Content Updates
It would be horrible if Stephen and Robert simply created the course and left it, without ever updating the content. The information would go stale eventually and much of it would not longer be relevant.
The program first came out in 2017 and while I can't speak for what it was like back then, based on everything I've heard from older members they do update the content regularly.
This is what you want. They have "skin in the game" just like students will so they are up-to-date on what all is going on in the Amazon world, what works, what no longer works, etc... and they update the training accordingly.
Support
Support is a must when it comes to courses like this. If there isn't good support then it's not worth joining, simple as that.
When creating an online business like this there is a lot to do and a lot that can go wrong, things to get stuck on, etc. You will need support at one point or another, and luckily MPSH is good with this.
First off, they have a pretty extensive knowledge-base with demos, tutorials, FAQ's, etc. There is a heck of a lot of information here that you can easily find.
But if that isn't of help then there are a couple more options.
You can submit a support ticket to them and wait for an email reply
You can get help within the Facebook group
There seem to be multiple FB groups for support, but not all are "official". There is the Amazon Superheroes group (aka The Heroic Empire) and others like Marketplace Superheroes Support Community...
The Facebook group will allow you to interact with other members as well, which can be very helpful... whereas submitting a ticket will put you in contact with their support team directly.
The downside is that there is no phone support number. I'm sure we'd all like to see this available.
Total Cost
The cost of the training course is $997 or $97 for 12 months. This is a high price but for what you are getting I don't think it is too much by any means.
However, you also have to realize there will be other expenses with this business model.
For one, you will need to pay the monthly fee for an Amazon Seller's account, which is $39/mo if you are in the US... and the price differs a bit depending on where you are at in the world.
And You Can't Forget About Amazon PPC (aka Sponsored Products)
Paid advertising isn't required to make this business model work. There are people who successfully sell on Amazon, and very profitably, without advertising anything and only relying on organic search traffic.
However, a lot of people will have to advertise to give their products a little boost.
You've probably seen it before. You know... the "sponsored" products you often find in the search results...
These are products that the sellers on Amazon are paying to promote so that they get more views.
Amazon PPC can get very costly if you don't know what you are doing. Luckily you will be guided on how to do it the right way. But just know that this is another expense.
Refund Policy
That is a lot of money to be paying and what happens if you don't really like what you get?
If you know what you are getting into then I'd expect you to like the course because I think it's phenomenal. But the fact of the matter is that there is a heck of a lot of work to be done in this business model and not everyone will be up for the challenge.
The good news is that they do offer refunds within 30 days... and supposedly there are "no questions asked". After the 30 day window has passed you can still possibly get a refund but it will be up to the discretion of Marketplace Superheroes, as stated in the Terms of Use page.
Due to the fact that there is no one complaining about having difficulty getting a refund, I'm guessing they stay true to their word with this.
How Much Money Can You Realistically Make?
With lots of stories about people quitting their jobs, like Micha who "quit her job and launched 10 products"...
.. and videos on "how to make $4.5 million dollars selling physical products on Amazon"...
.. it can be easy to get caught up in all the hype and develop unrealistic expectations.
Yes, the stories you have heard are true. There are people like Stephen making millions selling on Amazon and there are people quitting their jobs. But these are the success stories.
What about all the failures you don't hear about?
Unfortunately there are no reliable statistics for the amount of people that succeed in this type of business vs fail. So I can't present you with numbers here. But what I can say is that you shouldn't fall for all the hype and expect to strike it rich.
An article by Neil Patel on Forbes states that about 90% of online startup business fail in the first 4 months... and to be honest... I wouldn't be surprised if the number was higher. Having had an online business since 2015 (my story here) I've seen plenty people fail.
This is just good marketing. Of course they are only going to show you stories from successful students.
There are lots of reasons why people fail:
Maybe they just give up too early
Maybe they don't follow the training as they should and make bad decisions
Maybe there was too much competition
Maybe PPC ads were costing too much
or Maybe Amazon comes down on them with the hammer for reasons unknown, like this person from Cash Flow Diaries who "failed miserably" for a number of reasons, one of which Amazon suspending their product from being sold.
The point is that people do fail... you just don't hear about them so much.
This isn't to scare you away, but rather to give you a more realistic look at success.
MPSH doesn't publish any data on the success rates of their students so when it comes to how much you can realistically make there is a big blind-spot, or grey area.
Customer Reviews/Complaints
The good news is that you won't find any complaints about Marketplace Superheroes on websites like SiteJabber, Trustpilot, ScamAdvisor, etc.
This is a great sign, and one that I'd expect, because people who are paying $1k for a training course and investing a lot of time and effort would be more than willing to complain their butts off if the course was a scam, or wasn't all that great. But you don't see this happening.
The overwhelming majority of reviews I have come across have been positive. Sure, there are a lot of people promoting MPSH and making money doing it, so it can be difficult knowing what to trust and what not to, but based on what I know about the course and all this is what I expected to see.
Pros v Cons
Pros
Well laid out training
Easy to follow
Love the approach they use (selling ordinary products)
Lots of income potential
Good support - and they have the Facebook community which is an added bonus
The creators do what they teach (they actually know what they are talking about)
Cons
It's a lot of work - we are talking about finding products, branding them, getting products trademarked, negotiating with suppliers, and then selling on Amazon. Sure, there are upsides such as how you don't need a website... but this is no walk in the park by any means.
High cost - This is more of an opinion that I've seen floating around the internet. In my personal opinion it's not too high considering what you are getting, but there are some complaints about the $997 price tag.
High failure rate - This isn't a con of the Marketplace Superheroes course itself, but rather a con of the whole industry. I'm not sure the failure statistics with this business model but can imagine they'd be very high.
The More Work The Better
Branding, getting trademarks, negotiating with sellers, these all take time and seem like a hassle, but there different ways you can look at this.
All of this that you are doing helps you differentiate what you are selling from others and makes it more difficult for competition to keep up with you... so it does take a lot more work but that can certainly pay off.
Conclusion - Worth Joining or Not?
Ultimately the decision is up to you, but what I can say is that this is a darn good course. It isn't one of those over-hyped disappointments that makes big promises but can't deliver.
You are provided with thorough training, tools, and additional materials all created by two people who practice what they preach. It's not like they used to make money on Amazon... they are STILL making money on Amazon.
I don't really have much to complain about here. The only thing that might be a little misleading is how they talk about all the major success stories all the time, which might give people the wrong impression that everyone is making money with this.
But all in all it's a great course and a good lower-cost alternative to other popular courses like Amazing Selling Machine.
In closing, I hope you've found this review helpful 🙂
Something else that I think is definitely worth of some consideration, which is an even lower cost alternative, is Wealthy Affiliate, which is an affiliate marketing training course. This online business model is completely different and more simplified, but is great in its own right... and is my main source of online income which is why I often suggest it.
Also feel free to check out my some of my top income ideas and my massive list of over 70 ways to make money from home.
Take care and leave any comments/questions below 🙂