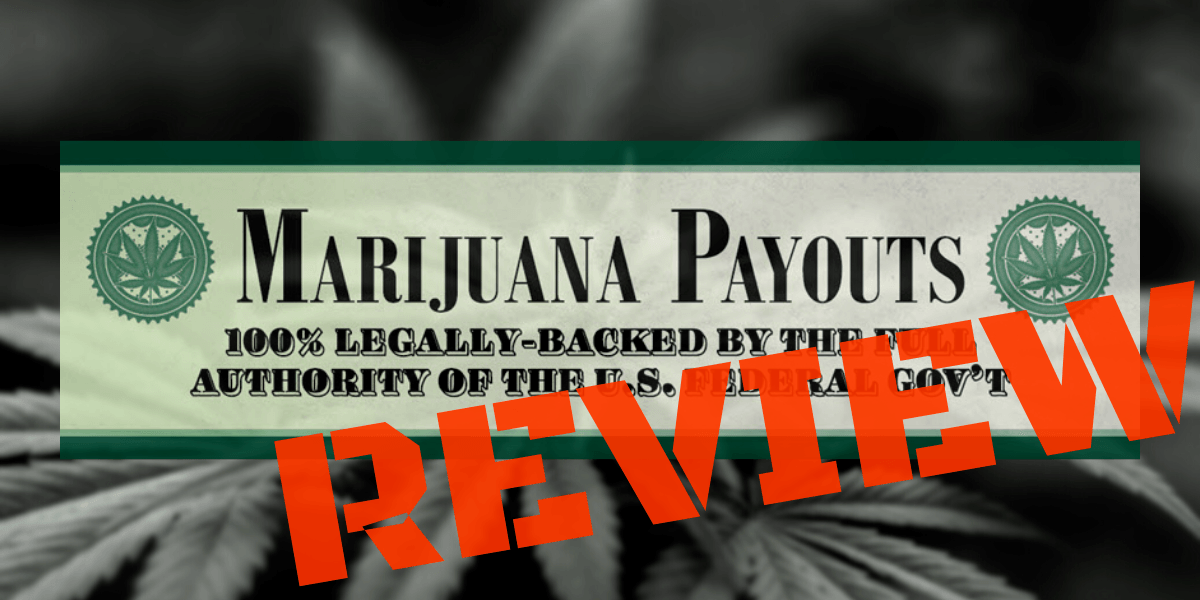 Jim Pearce's "Marijuana Payouts" Teaser Review
Is it true that there are government-backed "Marijuana Payouts" you can sign up to receive? Or is this whole thing just some misleading scam that is going to lead to nothing but disappointment?
The teaser claims that people are earning "up to $55,563 a year" with some profit-sharing program...
Apparently there is some "tiny Maryland company quietly opened the doors to its revolutionary new marijuana profit-sharing program" that has no age limits, no income caps, and only takes 90 seconds to "join".
It all sounds so simple.... as if we just have to join this program and then could start collecting large checks...
However, it sounds a bit too good to be true.
I was skeptical of it all and decided to do a little digging around... and some of the things I found out aren't good.
First off, all the pictures shown of people who have supposedly been collecting these "Marijuana Profit-Sharing Checks" are fake...
That's right... the picture above isn't really "Paul Goodling" as we are told. It is just some stock photo that was purchased online... and the check is fake too.
I wasn't able to find the exact same photo, but I was able to find others available for purchase online of the same guy...
And there is more where that came from. All of these photos are fake as well...
As you can see here, the picture of "Ted Angel" (above) comes from the popular Shutterstock stock photo website...
So... it all sounds too good to be true, the photos are fake... is there any truth to this whole "Marijuana Payouts" thing?
I'll be going over all you need to know in this review...
The Purpose of This "Marijuana Payouts" Teaser
The teaser presentation of Marijuana Payouts was put together by Jim Pearce and its purpose is to lure in new subscribers to one of his paid newsletter investment services, which I'll talk more about in a bit.
It has actually been around since 2018... so DON'T think that you really have to get in by the upcoming date they tell you... which keeps getting pushed back over and over again to make this opportunity seem urgent.
All of the information on how you can get in on this opportunity and "collect up to $55,563 every year" is in Jim's "free" report...
HOWEVER, in order to get this "free" report you first have to subscribe to his paid newsletter service, which is called Personal Finance.
Tricky, I know.
Personal Finance costs $39/yr and is a follow-along style newsletter advisory service that provides investment recommendations to subscribers. If you join you will get:
Monthly Issues that provide 16 pages of market analysis and commentary, plus you are provided with investment recommendations.
Trade Alerts that let you know exactly when to make a move on one of the recommended positions.
Members Area Access where you will be able to find the entire archive of past research they have provided to subscribers as well as see the model portfolio and its performance.
The Man Behind It All: Jim Pearce
Jim Pearce is a chief investment strategist at Investing Daily, which is an investment advisory firm, similar to Mauldin Economics and Raging Bull, that publishes various investment newsletter services.
Not only does he run the Personal Finance newsletter, but he also is the director of the Investing Daily Wealth Society, another publication at Investing Daily.
Jim has over 35 years experience investing, having begun his career in 1983 as a stockbroker and moving on to managing investment portfolios for big banks, brokerage firms, and investment advisors.
He definitely has experience... which is great, but there is no doubt the whole "Marijuana Profits" opportunity is misleading.
Let's talk about what he is really referring to here...
What Are "Marijuana Profit-Sharing Checks" Really?
Jim talks about becoming a "member" of this opportunity. He specifically says that you can "join" to collect large checks. And he uses a bunch of other misleading terms.
It sounds like you just sign up to some list to start collecting these checks... but this isn't true.
"Marijuana Profit-Sharing Checks" are nothing more than dividend checks. He just made-up the fancy name for marketing purposes.
And since we are told that the company behind this opportunity is obligated to pay out 90% of its profits from the marijuana market, this company being teased here is likely Innovative Industrial Properties (IIPR).
Why Innovative Industrial Properties (IIPR)?
Well, because it is a REIT (Real Estate Investment Trust) and REITs are required to pay out 90% of income to shareholders by law. Furthermore, IIPR is the only REIT company that focuses on the marijuana industry and has a major listing.
Is This a Scam?
Nope, not a scam... just another very misleading teaser to lure in subscribers for an investment advisory newsletter service... nothing new here.
There are plenty of misleading teasers out there and this seems to be the norm nowadays. Some others that come to mind include "Cannabis Lots" and "American Superpower Checks".
Final Thoughts
"Marijuana Payouts" are just dividend checks
In order to get the free report on how to collect these checks you have to subscribe to the Personal Finance newsletter
The company being teased here is likely the REIT Innovative Industrial Properties (IIPR)
Hopefully this review has been helpful to you. Now you have a better idea of what is actually going on here, which isn't what it seems due to the misleading nature of this teaser. And now you know what is really being teased.
Take care and leave any comments/questions below 🙂