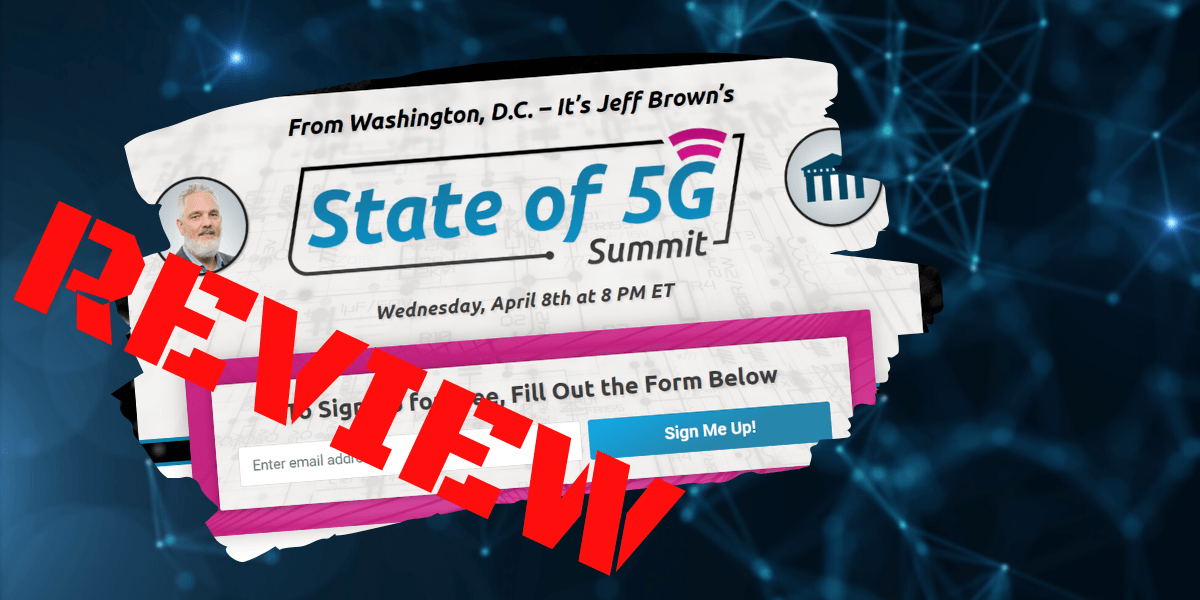 Jeff Brown's State of 5G Summit – Legit Opportunity? [REVIEW]
Is Jeff Brown's "State of 5G Summit" an over-hyped scam or something that is worth registering for? And, is it really free?
This event is being promoted in epic proportions, and in this review I'll be going over what everyone should be aware of beforehand.
Let's begin...
What Is the "State of 5G Summit"?
The State of 5G Summit is an online event being held by tech expert & investor Jeff Brown.
Brown acknowledges that the markets are in chaos right now, but claims that the 5G rollout is not going to be hindered by the coronavirus, or at least not as much as the media would lead you to believe.
He thinks there are still some good plays in the 5G market, plays that could products 10-20x gains.
And this is what this summit is about... the current state of 5G and what investors should know, coming from someone who has decades of experience in the field.
*Note: It's also likely a sales pitch (more on this)
When Is the State of 5G Summit Being Held?
At the moment the current date is set for Wednesday, April 8th at 8pm Eastern Time.
However, I wouldn't be surprised to see this date change after it has come and passed. I've seen it happen a thousand times before... when they just throw a recorded version of the event up and broadcast it again and again, as if it's always some new upcoming event.
But this is just a good guess. Only time will tell.
What's The Cost?
The cost is free to attend, but if you think that there are no hidden costs here then you better think again. This isn't my first rodeo and I know exactly what's going on here.
In summit even Jeff Brown claims that he is going to talk about "three tiny 5G plays set to rocket 10-20x higher in the months ahead".
But do you really think he's going to reveal these stocks for free, to anyone who decides to tune into the event? Absolutely not!
My prediction is that he will be giving out some sort of "free report" to viewers of this online event, BUT, in order to get this "free report" you will first probably have to subscribe to one of his subscription advisory services, which I'll go over next.
Why is this my prediction? Well, because this seems to be the typical marketing blueprint nowadays for investment advisory services, which Jeff Brown runs several of - and, his "McCarthy Chip" teaser follows exactly this blueprint.
Who Is Jeff Brown?
If you're looking for an expert investor in the tech world then Jeff Brown is your guy. He has over 25 years of experience in high technology management, has worked in Silicon Valley and in Tokyo, Japan on various tech projects, has built early startups, and is an angel investor with a pretty-darn good track record.
And when it comes to education he has quite the background - a BS degree from Purdue University in Aeronautical and Astronautical Engineering, a MSc degree from London Business School in Corporate Finance, a Professional Certificate from Stanford University in Stanford Strategic Decision and Risk Management, a certificate from Massachusetts Institute of Technology in Fintech: Future Commerce, and more.
He has a lot of education, and more importantly has been highly involved in the tech industry, knowing what it takes to be a successful tech company... which is why he's one of the best when it comes to tech stock recommendations.
Bonner & Partners is where he's currently employed. This is a publishing company that provides a variety of follow-along style investment newsletters, of which Jeff edits 3: The Near Future Report, Exponential Tech Investor, and Early Stage Trader.
What You Get If You Register
What you get is access to the free online presentation, in which Jeff Brown will speak on 3 key points:
Why he things the mainstream media is 100% wrong about the coronavirus when it comes to its affect on 5G stocks - Jeff is very bullish on the future of 5G, even amid what is going on.
When the US will enter "phase 2" of the 5G boom - "phase 2" is when the infrastructure for the 5G network nears completion and devices start to access the network, which presents new investment opportunities.
Three 5G stocks he thinks can produce 10-20x gains in the coming months
What Are His Stock Picks?
Brown has been heavy with the 5G stock teasers and promotions for a while now. In a recent post where I reviewed his "The #1 Tech Stock for 2020" , he teased his #1 5G pick, which I exposed to be Skyworks Solutions (SWKS).
This "State of 5G Summit" is said to reveal 3 more 5G stocks that are "set to rocket 10-20x higher" in the months ahead. However, I don't have any other information on this as of yet.
If I figure out what they are then I'll update this post. And if you already know or have an idea, leave a comment below this post to let other readers and I know.
Conclusion
Quick Recap:
the 5G summit is an online event hosted by Jeff Brown where he goes over the future of 5G
Jeff Brown is highly experience in the tech world, and edits several investment newsletters where subscribers can follow along with his recommendations
this even is likely going to be a sales pitch luring in new subscribers to one of his subscriptions
And that's it!
Hopefully this review has helped give you a better idea of what's going on here.
PS: I've been getting a lot of questions on what investment advisory service I think is good. Stock Advisor is what I recommend. It's a solid service with a proven track record - one of the very few that I actually do recommend.
Leave your comments/questions below...