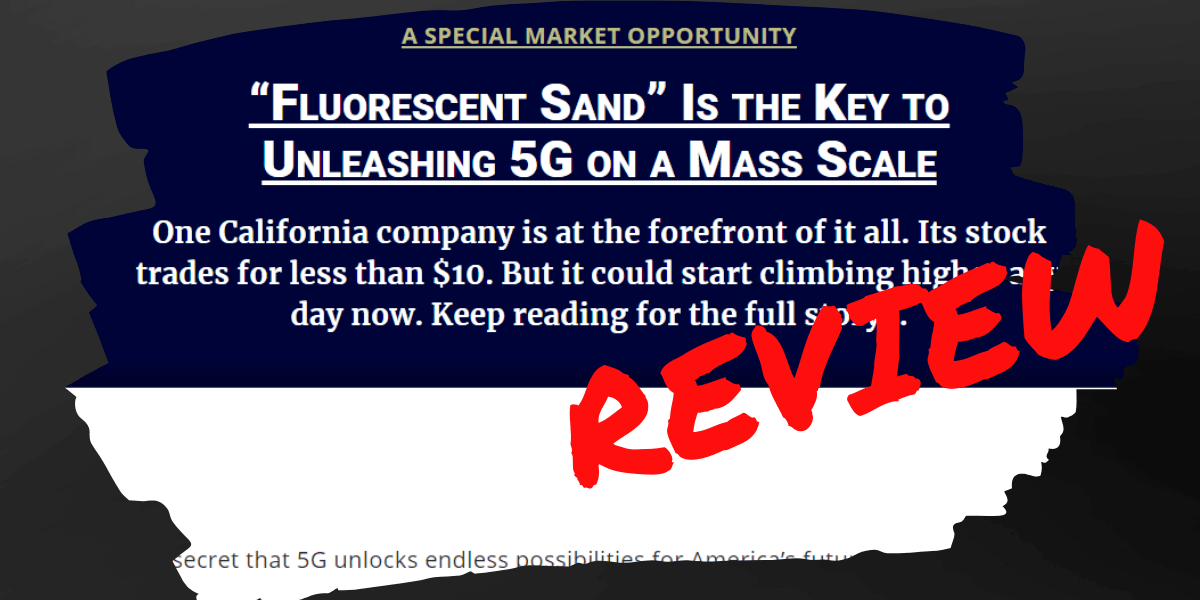 Ian King's "Fluorescent Sand" Stock – What Is It?
Ian King claims that this "tiny company" is at the forefront of the 5G boom and is set to increase massively in price, but what is this company? If this is what you're wondering then you're in the right place?
What is the "Fluorescent Sand" stock? I'll be going over it shortly.
You probably came across the presentation online for this "fluorescent sand" investment opportunity, of which there are likely multiple teasers for...
Some of what we are told includes that this "fluorescent sand"...
consists of tiny granules as thin as human hair
Is a precious material and "most people have no idea it exits"
Is making 5G, AI, IoT and other new technologies possible
will lead to $12 trillion in new wealth
And, of course, that there is one "tiny company" that is set to "reap the rewards of $12 trillion in revenue", whatever this is supposed to mean...
As expected, we are shown a bunch of past tech companies that have surged in price in similar situations, hinting that this opportunity could do the same...
BUT, you can't always trust all of the sales fluff that you hear in these kinds of presentations. It can be misleading, so let's talk about what is really going on here. First let's go over what "fluorescent sand" actually is...
What Is Fluorescent Sand?
The name "fluorescent sand" was just made-up for marketing purposes. What Ian King is really referring to here is fiber optics, which are tiny flexible fibers of glass used to transmit light signals, which in this case carry data.
It has been found that glass can be made from sand, which is the creative way that Ian King came up with the "fluorescent sand" teaser.
Why are fiber optics important?
Well, believe it or not, what Ian King mentioned in the presentation is true when it came to "America's wires are stuck in the stone age".
The US was the front-runner with the internet, mobile networks, and all the telecommunications lines for the most part, but as these have evolved and improved over time the infrastructure in the US has become outdated. Now it's probably not as big of a deal as Ian King leads us to believe, but it is definitely noteworthy.
According to Wikipedia the US is ranked number 10 when it comes to internet speeds, far behind countries like South Korea and Norway.
The problem is old copper wires, which were traditionally used. These don't last long and they can't transmit that much information. And with 5G coming into the picture, and the amount of data that will need to be transferred rising exponentially, fiber optics are the solution.
Who Is Ian King?
Ian King is an editor at Banyan Hill Publishing, which is an Agora company investment advisory firm that publishes various newsletter services such as Alpha Investor Report, Automatic Fortunes, Crypto Profit Trader and more (King is the editor of the last two mentioned).
His history goes like this: he started out working at Salomon Brothers, then went on to analyze investments for Citigroup, and later was a head trader at the Peahi Capital hedge fund where he traded options. This was all after receiving a bachelor's degree in psychology from Lafayette College.
His background is pretty good. Not so much in the education area, but when it comes to job history he has a great foundation, and is what you'd like to see from someone providing investment advice.
What's This "Tiny Company" He's Teasing?
Okay, so let's get to the point here. What the heck is this company he is teasing?
Well, normally you'd have to find out in his "free" special report titled: "The 1 Company Leading the 5G Revolution"...
And before you'd be able to lay your hands on this "free" report you would have to subscribe to his Automatic Fortunes newsletter service for $47.
But of course you don't have to do that anymore. He's provided enough clues for use to figure this one out.
Some of the hints we are told include:
It's a "tiny $10 company"
It's based in California
Large investors like BlackRock, JPMorgan Chase, and US Bancorp have all been investing in it
Will link 5G devices to the fiber optics network
Executives held key positions at Spectralink, Nortel, Ericsson, Qualcomm, Verizon, etc.
Manufacture a "simple device, roughly the size of a thermostat" that can be placed in your living room - and this device will connect devices to the 5G network
Verizon, AT&T, Sprint and T-Mobile have all partnered with this company
So what's the stock?
Well, at the beginning I was thinking that it was going to have something to do with manufacturing these fiber optic cables or something, but it's far from that.
As is stated, this company makes a device that connects devices (phones, tablets, etc.) to the 5G network.
All clues here point to Inseego (Nasdaq: INSG).
Their stock price is in the ballpark of $10 (at this time)
They are based in California
BlackRock and JP Morgan Chase are top institutional holders (Source: Yahoo Finance)
Inseego manufacturers routers and hotspots for 5G connectivity
Yes, they work with Verizon, AT&T, Sprint, and T-Mobile
Not only do the little hints he drops point to Inseego being the stock teased here, but it also makes sense because he's been teasing this stock a lot lately through other teasers as well.
The Forecast
One thing you have to understand about opportunities like those presented in the "fluorescent sand" presentation is that they are almost always hyped-up in unrealistic ways.
Sure, no one can predict the future and there is a chance that investing in Inseego could provide astronomical returns, like those shown in the presentation, but some of the things that Ian King says are far reaches from what should be expected.
Taking a more modest approach, analysts at CNN Business certainly don't project the same astronomical returns that Ian King does in their 12-month Inseego stock price forecast.
Conclusion
Quick Recap:
"Fluorescent sand" is a made-up term that refers to fiber optics technology
Ian King teases a company that is set to explode from the 5G revolution, which will be reliant on this fiber optic technology
What this company does is manufacture devices that connect smart phones, tablets, computers, etc. to the network
In order to get his "free" report,"The 1 Company Leading the 5G Revolution" , that goes over this stock, you first have to subscribe to his Automatic Fortunes newsletter advisory service, which is $47
I've done the research and all clues point to Inseego as the company being teased here
Most analysts don't predict this stock will produce massive gains like Ian King does - remember... this was all part of a sales pitch.
And that's it. The "Fluorescent Sand" stock is Inseego.
Hopefully you found this review helpful. If so, please share it to help spread the word.
PS: People have been asking what, if any, investment advisory service I recommend. There are very few that I actually do, but Stock Advisor is at the top of my list, with a proven track-record.