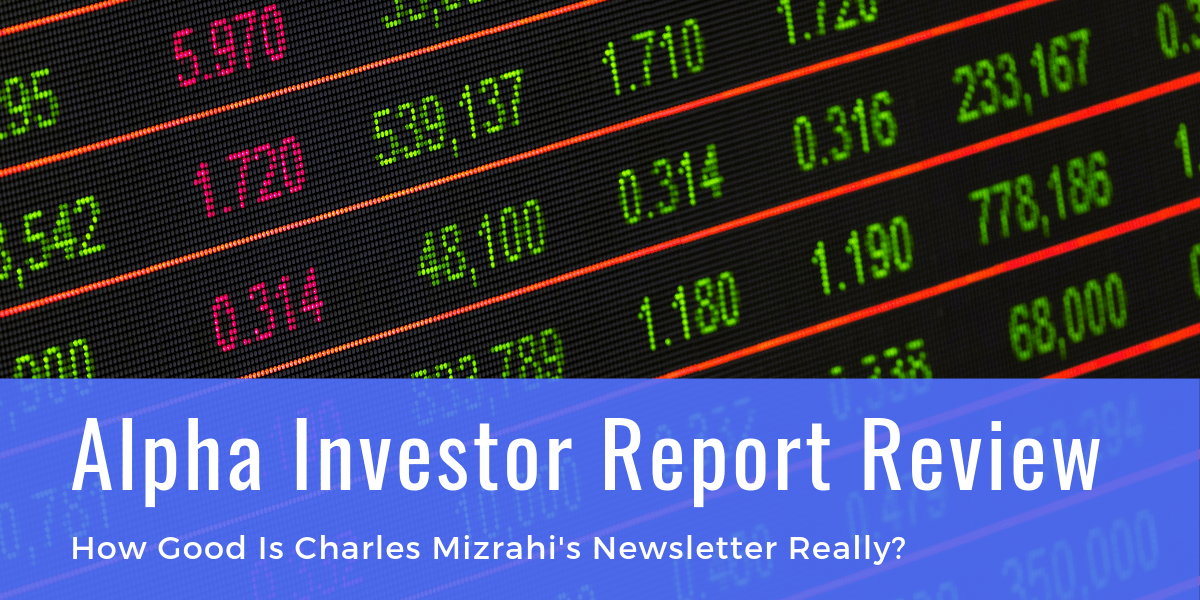 Alpha Investor Report Review – Scam or Worth Subscribing To?
Alpha Investor Report is promoted as being an easy way to follow expert investment advice to make high profit returns, but is it really as good as it is said to be?
Is it possible that Alpha Investor Report is a scam?
I know some people are asking this and I'll get straight to the point and tell you that No, it is not a scam. However, it may not be the incredible opportunity that you think it is after seeing some of the promotions.
In this Alpha Investor Report review I'll be going over what a subscription includes, the man behind it all, complaints and more... so that you can make a more informed decision on whether or not it's right for you.
What Is Alpha Investor Report?
Name: Alpha Investor Report
Product Type: Financial newsletter
Publisher: Banyan Hill
Editor: Charles Mizrahi
Price: $49 - $129 (depends on subscription)

Overview
Alpha Investor Report is advertised as a way to find great investment opportunities at bargain prices by "tuning out the noise".
In a nutshell it is a financial newsletter that Charles Mizrahi runs which provides regular investment opportunity recommendations so that the average Joe can follow the advice of an expert and make good investments.
*Well that is the purpose anyhow... but I'll talk more about how good these investment recommendations actually are in a bit.
Pretty much any type of stock is fair game as far as I can see. What Charles does is he looks for investment opportunities that have not become popular yet, which means they are low priced and have the potential for large gains.
Who Is Charles Mizrahi?
Charles is the chief editor of the newsletter. He has others on his team that help him scour the market for opportunities and what not, but he is the main guy.
Charles started off in the business world pretty young. At 6 years old he was selling greeting cards, at 9 he was selling sports team decals, and at age 15 he had taught himself how to do horse betting.
While I don't know how successful these ventures were, and I'm guessing not so much, I'm sure they taught him a lot... and he claims this is what originally gave him an understanding of how investing works... which led to him trading on the floor of the NYSE at age 20. Then just 3 years after that he had set up his own money-management firm where he worked with up to $200 million in clients' money.
Fast forward a few decades and now he is working for Banyan Hill as a senior analyst of the Alpha Investor Report.
So he doesn't have any degrees or certifications that would qualify him to provide good financial advice, but what he does have is a lot of real world experience that might be better than the former.
Recently he has been teasing everything from life-changing investments in artificial intelligence, to "Wall Street's best kept marijuana stock secret", and even "cargo" that "could unleash a $15.7 trillion windfall at a port near you"... all as a way to bring in new subscribers to his Alpha Investor Report newsletter.
Teasers
It's highly likely that you came across Alpha Investor Report after first landing on some rather ridiculous teaser like this one below, which talks about cargo ships that will be coming across the Atlantic and will be carrying cargo that will "explode progress on the scale of the industrial revolution" and cause a massive disruption...
This is how it usually works... there is some ridiculous teaser that makes it sound like there are these miracle investment opportunities that exist. You of course can learn what these opportunities are through a "free report" BUT you first have to subscribe to the paid newsletter, which in this case is Alpha Investor Report.
Just about every financial newsletter service uses the same marketing blueprint like this... Money Map Report, Oxford Bond Advantage... they all do this.
But anyways... the point of this review is to talk about the newsletter itself and what you get, so let's get to it...
What You Get With Alpha Investor Report
Access to the Model Portfolio - You will be able to view Charles' model portfolio which includes all of his recommendations so that you can see how well things are performing.
Each month you can expect to have at least one new investment recommendation, although sometimes he may recommend more depending on how the market looks.
Monthly Briefings - Each month Charles will send out a very detailed newsletter on a new investment opportunity, or maybe more than one. In these briefings you will learn exactly how he analyzes new opportunities and the great lengths he goes to in order to make sure they are worthy of investment, which usually includes him meeting with industry insiders.
Weekly Updates - The monthly briefings give you all the details on the new opportunities and why they are good, and these weekly updates will keep you up-to-date on the new positions and how things are looking on a weekly basis. He will also give updates on how the market is looking in general.
Trade Alerts - When it is time to exit a position you will get an email that will explain exactly what to do. I don't think there is an option to receive text messages, as some trading services offer, so if you do join you will need to check your email regularly.
Members Area Access - You will also have access to the members-only website where you will be able to view everything mentioned above... the model portfolio, all past newsletters sent out, etc.
"A Dedicated Customer Service Team" - You will also have access to the customer service team.
It is stated that if you have any questions you can call one of the "team members" at 866-584-4096, however I'm not sure if you can get investment advice from this support team. I think it is more for managing your account, canceling a subscription, etc.
I'm not entirely sure but based on other Banyan Hill publications I've looked into I wouldn't count on getting any good investment advice.
You can also contact their support team at alphainvestor@banyanhill.com.
Bonuses - The bonuses are the free reports that are often used as a lure to get new subscribers in the teaser promotions. Right now you can see that the bonus reports are for new AI investment opportunities but these will change as time goes on and they come up with new promotions...
Track Record (Past Performance)
There is no information available to the public as to the performance of the investment recommendations made here.
Charles mentions that he has been able to "post 113% returns in a single year" and "313% over a three-year period", which is pretty good overall, but it would be nice to have more insight into how well the recommendations made actually perform before buying into something like this.
Price
There are 3 different subscription levels you can choose from. Each one gives you access to everything mentioned above, but the higher priced subscriptions provide you with extra bonuses and both print and digital newsletters.
Premium Subscription - $79 (discounted from $79)

Email and print newsletters
Free reports
3 Bonus reports

Deluxe Subscription - $129

Email and print newsletters
Free reports

Standard Subscription - $49

Only email newsletters
Free reports
The "Deluxe Subscription" is actually just a "dummy" subscription, meaning that probably no one actually buys it and the only reason it is listed is to get more people to purchase the Premium Subscription.
Think about it... why would anyone buy the Deluxe Subscription for $129 when they can get the Premium Subscription for only $79 and it includes more?
Of course we are led to believe that the Premium Subscription is on sale and normally costs $496, but this is likely just another clever marketing tactic.
BEWARE OF THIS TRICK!
There is one really sneaky trick that this place is pulling on us that I think everyone should be aware of.
First off, you should know that once you subscribe your account will be placed on autorenew, which means that next year your subscription will automatically be renewed and your card will be charged.
BUT... that's not the trick I'm talking about. What I'm talking about is this "added bonus" which is a "free" subscription to one of the flagship newsletters that Banyan Hill offers called Real Wealth Strategist...
This "free" subscription is only for 3 months, and then you will be automatically billed.
How ridiculous is this?
This bonus is (as I'm writing this) listed at the bottom and I wouldn't be surprised if many people buying into this don't even realize they are getting subscribed to it.
Can You Get Refunds?
According to the website you can get refunds, and the policy is pretty good... you can receive a full refund up to 1 year later if you are not satisfied...
However, after doing some digging around I found that actually getting the company (Banyan Hill the publisher) to honor this policy is more complicated than it seems.
There are plenty of complaints about Banyan Hill with the BBB about being overcharged, having difficulty getting refunds, etc.
Below you can see some examples I took screenshots of...
Complaints
Misleading Promotions
The promotions that are used for newsletters like Alpha Investor Report are almost always over-the-top and over-hyped, which often leads to people subscribing that wouldn't normally subscribe if they knew what they were actually getting involved with.
Tricky Sales Tactics
First they promote the "free report", then they force you to subscribe to Alpha Investor Report, and then they sign you up for the other newsletter Real Wealth Strategist.
This isn't exactly the type of marketing that people like to deal with, or at least that I don't like dealing with.
Lack of Transparency
It would be nice if we were shown past performance of Charles' trades, but of course we are only shown the good trades where he made nice profits. This might give some people that wrong impression and could make it seem like this is a no-risk way to make a lot of money.
How many of his recommendations are losers? Who knows..
Not Exactly The Most Trustworthy Company
Banyan Hill is not the type of company most people would choose to deal with. If you look up complaints about them online you will find plenty.
Also, they are not accredited with the BBB (not that this matters all that much) and have a low rating overall by customers (less than 2 out of 5 stars)...
Pros v Cons
Pros
No experience or investment knowledge needed
Investment guidance by a professional, Charles Mizrahi
Nice breakdown of monthly briefings, weekly reports, and trade alerts
Easy to follow along with. Everything is broken down from why an opportunity is a good investment, to how to invest in the opportunity, and when to sell.
Cons
Lack of transparency
Risk involved (as there is with any investment opportunity)
Good amount of complaints about the company
Need additional investment capital
Seems to be trouble getting refunds
Conclusion - Worth Subscribing To or Not?
This is a question you will have to answer for yourself.
If Charles makes good recommendations and you are able to recoup your investment and then some, then of course it is worth the money, but as you can imagine results will vary.
Charles is an experienced investor and I have no doubt that he makes good recommendations and will continue to make good recommendations, but not everything he recommends will be a winner so you have to be willing to accept the risk.
I hope this review has helped and provided you with some value. Please leave any comments and/or questions below and I'll get back to you soon 🙂
PS: Since you are interested in making a passive income you might want to take a look at this program I've been using since 2015 to make money online.
It has nothing to do with investing but it still might be worth a look. Money is money 🙂