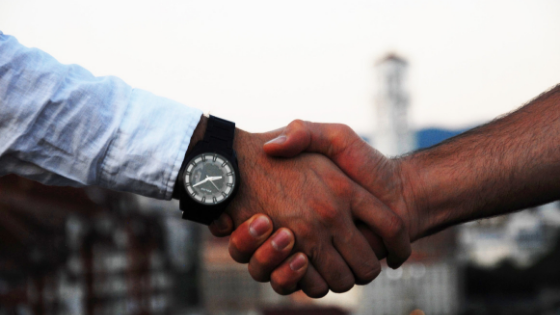 10 Ways to Get Local MLM Leads – That You Should Be Using!
Growing your MLM business is all about getting more leads--good leads.
Everyone wants more of them but of course getting more is easier said than done.
A lead is nothing more than someone who is interested in what you have to offer--whether that be products you are selling or the business opportunity you are promoting.
How do you "get a lead"? This involves getting contact information from the prospect. When it comes to generating leads online, an email address is often the form of the lead you capture. However, when it comes to generating local MLM leads, email addresses are still good, but phone numbers are more common in this area.
There are a number of different ways to get local leads, both offline and online. I'll be going over 10 of them that you can start using today to grow your business.
Ready?
Let's get to it...
*By the way--these are in no particular order of importance.
10 Methods for Local MLM Lead Generation
1. Local Meetups
This is an excellent way to get free high quality leads--in particular if you are looking to build your downline and get someone to join as a distributor.
Attending meetup events like real-estate seminars, 'law of attraction' events, events that motivational speakers attend--these are the types of meetups I'm talking about.
These are places that people attend who are looking for more out of life. They are tired of the boring 9-5 job and are often looking for more financial freedom, freedom from a boss, etc.
Now how you get these leads might take you for a spin--what I'm suggesting is actually going about and getting as many business cards from the attendees as possible. That's right...Go around, talk to people, get their business cards.
Then follow up with them shortly after. Most people will tell you within 24 hours.
Call them, listen to their story, delicately give them a subtle pitch on how your opportunity can help and go from there.
The reason this method is so great is because you will run into a lot of motivated, determined and professional individuals... Great for your MLM downline.
2. Flyers
Handing out flyers is a pretty easy way to get local leads.
You can hand them out anywhere that has masses of people, such as at a parade, outside a busy store on a Sunday afternoon, the local fair, or do what some people do which doesn't even require speaking--put them on car windshields.
If you are going to use this method you are going to want to make your fliers very simple and brief: A captivating headline, some bullet points on how they can benefit, and a short call to action such as "call this number to find out how"--is all you need.
The downside to this method is pretty obvious--you are handing out flyers to a very un-targeted audience--generally speaking.
You can increase the quality of your leads by handing out flyers in places where your target audience is more likely to hang out--for example, a health & wellness fair would be a great place to attend if you are part of a health & wellness MLM.
3. Use Your Car
This might not be the best idea if you are driving around a clunker, but if your car is nice then it is another great option--and couldn't be easier.
All you need to do is use a car sticker or car magnet. VistaPrint and UPrinting are good options for easily creating these online.
You want to keep these as short as possible. A brief headline and call to action is all you need.
Once you have them placed on your car simply do what you normally do--drive around. This requires almost no additional effort and that is why it is so great--it's also nice that you aren't bombarding people like you do with flyers. You simply have a small advertisement on your car and people who are interested make the first move by calling you.
Also, unlike passing out flyers, these leads are already pre-qualified to some extent--since they make the first move.
4. Newspaper Ads
Another option you have is newspaper ads.
With this method you can advertise the opportunity or the products you are selling pretty equally.
The cost of ads will vary depending on where you live, the size of the ad, duration, frequency, etc.
Start off small and don't spend a lot, but be consistent. It often takes several times of seeing an ad for someone who is interested to respond to it.
5. Bandit Signs
First off, what the heck is a bandit sign?
I guarantee you've seen them many times before, probably just yesterday or even today.
They are those little plastic signs with metal legs that you see stuck in the ground all along the road. "Vote for This Person", "We Buy Gold", "We Buy Houses", etc. Political bandit signs are among the most popular, but you see just about everything.
Bandit signs are cheap and easy--and can be effective.
As always, you are going to want a captivating headline and call to action at a minimum.
Good websites to order these signs include cheapsigns.com, supercheapsigns.com and others. You can just Google 'bandit signs' and you will find plenty of results.
For best results place these signs in areas where your target demographic lives.
Oh ya--and be sure to check into the legality of placing these signs where you see fit.
6. The "Fish Bowl Method"
This is a genius way of collecting leads that allows you to generate many with little work.
Unless you have heard of it before, I'm sure you have no idea what I'm talking about.
That fish bowl method goes like this:
You get together with a small business owner get them to allow you to do a raffle.
What do you raffle? A free product is the easiest route to take.
Put some sort of receptacle, such as a fish bowl, near the checkout counter where people can drop in their information to enter the drawing.
Pick a winner and call every single person who didn't win as well.
The idea behind it: You can make a pitch to all those who didn't win. Tell them that they can get a discount if they purchase through you.
Pro Tip: Approach businesses that are in your niche--for more targeted leads.
7. T-Shirts & Buttons
Another easy method is to simply use yourself to market some message--as a bulletin board so to speak.
You can do this by wearing a t-shirt or button--the button method is less extreme and probably the more desirable.
The actual surface area of a button isn't very large--so it goes without saying that you are going to have to keep your headline and call to action as short and precise as possible.
If you are trying to sell weight loss products you could wear a button that says "30lbs Lighter -- Ask Me How"
If you are trying to promote the business opportunity you could have button made that reads "Be Your Own Boss -- Ask Me How"
Maybe you are attending an event based around holistic health and you are trying to sell essential oils--you could have a pin that reads "Used to Have Anxiety -- Ask Me More"
These are just some basic examples. You can get as creative as you want with it.
Just keep it short and intriguing... And try to attend events where people of your target audience might be.
8. Craigslist
Good old Craigslist. You may have heard some negative stories about it when it comes to getting leads, but it is still and excellent free source--and there is one way to getting leads that not many people are using.
Sure, you can try to sell products on this site, but this isn't going to be a very good choice. People who go on Craigslist are looking for cheap used products the majority of the time, not brand new expensive essential oils and such.
If you are looking to build your downline and recruit in new distributors you can post a 'gig' telling people about the opportunity, but people struggle with this method--the reason being because these posts are often flagged and taken down.
What a lot of people aren't doing, and what can be a very good way to get free local leads--is going to the Resumes section and contacting people looking for work...
This basically works the opposite of posting a job or gig--people looking for work post their 'resumes' and people who are offering jobs/opportunities can contact them.
You can find lots of people looking for work from home jobs and such.
9. Good Ol' Facebook
Whenever you hear of getting leads on Facebook you hear about paid advertising. It's true that running ads on FB can lead to some of the most target traffic available online, which means targeted leads, but this costs money.
If you don't have experience running ads then this can be a great way to blow through heaps of cash really fast.
Not many people talk about getting free local leads on Facebook. You hear of ways to get free leads, but we're talking about local leads here.
One easy way to go about it is to simply use Facebook's search feature to find people of your target audience near you. You can search for people are in sales, stay at home parents, etc.
Send them a friend request and go from there--but don't push your pitch on them right away. Let them get to know you. They accept your friend request to be your friend, not get pitched some idea right away. So be their friend and help them.
You may want to create a separate FB profile for the 'business you', but this just depends on your preferences. Some people don't mind merging their business and personal life.
10. Local Lead Generation Services
Another option you have at hand, which doesn't really fit in well with those mentioned above because it can be costly, is paying a service to go out and get you leads.
Some options you have for these types of services include Oppseekers.com and MLMleads.com's MyAutoPilot Traffic.
These services often 'guarantee' that your leads are fresh and not over sold, which would lead to low engagement if they were.
You will likely need some sort of landing page in place, autoresponder service, etc. for this method.
*Please be careful and don't blow your money away on this. If you don't know much about online marketing, such as what a landing page or autoresonder is, this is not something you should consider.
Local Leads vs Non-Local Leads
You can get local leads both offline and online--most ways to go about doing so include offline methods, as you can understand.
These offline methods are great. They often involve meeting leads face-to-face which can have a big impact on your business. If you have the blood of a salesperson, then talking to someone directly, hearing their story, and pitching them your offer (which can help them) is something there is no substitute for.
And think about the benefits of having local leads after some of those leads join your opportunity (if you are promoting the MLM opportunity)--now you have people nearby that you can meet with in-person and help get going. You can show them exactly what has worked for you and help them grow their business with a hands-on approach.
Sure, non-local leads are great too--I mean, using the internet to reach out to masses of people all over the place has it's benefits, but many distributors prefer local leads.
That said, if you are interested in ways to get leads online (many that aren't local) then you can read my post on free MLM lead generation methods.
Tired of recruiting? Here are the top reasons affiliate marketing is better than MLM
Pro Tips
#1 - Be Genuine - No one likes a salesperson that is obviously only interested in money. By genuinely wanting to help people the money will come.
#2 - Rejection Happens, Deal With It - You will come across many people that are just not interested in what you have to offer. This is something you just have to deal with and move on from. People will think you are annoying, they might be rude, etc.
#3 - Stick to Just a Few Methods - Don't go out and try to get leads with every method listed above. You will spread yourself too thin. Focus on a few and become really good at them--learn how to identify good prospects with them and hone your skills.
Final Thoughts
Leads are great.
Local leads are a great type of lead.
The methods discussed above are all proven ways to get local leads--but of course not everyone succeeds with these methods.
Knowing your target audience, identifying good prospects and being able to genuinely communicate with these people are key.
It might take some practice, but no one succeeds in business right away. So stay focused and be consistent. As mentioned earlier--for many people it takes more than one encounter, ad, sight of a bumper sticker, etc. to follow through and reach out.
I hope you enjoyed this article and found it helpful. If you did--give it a share! 🙂
Also, be sure to leave some comments down below. I'm interested in hearing your experience with any of these methods.
Take care--and be sure to check out my top picks for making money from home.