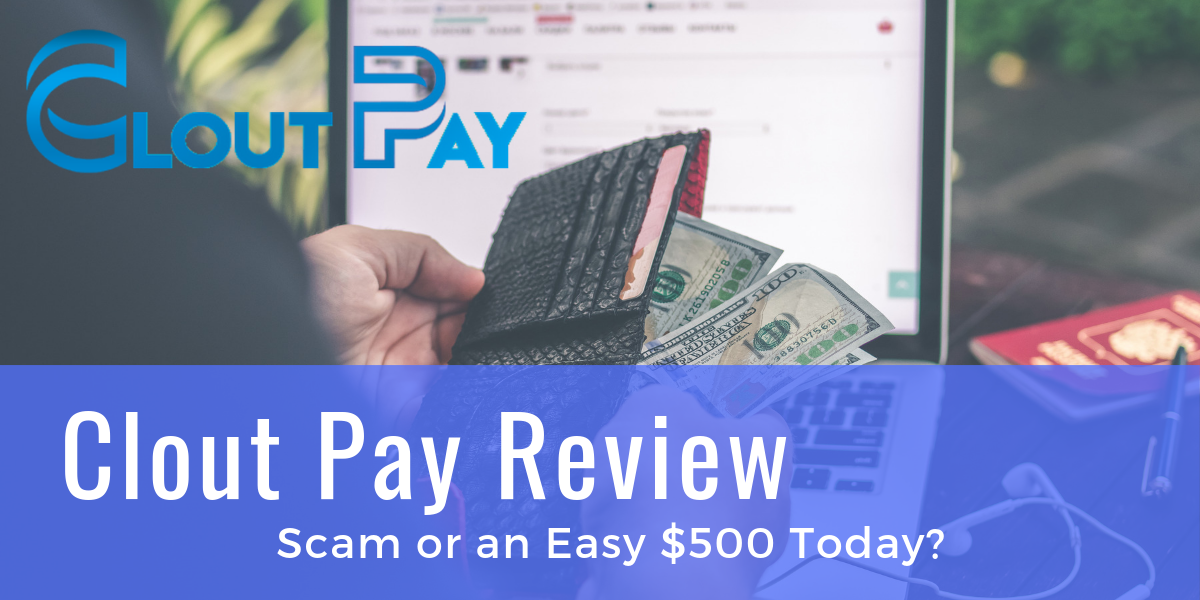 Is Clout Pay a Scam? – Yes, I'll Explain Why
Clout Pay claims to pay $10 - $15 just for referring people to them and also says you can "make $500 today".
But is this realistic? Can you actually make money this easily? Or is Clout Pay a scam that it would be in your best interest to avoid?
Well, as you would already know if you read the title of this post, this is indeed a scam and in this review I'll be exposing it as exactly that!
Keep reading for more, or you can jump straight to my top recommended program for making money online.
Clout Pay Review
Name: Clout Pay
Website: cloutpay.co
Cost to Join: Free
Recommended?: No
Overview: Clout Pay claims to be the "#1 influencer network" and says they will pay people $10 - $15 for every friend that they are able to invite to join... which is a heck of a lot of money compared to known legitimate sites of similar nature. They also claim that...
You can make $500 today
and that you'll get a $25 bonus just for joining
However, as you will see this is not possible and this place is indeed a scam.
My First Impression
Judging from the fact that you are reading my review now, I'm guessing my first impression was pretty similar to yours--which was that his definitely seems like a scam.
Making $25 just for signing up, then $10-$15 just for referring others to join... whom they will also pay $25 for joining??... this doesn't sound realistic.
...and there are plenty more red-flags to back up my first impression that this is a scam...
Lots of Red Flags
#1 - Fake Testimonials
Let's start off with the fake testimonials.
On the website they show a bunch of testimonials from people who are supposedly making tons of money on the site...
But unfortunately they are all fake. You can see below that the picture of the woman from the testimonial above is all over the internet... which means it is more than likely just a stock photo...
Not only is the fact that the pictures are fake bad enough, but it also makes you wonder why they didn't just put real pictures up.
Shouldn't it be easy to get a bunch of real testimonials from happy members--since they are making so much easy money???
Well... it would be... if this weren't a scam.
#2 - Website Age Doesn't Add Up
Another red-flag is how they claim they were founded in 2015 but according to my research on the website ScamAdvisor they have only been around for 35 days (at the time of me writing this)...
Now I guess it is possible that the company was around before the website, but I think it's just another one of many lies.
#3 - Lies About News Coverage
On the website they state that CloutPay has been featured on Fox News and Forbes...
#4 - Contact Problems (contact page not found)
Another massive problem and major red-flag I came across is with their contact page.
Apparently it doesn't exist because this is the error I kept getting when I would try to go to it:
#5 - The Income Calculator Is a Joke
The last red-flag I want to cover right now, which just makes this whole thing seem more scammy than ever, is the ridiculous income calculator that they have.
What you do is enter the number of followers you have on social media and it spits out a number of how much money you can make per day. As you can see here, I put that I have 500 followers and it's telling me that I can make $118/day...
The problem is that there is absolutely no way this can be even close to accurate. They have no idea what social media platform my followers may be on, they have no idea how active my followers are, and they have no idea what interests my followers have.
This is just another little scammy trick to try to make this opportunity seem like some amazing new thing you must join right away.
How It Works (According to Them)
What they tell us is that they make moeny from ad revenue... and that by getting others to join they will have more people viewing ads, which means more ad revenue--so this is where the money comes from and how they can afford to pay members for referring people to join.
They claim to work with popular brands like McDonalds, Dunkin Donuts, Burger King, Target and more.
The basics of this make sense.
They get paid from advertisers; members help drive more traffic to them; this increases their ad revenue; they pay members via PayPal, Cash App, Bitcoin and checks in the mail. There are still a lot of unknowns--but the basics make sense.
The claims that you can earn $10 - $15 for every friend you invite still sound absolutely impossible to me and the fact that there are so many other red-flags just add to my suspicion, but let's pretend for a second that this possibly could be legit.
At this point in my review I'm about 99% sure it's a scam, but I decided to join anyhow just to check it out--and so that I could write a more detailed review for my readers.
What Happens When You Join
When I first joined I got a welcome message that just made me more suspicious than I already was.
Now I was being told that I could earn not just $10 for getting people to join, but also $2 just for getting someone to click on my referral link!
The claims just keep getting more and more unrealistic.
Once inside this is what you will see for your dashboard...
The first thing you will see is your referral link so that you can get others to join and supposedly make a bunch of money.
There is also an area where you can complete 'tasks' and earn money, a place where you can upload screenshots of social media posts promoting Clout Pay to earn money, and more.
The "$30 Task Wall"
When you go to the "$30 Task Wall" it probably isn't what you would expect.
I was thinking there would be tasks to complete like some of the legitimate rewards sites out there--you know, like completing surveys and such.
Here the "tasks" I was given were to complete some steps to win free gift cards and such--AND earn money from Clout Pay on top of that...
BUT... of course this sounds too good to be true and I found out very soon that indeed it was.
After clicking on the offer (shown above) to get a free $100 McDonalds gift card I was directed to this website, which has a very bad reputation and I have come across in the past when reviewing another pretty-much identical scam called Kids Earn Cash...
Basically what happens here is you are told that you have to collect 100 points to get this $100 McDonald's gift card, but don't expect to ever actually get 100 points. What happens is you are sent around in circles, being pushed into signing up for more offers, entering more and more personal information and all sorts of stuff.
It's all very scammy and I doubt it's even possible to ever get these gift cards.
Rewards Center
In addition to already getting paid ridiculously high amounts of money just for referring people to the site, they also claim that you will earn coins--1 CP coin for every dollar that you earn, which can be redeemed for all sorts of prizes, gift cards, iPods, etc.
As if how they claim to pay $10 for a referral and $2 just for getting someone to click your link isn't enough, they try to make this opportunity sound even better and more far-fetched by claiming they will give you points redeemable for prizes with each dollar that you earn.
Now this is really getting out of hand.
What Is Really Going On Here
As far as I see this is basically one big scam where they try to shake you for your personal information over and over again, getting you to enter your name and email here, your phone number there, getting you to opt into mailing lists, sign up for offers, etc.
Clout Pay is getting paid via CPA offers to send people to all of these different offers and whatnot--and unfortunately they are working with some very scammy offers that are just as scammy as Clout Pay themselves.
They don't care about their members and I doubt they even pay.
All of the reviews I've read online from people claiming they are making money from this site seem to be fake, and they have to be because this business model will NOT work out.
This Can't Work Out
The main reason I doubt this plays pays members, and is probably a complete scam, is because the numbers they give simply cannot work out.
How can they possibly afford to pay people $10 just for getting someone to sign up and $2 for getting someone to click on the darn referral link!!!???
We are talking about getting paid $2 just for someone clicking! This means they don't have to sign up, they don't have to enter any information... nothing. This makes no sense and if they really were paying for this they would be out of business very quick.
You also have to remember that they claim to pay a massive $25 sign up bonus. So total they are paying out $35+ for everyone who joins ($25 sign up bonus to new member + $10 to person who referred them). And this is all with absolutely no guarantee that the person who signed up will make them any money by viewing ads, completing offers, etc.
Definitely not possible.
Conclusion - Scam
Ridiculous income claims
Fake testimonials
Lies about being featured on the news
Contact page doesn't work
Lie about age of website
Income calculator is a joke
Offers they list are roundabout information sucking scams
... is there anything about this website that is good? I doesn't seem like it.
This is not a legitimate opportunity and I definitely and not going to be recommending any of my readers sign up.
When something sounds too good to be true it probably is--lesson learned.
If you are looking for a legitimate opportunity to make money online and want a personal recommendation from me then take a look at this program I use to make a living working online--and which I have been a members of since 2015.
Alternatively you can check out my top income ideas for making money from home.
Take care and be sure to leave any comments or questions below! I like to hear back from my readers 🙂