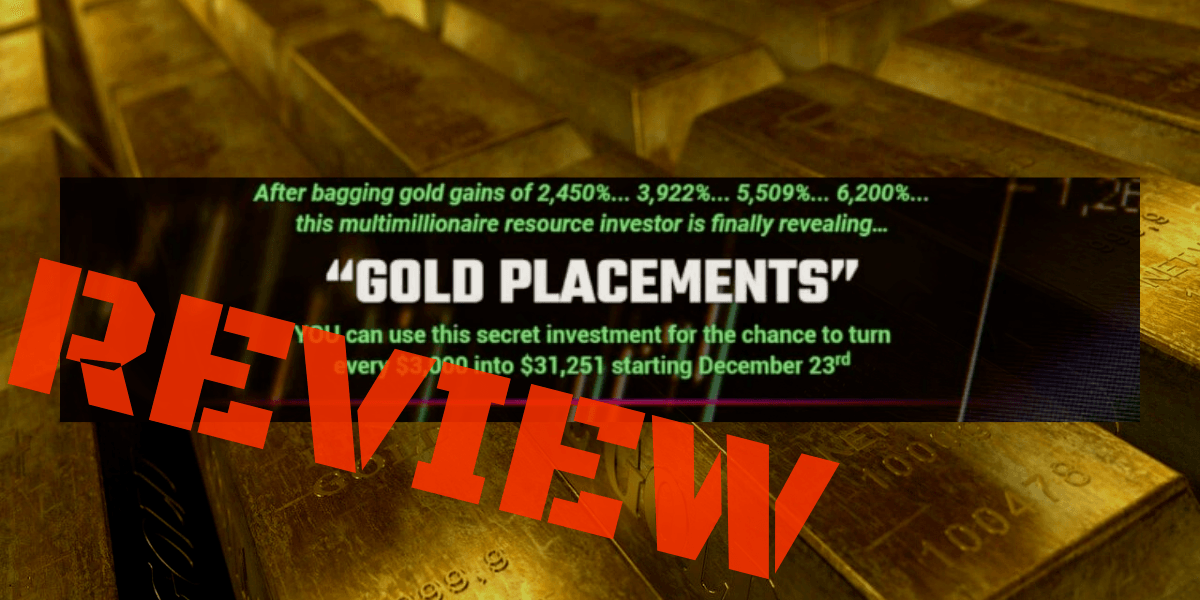 What Are E.B. Tucker's "Gold Placements" About? – Explained
E.B. Tucker claims that "gold placements" have brought in profits of 433 - 6,200% for him... and that they are some "secret" new type of gold investment opportunity that can make you rich.
But... are they really? Or is this all a scam?
What are "gold placements" and can you really make money with them?
The teaser is misleading and in this review this is exactly what I'll be answering.
Spoiler Alert: Things are NOT what they seem.
You've probably come across the promotional video pictured below...
In the video E.B. Tucker claims that he has worked his way into some "tight knit group of ultra-wealthy investors" and uncovered a "secret" to "raking in millions of dollars in the gold market".
The video is supposed to look like some sort of news broadcast, but it's really just a sales pitch... as I'll get into.
In the video E.B. claims he will give us his top trade recommendation today "for free" and "will hold nothing back"... none of which is true.
He also claims you have to act by December 23rd, 2019... but after this date comes and passes the sales video will likely be updated to say another future date... to keep luring in new eager investors.
What Are "Gold Placements" Really?
Okay... so we know that they are "secret" investment opportunities that not many people know exist... and we know that they have nothing to do with investing in bullion, mining stocks, ETFs or options... and we know that they aren't talked about in the media.
So what are they?
Well, let's first start by clearing the air on the name "Gold Placements"... which is completely made-up for marketing reasons. The name was created by the people behind this sales pitch and this is the reason you never hear "gold placements" in the news.
They act as if this is some new undiscovered secret, but really it's a new name that they made-up... which reminds me of similar teasers like that of "Mortgage Reimbursement Checks" and "Cannabis Lots".
But anyways... what is E.B. Tucker actually referring to here?
Without whipping out thousands of dollars to buy into the subscription service and find out (yes, it costs a lot!), I did some digging around to try to get to the bottom of things and figure out what these "gold placements" really are.
It seems that he is talking about gold royalty stocks here... which would go along with the teaser promotion.
The royalty business has a lot of benefits that that company mining the gold doesn't... such as the break-even prices being low and the fact that royalty companies have been on fire lately.
In the teaser he mentions that this opportunity has nothing to do with investing in bullion, mining stocks, options ,etc... but he doesn't mention royalty stocks.
Why am I of the impression this is what "gold placements" really are?
Well... besides the fact that this royalty companies have been performing great recently, E.B. Tucker has been talking about investing in royalty companies to take advantage of the gold bull market a heck of a lot. After a quick search I was able to come across 3 different articles in which he promotes this form of investment...
It makes perfect sense that this is the opportunity he is promoting and all the subtle hints he gives go along with it.
It's One Big Sales Pitch
BUT... don't think that you are going to get his top royalty company trade recommendation "for free" and that he "will hold nothing back".
I know this is what he says... but it's a lie.
The truth is that in order to get his "free" top trade recommendation you are going to have to take out your wallet and buy into what he is selling... which is his trade recommendation subscription service that costs over $1,000.
How It Works
The truth is that he holds a lot of information back and the entire "Gold Placements" video that is supposed to look like some sort of news broadcast is actually a sales video designed to lure in new subscribers to his trade recommendation service called Strategic Trader.
This seems to be the blueprint nowadays...
First make-up some unusual-sounding investment name that no one has ever heard about ("Gold Placements")
Promote it as some amazing new opportunity (even though there is nothing new about it)
Say that viewers will be rewarded with #1 investment recommendation if they watch the entire video... "for free"
Force viewers to subscribe to subscription service (Strategic Trader) before they can get the "free" recommendation
The Strategic Trader subscription service is, in a nutshell, a follow-along style service were members are provided with trade recommendations, analyses to go along with those recommendations, updates and alerts, etc.
Members get:
Monthly copy of Strategic Investor which includes high-end research and all of E.B.'s latest investment ideas
Updates as needed, which usually come in 1-2 times a month
Training videos that go over all the basics of trading
Reports on various topics such that include in-depth analyses on different opportunities or strategies
The Cost
Brace yourself...
The cost is $3,000 for a 1-year subscription to the Strategic Trader service.
It certainly is NOT cheap.
However, there may be different price points and discounts available because I came across a review that mentioned it only costing $2,000 for 2-years... which is a lot cheaper but still a good chunk of money.
Probably not what you were expecting when you first heard E.B. Tucker say he would "hold nothing back" and give you his top recommendation for "free", huh?
Is Gold Placements a Scam?
Nope... not a scam... just another incredibly misleading opportunity... which I guess you could consider a scam, but I'll leave that up to you.
While the whole teaser for this opportunity is misleading, the Strategic Trader service does provide real value and is a legitimate trade recommendation service... although it's value isn't very transparent since the track record this service has is unknown.
Conclusion - Should You Buy In?
I won't be recommending this service to any of my readers because I despise the promotional tactics used, which are deceptive, but the decision of whether or not to buy into what they are pushing here is ultimately up to you.
And if you are considering buying in, you should know that there are NO REFUNDS... they do have a "90-day Ironclad Guarantee" but this only states that they will "give you a $3,000 credit toward one of our other high-end research services"... but won't actually refund you your money.
So be sure you really want to buy in before doing so.
I hope this review has been helpful... and, if so, please share this post to help spread the word and to help out my website here.
Also, leave any comments/questions below and I'll get back to you as soon as I can 🙂