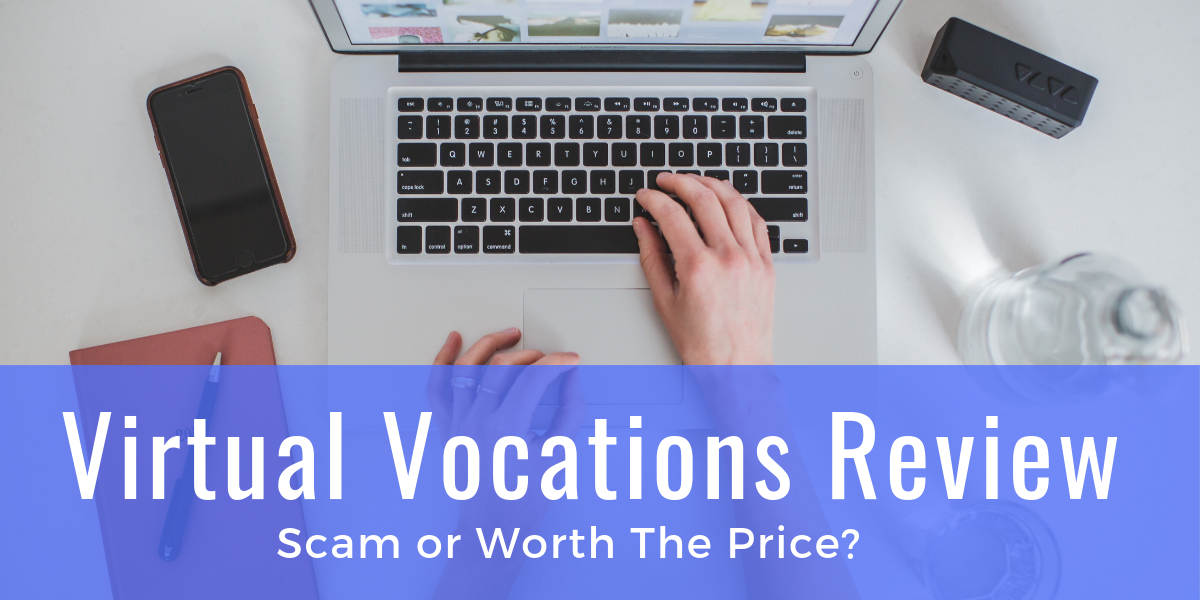 Is Virtual Vocations a Scam? – Review Tells All
Virtual Vocations is promoted as an easy way to find remote work (telecommuting work), BUT IT COSTS MONEY TO FIND THIS WORK!
Is Virtual Vocations a sleazy job board scam that you should do without or is paying for the membership well worth the price?
In this review I'll be going over all you need to know and then some--such as what all this place has to offer, different features, why they charge for membership, complaints, pros v cons and more.
Let's get to it so that you can see if it is worth it for you...
What Is Virtual Vocations?
Virtual Vocations was founded in 2007 by Laura Spawn and her brother Adam Stevenson--and is a company dedicated to helping people find telecommute jobs, similar to job board called FlexJobs. The main part of their platform is the job board, but they also offer e-courses, job organization tools and a database of trusted telecommute companies.
Now you may be wondering... well what's the point of joining this platform if you can find telecommute jobs for free on job boards like Monster, Indeed, etc.?
One of the main reasons this place differs from most is because they hand pick their job listings. All job listings are vetted by real people and members are able to rest assured that they won't get involved in any scammy opportunities. Additionally, this place focuses 100% on telecommute jobs so if this is the type of job you are in search of, it can be a lot easier finding a good match here than on other more general job boards.
Virtual Vocations claims to be the biggest hand-screened telecommute job database out there and this very well might be true. Some statistics (which change regularly) that I came across on the website include that they have...
17,284 vetted companies and job boards searched daily
Over 680 new jobs found per day
Over 20,419 telecommuting jobs total
Their staff scours the internet going on job boards, social media, employer websites, blogs, etc. to find good telecommute jobs that are worthy of listing--and they are quite active when it comes to this.
Sounds pretty good and looks good from a first glance, but let's take a deeper look into what they have to offer...
What You Get Access to As a Member
Job Board
To search for jobs you don't even have to sign up (but won't be able to see much information).
When you click on Jobs in the upper menu you will be taken to something that looks like this, where you will have a variety of ways to search for that perfect telecommute jobs...
You can search directly by typing in specific keywords, use the advanced search feature (I'll go over this) or you can search for jobs using the filters over on the left-hand side, which include...
Job Category

Account Management, Consulting, Customer Service, Engineering, Healthcare, Writing, etc.

Telecommute Level

100% telecommute, majority, frequently, occasionally

Location

Nationwide, you can search by state, region, and even timezone

Travel Requirements
Weekly Hours
Employment Status

Permanent, temporary, independent contractor, etc.

Employer Type
Career Level

Entry level, experienced, manager, etc.

Education Level
Additional Information

You can filter for companies that are 100% virtual, continuously hiring, offer benefits and more

Date Posted
There are plenty of filters at your disposal to really narrow in on jobs that are a good fit for you.
If you don't choose any filters it will just show you all the newest job listings, which are updated very frequently as you can see...
This could be a good way to see what all is out there on the table, but you are more than likely going to want to filter your results because there are so many listings.
The Advanced Search feature basically just provides an easier way to use the filters listed above. So if you are going to be filtering the heck out of your results, you can enter everything in at once and filter it all together...
What Kinds of Jobs Can You Find?
You can find pretty much every telecommuting job that exists, but most jobs listed here are for US citizens--although many jobs can be done from anywhere.
You will find entry level jobs that don't really require much at all, jobs that you need a college degree for, jobs in management and high level roles, and so on--all of which you can filter for of course.
There are lots of specialty telecommuting jobs in all sorts of fields (engineering, insurance, legal, medical, etc.).
What Kind of Jobs You WON'T Find on Virtual Vocations
The types of jobs that you won't find here are scammy opportunities that pay based on commissions and what not--which include MLM type opportunities, 'build your own business' opportunities and so on.
You will be able to find some freelance and independent contractor work, but much of what you find is remote work where you will be employed by a legit company--vetted by V.V. of course.
Applying to Jobs
V.V. works with companies to try to make the application process a little easier for job seekers. A good number of positions you will be able to apply for directly through the platform. You will be able to manage your portfolio, resume and supplemental documents inside your V.V. account which will make applying simple.
However, not all companies work with V.V. like this and for many postings you will have to apply directly on the company website, or wherever they choose, which you will be provided a link to.
Job Email Alerts
You probably don't want to spend hours each day looking at the new jobs that V.V. posts to try to be the first one to jump on an opportunity--and you don't have to because it's very simple to set up email alerts.
You will have to at least create a free account, and then you can navigate over to Job Email Alerts tab as shown below...
When you click on the button to create a new alert, you will be directed to the Advanced Job Search feature where you can choose exactly what types of jobs you want to be alerted about as soon as they are posted.
This is a very necessary feature because time is of the essence when it comes to applying for jobs.
E-courses and Downloads
Not only does V.V. give you a nice curated list of hand-picked jobs, but they also help you get those jobs by providing some e-courses that will hopefully help out. Some of these include...
"Creating a Winning Telecommuting Resume"

5 day e-course
Premium only

"Telecommute Job Searching for Mid-Level & Professional Jobseekers"

3 day e-course
Premium only

"Getting Started with Telecommuting"

4 day e-course
Available to free members

Interview Guide for Telecommuters

Download
Available to free members

20 Entry-Level Telecommute Jobs You Should Apply for Today

Download
Available to free members

10-Point Telecommuting Action Plan

Download
Available to free members
There are some other guides and handbooks available as well. Some are available to all members while others you have to be a Premium Members to get access to.
To get access to these you will have to be a member--you can't access these without signing up. Then you can navigate over to the Telecommute Toolkit to find them...
Job Organization Tools
What they are talking about when they mention "job organization tools" are the different little tools available on the platform that allow you to: set up custom email alerts, track jobs you are interested in, save documents like your CV and so on.
These are little things that help you stay organized on your job hunt.
Company Database
What you can also do on the platform is browse through the company database, which includes over 17k company profiles.
You will be able to search for companies in certain industries or you can search by keyword.
If you are interested in applying to a job offered by a certain company this can be a good way to stay up-to-date because you have easy access to company social media, website, news and jobs.
Career Services
Now you won't get access to these as a member, you will have to pay more, but they are worth mentioning in this section. These services can be purchased without a membership but if you have one you will get a discount.
The career services provided consist mainly of resume review. You can choose to have human resources professionals working at V.V. review your resume and help fine-tune it to your needs--professionals who have years of experience in resume writing.
*Note: The prices below are without the member discount.
Professional Resume Review - $69.99
Mid-level Professional Resume Review - $199.99

Mid-level LinkedIn Profile (add-on; can't be purchased alone) - $139.99

Executive Level Resume - $249.99

Executive Level LinkedIn Profile Makeover - $199.99
Cost to Join
As you know they have a free membership. This is nice and does provide some value, such as the ability to search for jobs, free e-courses and downloads, job alerts and what not, but you will likely feel like you pretty much have to go Premium as a free member.
Why?
Well, because the job database is the main part of this platform and as a free member your access is limited--which in my opinion is the main reason.
You can click to view "free jobs" which will give you full access to the job listings that are completely free to view, but these are limited.
Many postings will only display limited information (no company info so you can't apply) and when you click to apply you will be sent to the order page to pay for the Premium Membership...
The cost depends on how you want to pay.
Monthly - $15.99
3 Month - $39.99
6 Month - $59.99
I'd probably suggest starting off with the monthly plan. There is a good chance you won't land a job within a month (although some people have claimed to) but 2 months gives you a good amount of time and the cost there would be $31.98 ($15.99 x 2), which is still less than the 3 month plan--but the 3 month plan would be good if you want to take your time with this.
6 months--eh... hopefully you will land a job before then--so that might be a little too much. But it's all up to you.
Shouldn't a Job Search Be Free?
For everyone who is outraged or even slightly upset about having to pay for this service, I'll explain why it is this way and it will make perfect sense--but first let me say that I completely understand where you are coming from.
Job board sites like Indeed and Monster are free, so why isn't this place?
Well, most job board sites list paid job ads. They get paid by employers to list jobs. So what this means is that many of their featured listings might not be the best results, but they are showing up because the job boards got paid to show them.
V.V. doesn't list paid job ads and because of this your job search results are better--but of course they have to make money somehow and this is why you have to pay for a membership.
Is Virtual Vocations Worth The Price?
In my opinion V.V. can absolutely be worth the price you pay, but this is going to depend on what outcome one has after signing up.
If you land a great virtual position that is perfect for your education and experience level, then that easily makes the small membership fee worth it in the end--but if not then maybe not.
Either way, you can always try things out for a month or so and see how it goes--the cost isn't that much.
Money Back Guarantee
V.V. offers a 30 day money back guarantee if you are not happy with their products/services. I have seen no complaints against this, so I assume that they do stay true to their word.
What I Like/Don't Like
What I Like
While no one likes paying for something like this, the membership price is a necessary evil and I like the fact that there are no paid featured jobs, which we can thank the membership price for.
The platform is also well laid out and has plenty of job search filters, making it easier for narrowing in on specific types of jobs.
The organization tools and streamlined application process are also a plus and I like the fact that that they provide additional services (like the resume review) to help job-seekers out more--although you could argue that these are overpriced.
The transparency the company has is another plus-side worth mentioning. We know who is behind the company and they aren't afraid to show their faces, which says a lot. Visiting the About page you can learn more about the founders and upper level management at the company.
Overall there is a lot to like and I think V.V. does a pretty good job helping people find jobs, but there are a few dislikes I have as well...
What I Don't Like
They are a bit pushy with the premium subscription. After joining as a free member it almost seems as if there is no other choice but to pay for Premium Membership. You are taken right to the checkout page to enter payment details. It is only at the very bottom of the page where there is a small and almost un-noticeable button that says "Not Thanks, Let me see my current benefits".
It's not a big deal that it's like this, but of course the less 'salesy' the better.
Along with this you will also be receiving promotional emails from them once you sign up as a free member. You can opt out of these emails but nonetheless it is annoying.
Common Concerns
Privacy
Privacy is always a bit of a concern when dealing with places that you are going to be giving personal information to. After all, if you plan on using this platform and taking advantage of all the features then you are going to be leaving them with a lot of info.
They take privacy seriously and aren't going to be selling your personal info for the heck of it. They also make clear in the FAQ section of their website that they never share or sell your email address with any other person/company--and of course they use SSL to encrypt data, which is the norm nowadays.
Support
Support is always a must. You never know when you might run into problems.
Luckily they provide a number of ways to get in contact with them and, all-in-all, I'm impressed.
If you go to the 'contact us' page you will be able to easily submit a support ticket--and they also give you the company mailing address, a customer service phone number (this is becoming more rare) and an email address.
VirtualVocations
2852 Willamette St. #173
Eugene, OR 97405-8200
1-800-379-5092
customerservice@virtualvocations.com
Customer Reviews & Complaints
Most of the independent customers reviews I've been able to find come from the BBB's website, which is a good source of reviews that I often look at when doing my research.
The overall average rating is 3 out of 5 stars, which isn't that great, but it's nothing horrible either.
There are quite a few very positive reviews from people who are more than happy with their subscription--because they were able to find good jobs through the platform...
It is more difficult to find a remote position through a 'normal' job board site--the one review above is completely correct on this.
Complaints
There aren't many complaints worth mentioning.
I'd say that the number one complaint, which I've come across from a few people, is that job listings are already filled...
This is unfortunately something that happens, and happens with any job board site.
I imagine that they update their listings as best they can, cleaning out filled positions, but this is a problem and can be frustrating to job-seekers.
You also have some reviews flat-out calling this whole platform a scam...
... but it seems that they are often upset with the membership fee and don't quite understand the business model.
Concern About Fake Reviews
You can see in the review pictured above the person is accusing Virtual Vocations of publishing fake positive reviews, which is a big problem in the online world.
I have a lot of experience filtering through reviews and it seems to me that there could be some fake reviews left here, but it's hard to say. Some of the reviews don't really seem very realistic and are too much of the same--which makes me think that people could have been encouraged in one way or another to leave falsely positive reviews. But as I said, I am in no way 100% convinced that this is the case--I just wanted to address the accusation above.
Overall the reviews are more positive than negative. This is a better sign than you may think because usually people are more willing to complain and leave negative reviews and skip leaving a review when their experience is good.
Is Virtual Vocations a Scam?
Virtual Vocations is not a scam. I'm sure you can see this, but I just want to make it clear because there are accusations floating around out there.
They provide a legitimate service and have a legitimate business model.
It also might provide some relief to see that they are accredited and have an A+ rating with the BBB.
And as you know, the company is very transparent, which is always important. If a company hides details about what's going on, then that is not a good sign.
Virtual Vocations is very clear with who is running the show, what they provide, costs, etc. They also have a detailed LinkedIn page, are active on Facebook and so on--very public.
Virtual Vocations Alternatives
There are tons of job boards out there--ZipRecruiter, Indeed, Monster, Simply Hired, etc.--but most of the sites, including all of these ones, are for general job searches.
Yes, you can find telecommute jobs on any of them, but these types of jobs are not the focus and you will have much more trouble finding such.
That said, a lot of these types of job boards are completely free to use so if you are confident you can filter out low-quality or even 'scammy' jobs on your own, and you have the extra time to spend sifting through all the results and doing a lot more research on your own, you can get away with using the free sites.
When it comes to close alternatives to Virtual Vocations, meaning alternatives that are focused on remote work and don't show paid job ads, then FlexJobs is another choice you have.
Virtual Vocations vs FlexJobs
General - Both platforms are pretty much the same type of deal. Both are job boards focused on remote work, both don't display job ads, both contain hand picked job results, both have membership prices, both help streamline the application process, both provide resume review services and more. They are incredibly similar.
Features - Not much difference here, but V.V. does allow easier job filtering in my opinion, and allows you to filter job results in ways that FlexJobs does not, such as by education level.
Price - FlexJobs wins here. Their monthly price is $14.95 (compared to V.V.'s price of $15.99), their 3 month price is $29.95 (compared to V.V.'s price of $39.99 for 3 months), and they have a year membership for $49.95 (V.V. only offers a 6 month membership and it costs more, at $59.99)
Ease of Use - They are laid out very similarly and if you look at things like the advanced job search feature on either platform you will see the same basic thing, but overall V.V. is probably a little easier to navigate. Searching for jobs, setting up alerts--I would say Virtual Vocations is a tad bit better.
I don't consider FlexJobs to be difficult to navigate by any means, but if you read my review you know that there have been complaints of such.
Reviews - FlexJobs definitely has a lot more positive reviews and an overall higher rating on multiple review sites out there--HOWEVER, in my FlexJobs review I mentioned that I am fairly certain quite a few of the positive reviews left are fake. With Virtual Vocation's reviews I think there is a small chance there could be some false positives, but with FlexJob's reviews I'm almost certain.
So which is better?
I'm sorry to leave you hanging here, but in my mind there is no clear better choice. Virtual Vocations costs more but I think it might be worth a bit more too--so as far as which is the better deal... I don't know.
Pros v Cons
Pros
Nice layout - easy to use
Hand picked jobs - and lots of them
Easy filtering options
Organizational tools available
Telecommuting jobs for all experience and education levels
Most jobs are employee positions, meaning guaranteed pay
Cons
Costs money
Mostly for people in the US - although as mentioned many positions are available in other places
Pushy to get you to pay for Premium Membership
Not good if looking for freelance work
Final Thoughts - Worth Joining?
If you...
are looking for a flexible telecommuting job
want good job search results
don't want ads and potential scammy opportunities
have the extra money to spend
... then this place might be worth joining--but it is entirely up to you.
I'd suggest starting with the monthly payment and going from there, which is what most people do.
Other Options
If just looking for a flexible work opportunity, there are lots of options out there.
You could also go the freelancing route, in which sites like Freelancer.com, ProBlogger, and others might be worth taking a look at.
Something else you should consider is doing what I do--which in a nutshell is work for myself writing online on my own websites--in which I earn money from advertising. There is a lot of potential here but it's not something you start making money with right away--it takes time.
To learn more and get started, you can check out this program I use to make a living--which I got started with back in 2015 and am still a member of.
Take care and I hope you enjoyed this review. Be sure to leave any comments or questions below 🙂 I like to hear from my readers.
Also, some other posts here on this site that are worth mentioning include 70+ ways to make money from home and my top income ideas.