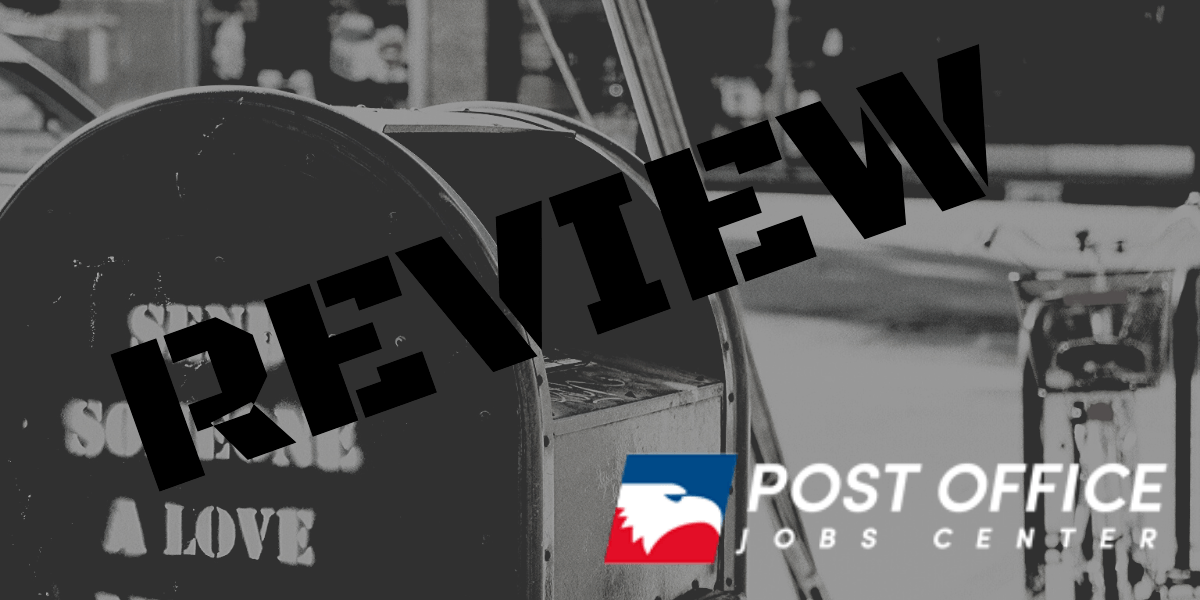 Post Office Jobs Center Review – Scam or Legit?
Post Office Jobs Center claims that "The US Postal Service Is Hiring Now" and that they are accepting applications... but is this website really what it seems to be?
Can you really land a Post Office job starting at $21/hr through this website or is Post Office Jobs Center a scam that it would be best to avoid?
The reason I feel the need to write this review is to warn people about this place. The website is NOT what it seems to be and I'm glad you landed on my review.
Let's get to it...
What Is Post Office Jobs Center?
Post Office Jobs Center, found at postalcareercenter.com and possibly other websites, is an independent website that has nothing to do with the Post Office, sells educational material on the hiring process, and is completely unnecessary to actually get a USPS job.
It is just one of many scammy website that exist that take advantage of people looking to land a good job with the USPS.
Things Aren't What They Seem to Be
When you first land on the website it appears to be some sort of official USPS website for hiring new workers. They tell us that starting pay is $21/hr, that the average postal worker earns $72,320/yr, that applications are now being accepted, and there is even a button where you can "Apply Now".
However, this website is independently run and they do state in the FAQs that they are not the USPS...
So then who are they?
Now this is where it starts to get interesting.
In the About Us section of the website they tell us how they help "increase the likelihood of getting hired" but don't tell us anything about the actual company.
There are no names provided, no address listed, nothing at all.
For all we know this website is being run by some 45 year old man living in his mom's basement, which might actually be the truth!
Post Office Jobs Center is virtually identical to Job-Postal.com, which I reviewed recently and found to be operated out of a small home in Georgia.
And there are plenty more out there. I recently wrote an article on Post Office job scams to warn people about these. There are lots of similar websites out there that lure people in who are just looking to make an honest living... and then sell them on unnecessary materials.
What most of these sites do, including Post Office Jobs Center, is push people to purchase some sort of "registration package" to help them get a job with the USPS. This isn't necessary, however, and I'll go over how it works.
How It Works
When you click on the button to Apply Now you are taken to a 5 step process.
Step 1: Verify Your Eligibility - Here you are just asked questions like:
if your a US citizen or have a green card
If you can lift up to 30 lbs
and other basic questions
Step 2: Build Your Profile - In this step you enter your name, email address, zip code, etc.
Step 3: Job Preferences - Here to select whether you are looking for part-time or full-time work, when you want to start, and what type of entry-level position you want.
*Note: It doesn't matter what job preferences you select, you will get funneled into purchasing the same "registration package".
Step 4: Training Video - In this step you watch a "training video" that really is not a training video at all. It's a short 3.5 minute video that talks about how you could land a job in the next 2 weeks, the benefits USPS offers, and of course how you can get an advantage in the hiring process by purchasing their "registration package".
*Note: This is the same video that was on the jobs-postal.com website. Now it is clear that the same person(s) is running multiple of these deceptive post office job sites.
Step 5: Register Now - And in this last step you are pushed to pay $39 to get their registration package.
That's it!
That's how it works. First you are required to verify your eligibility, then you are buttered up with the idea of being able to easily land a post office job if you take their offer, and lastly you are pushed to purchase their "registration package".
What is in the registration package?
If you do buy it you will be provided with guides that outline every part of the application process, sample questions & answers to help you pass the postal exam, and some other helpful information.
Will Post Office Jobs Center Help You Get Hired?
It is possible that what Post Office Jobs Center provides could increase your chances of getting hired. After all, what's included in the "registration package" could help you score a bit higher on the exams and whatnot.
But will it? I don't know... but the bottom line is that you definitely don't need to purchase any of this and the way it is pushed on people is somewhat deceptive in my opinion.
Is it worth buying into?
Well, Postal Office Jobs Center sells the same "registration package" as Jobs-Postal.com... and there are lots of complaints with the BBB about Jobs-Postal.com...
It doesn't seem worth it to me!
Refund Problems
In the last complaint shown above you can see that the person was upset that they were not getting a refund. This is because Post Office Jobs Center's refund policy states that you can only get a refund if:
You fail all four virtual assessments given for entry-level positions or
You are not offered a job within 30 days after the interview process
The USPS has different virtual assessments for the 4 different entry level positions, which include Mail Carrier Jobs, Mail Handler Jobs, Mail Processing Jobs, and Customer Service Clerk Jobs.
What this means is that you must attempt and fail all 4 exams OR make it the whole way to the interview process and not get offered a job within 30 days.
The takeaway here: Don't expect to get a refund because you have to do a lot before being eligible.
Is Post Office Jobs Center a Scam?
This would depend on what your definition of a scam is. It's true that they somewhat mislead people into purchasing their registration package. But it's also true that their registration package does have some value to it... although it definitely is not needed.
Conclusion - Worth Your Time?
I will definitely not be recommending Post Office Jobs Center. There is plenty of free information online for those who want guidance and extra help getting a job with USPS.
You can learn about the job application process at USPS.com, PostalExam.com has good information that can help you pass the assessment exams, and there are many other resources out there.
So anyways... I would avoid this place.
I hope you found this review helpful... and if so, please share this post to help spread the word.
Also, leave any comments/questions below and I'll get back to you soon 🙂