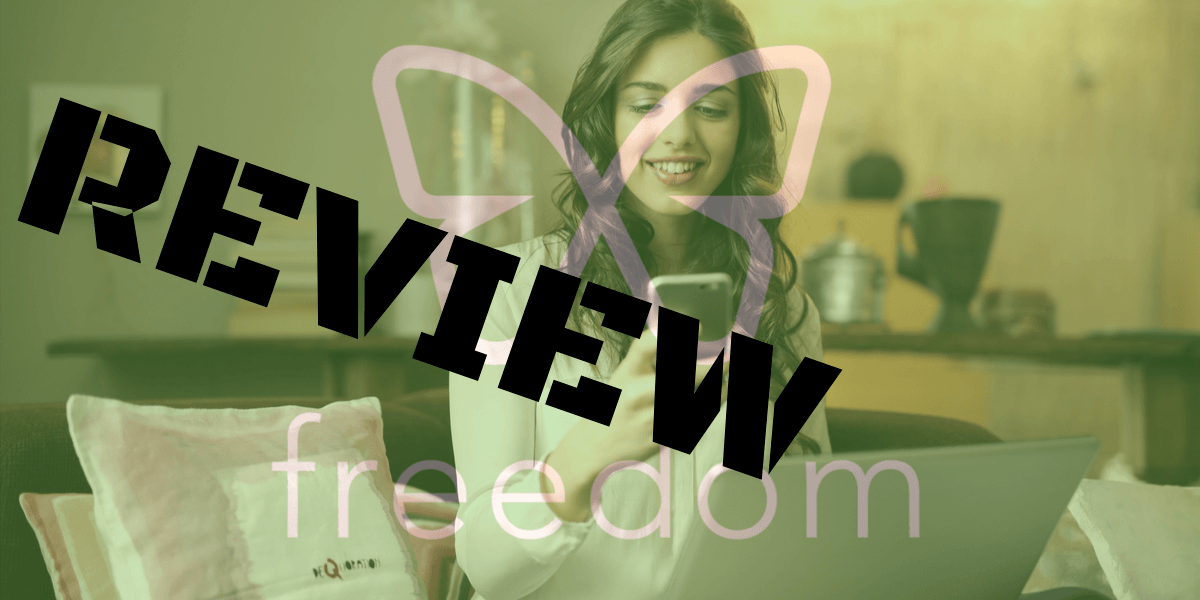 Freedom App Review – Scam or Productivity-Boosting Miracle?
The Freedom App is supposed to help boost your productivity by blocking out distractions, but how good does it really work?
Is it worth the cost? Is the Freedom app a scam?
These are all good questions that need answered.
I signed up for Freedom close to a month ago and would like to share my experience with it, which includes positives and negatives.
In this review I'll be going over all that you need to know... or at least all that I think anyone would need to know beforehand... including how it works, the setup process, complaints, pros v cons and more.
What Is Freedom?
Name: Freedom
Website: freedom.to
App Availability: Google Play and Apple App Store
Purpose: Increase productivity online
Cost: Free trial; Premium for $6.99/mo, $29/yr, or $129 for forever
Recommended?: Yes
Overview
Freedom, in a nutshell, is a software that helps you increase productivity on desktop computers, tablets, and cell phones by blocking out distractions--making you "free" from distractions, which is how the name Freedom came about.
You are able to manage multiple devices (PC's, MacBooks, Chromebooks, iPhones, iPads, Windows tablets, Android devices, etc.) with one account and stop yourself from wasting time on websites like Facebook, Twitter, Youtube, on pointless apps, etc. when you need to get work done.
According to Statista, in 2018 users spent an average of over 2 hours a day on social media (latest report available)... and most people probably have no idea the actual amount of time they waste on such. However, social media isn't all bad, and one interesting article from the School of Computer Science at the University of Birmingham provides reasons on how social media can actually increase productivity... but I would argue that by far-and-wide social media does the opposite... decreasing productivity. And many other sources agree, such as Inc who has labeled social media "The Productivity Killer".
For someone like me who works independently from home, the Freedom app it can be a savior at times. It helps keep me focused and get things done, which I can also see as a big benefit for my other work-from-home people out there.
Here is a brief 2-minute overview video by the founder, Fred Stutzman, that gives a good explanation:
It's a very simple concept and may sound a bit silly that you need to pay for a program like this that keeps you from wasting your time online, but it can really help and I would definitely recommend it for people who really have a hard time paying staying on track--in particular for those like myself who work-from-home and don't have a boss breathing down their neck to keep them focused.
How It Works
You will be in complete control of what Freedom blocks you from, both apps and websites.
So the next time you are working to get that report done, or trying to finish up that blog post, you will get this screen when you get sidetracked and decide to see what your friends are doing on Facebook (if of course you set it up to block Facebook)...
Instead of being able to access Facebook (in this case) to see what your friends are up to, you will be blocked.
And the next time you try to see what someone is posting on Instagram when you should be finishing up that project you were working on for a client... BLOCKED!
It's simple, works great, and can really take things to the next level for you if distraction has been holding you back.
Let's first go over how you set up Freedom to block websites and apps...
Blocking
Blocking Websites from Inside Your Account
You will be able to set up Blocklists, which are lists of websites you want to block, inside your account online. They have some commonly blocked websites you can add to your Blocklist or you can type in any website URL to add it to the list.
I created only one Blocklist titled "Distracting Websites" but you can create multiple for various situations if this would help.
Blocking Apps & Websites from Inside the Freedom App
*Note: I'm using the Android app. The IOS app may differ a bit in appearance.
So you can block all the distracting websites you want by logging into your account, but if you want to block apps you are going to need to open up the Freedom App from your mobile device, which makes sense since this is where the potentially distracting apps are located. You can also block websites, as shown above, from inside the app.
You will be able to easily block apps by simply clicking on a toggle bar next to each app you have on your device...
To get to this area you will want to click on your Blocklists in the bottom menu and then click on "Manage".
Above you can also see my Blocklist of "Distracting Websites" appear inside the app. I am also able to edit this list of websites right here from my device since everything is synced...
So when it comes to blocking distractions here is how it works:
Website Blocklists can be managed from your Freedom account online or inside the Freedom App
App Blocklists can only be managed inside the Freedom App
Scheduling Sessions
Now that you have your Blocklists set up, it's time to tell Freedom when you want it to block you from these distractions.
You can schedule these sessions inside your Freedom account online or inside the Freedom App. And you will be able to monitor the sessions inside either because everything is synced. For example: if you start a session to only block apps on your mobile device, you will still be able to see this active session when you login to your Freedom account from a desktop computer.
You will have 3 options for scheduling sessions:
Start Now - You can start a session right away by just entering the time you want it to run for.
Start Later - You can set up a time later in the day if you want to schedule a block of time to really buckle down and get something done.
Recurring Session - Here you can set a timed session to occur on certain days of the week. This is excellent if you have a fixed schedule and need to block out distractions at certain times of the day regularly.
As you can see above, you will be able to select which Blocklists you want to block out for the session, or you can choose to block All Websites. And you will also be able to choose which devices you want to enforce the session on, all of which are synced to the same Freedom account.
You will also be able to start a session within the app, as you can see here:
In the screenshot above I only had it selected to "Block Android Apps" that I have chosen, but I can also choose to block my "Distracting Websites" Blocklist as well...
*Note: I hope I'm not making this more confusing than it is. Inside Freedom it's actually very simple and easy to set all of this up.
Installing Freedom
As you know you are able to use one account to manage all your devices, and it doesn't matter what they are.
Freedom has the software, apps, and extensions to work on everything... but the installation process will differ depending on the device.
Macbooks & Windows Computers
If you go to freedom.to/downloads you will where you can click to download the software to your Mac or Windows computer.
For Mac you will download the FreedomSetup.dmg file and drag it over into your Applications.
For Windows you will download a .exe file and go through the quick installation process.
Smart Phones & Tablets
If you have an iPhone or iPad you can download Freedom for IOS devices on the Apple App Store and if you have an Android phone or tablet you can download the app on Google Play.
After downloading the app you will be able to login to your existing account or create a new one if you don't yet have one.
Chromebooks & Linux Computers
And if have a computer that operates on ChromeOS or Linux they have an extension that you can easily download on the Chrome Webstore.
*Information on all of this can be found on the Freedom download page.
Additional Complimentary Browser Extensions
Freedom also has some browser extensions that are completely free and are supposed to compliment Freedom--and can be used by themselves if you with.
*These are supported on Chrome, Firefox, Edge, and Opera.
1. Pause - This extension allows you to list websites that you waste your time on and it makes you pause for a period of time before visiting them... so that you can think for a second if it's really a good idea to proceed.
Example: I have Youtube on my list of sites to block me on because I sometimes find myself watching pointless Youtube vidoes instead of working. So when I try to go to Youtube it will make me "Pause for a few seconds" before proceeding. I have my pause only set at 5 seconds, but you can change this.
You can get Pause on the chrome web store.
2. Limit - This extension allows you to limit your time on certain websites that might be wasting your time. It as another great way to increase productivity and you can set your own limits.
You can get Limit on the chrome web store as well.
Insight - Another great extension, Insight shows you how much time you are spending on different websites so that you know how much time is going to waste, which may surprise you.
You can also get Insight on the chrome web store.
All three of these extensions are incredibly simple but effective. In particular I like the Pause extension most.
User Reviews/Complaints
On Google Play the Freedom app has around a 3 out of 5 star rating and on the Apple App Store the rating is right around the same.
To be honest, the rating isn't quite as good as I was expecting to see based on my experience. But most of the user reviews out there are positive...
Some of the complaints I personally have along with others I have found include...
Complaints
Can't Get Out of a Session
Once you are in a session there is no getting out of it and if you want to go to a website or app that you have blocked then you have 2 options:
You can logout of Freedom, whether on the app or from your online account.
or, You can edit your Blocklist to allow you to access websites that were blocked as a session is going on.
*Note: There is a lock feature inside Freedom that allows you to lock in the settings, so that you cannot unblock websites as a session is going on. In this case your only option would be to logout of your account.
I would like to see some sort of override feature to allow users to access blocked apps/websites when in need, which brings me to my next complaint...
No Override Feature
The work that I do online sometimes requires me to use sites like Facebook and Youtube for research. However, I still want them blocked by Freedom because I don't want to end up on these sites wasting my time.
I would be nice if there was some sort of override feature where you would initially be blocked from entering a site on your blocklist but could somehow override the block, such as by entering a PIN/password or something.
As mentioned, you are able to to edit your blocklists during a session as long as Locked Mode isn't on, but this is much more time consuming and a pain.
"Too Easy to Uninstall"... ?
​​One interesting complaint I came across from more than one person is that it is "too easy to uninstall", in which they are talking about how anyone can easily uninstall it and continue to access distracting websites/apps.
These are likely from people who have very serious cases of easily being distracted.
*I think there would likely be a lot more complaints if it were difficult to uninstall.
Too Many Work-Arounds
Here I am complaining that there should be easier ways to override the blocking power of Freedom and it seems that most complaints are to the contrary... people complaining about Freedom not having enough blocking power.
There are quite a few other complaints from people who wish the app would pretty much take total control of your device and allow no access to Blocklists under any circumstances.
... but I don't think this will ever happen because this could cause a number of other problems.
Just Doesn't Work
And of course, like always, there are some people that have technical difficulties with Freedom, where is doesn't work properly and can be frustrating. Some people have complained that it doesn't sync across all their devices as it should, that it won't work on certain devices, etc.
I, for one, don't have any experience with this however.
Pros v Cons
Pros
Can sync across all devices
Very simple layout and easy to use
Can easily boost productivity if you often get distracted
Not too expensive
Cons
Glitches for some people
It is possible to get around Freedom and visit Blocked websites/apps (some people see this as a con)
Is Freedom App a Scam?
Absolutely not.
Freedom is a great invention and has a solid team behind it. Yes, this app does take control of your computer/device to some extent... but it definitely not a scam in any way, shape, or form.
I think that the creators are doing a great service by bringing this to the world.
Conclusion - Worth Using or Not?
The cost of Freedom is either:
$6.99/mo if you pay monthly
$29/yr if you pay yearly (which is $2.42/mo)
$129 forever (one-time payment)
And they also offer a free trial to test things out
Now whether or not you think it is worth it based on these prices is completely up to you.
How often do you get distracted? How much more money could you be making or how much more time could you be saving if you didn't get distracted so much?
I think it is well worth it for a lot of people out there but it depends on your situation.
Get Your Free Trial of Freedom Here
And at the very least I would recommend using the free Pause, Limit, and Insight browser extensions that they provide. You can't get these on your mobile devices, but they are better than nothing... and free of course.
Now it's your turn: Have you used Freedom? What has been your experience and what do you think about it?
Leave your comments/questions below. I like to hear back from my readers 🙂
One more thing: I mentioned that I work for myself online. If anyone is interested in how I went from $0 to over $6,000/mo online you can read my guide here... which will explain exactly how I do it and how you can do the same.