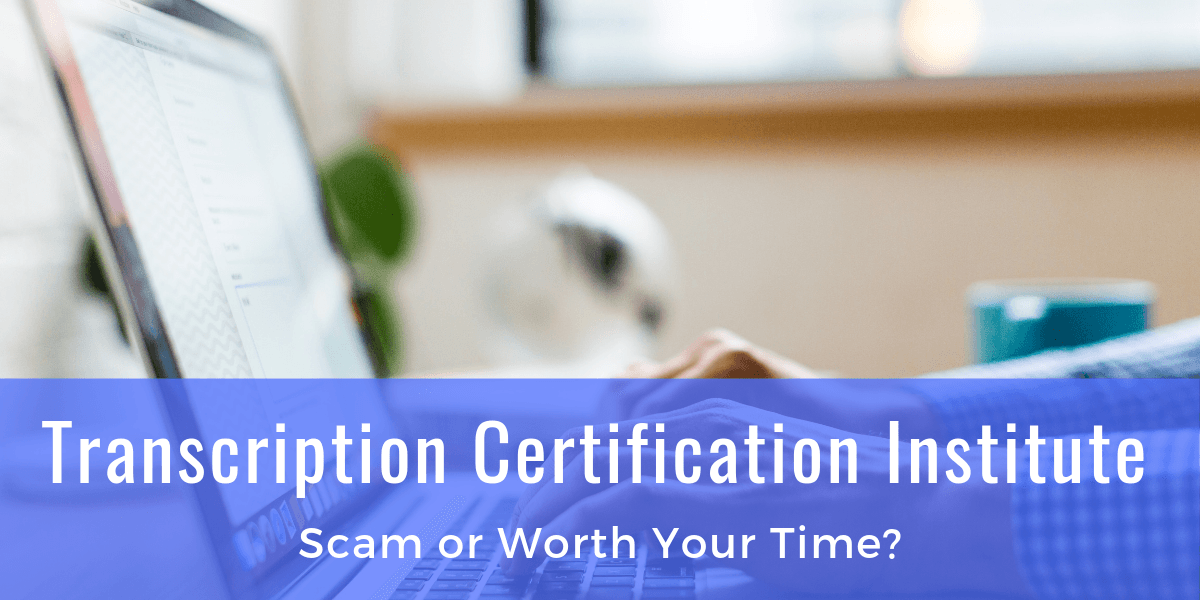 Is Transcription Certification Institute a Scam? – What to Know Beforehand
If you are looking to get started with a career in transcription you may have come across Transcription Certification Institute. They claim to offer a fast track to a good paying job but the problem is that their course is very expensive.
Is Transcription Certification Institute a scam that you should avoid? I know this is a real concern, especially with such a high price.
In this review I'll be going over what this place has to offer, the different lessons in the course, complaints, pros v cons and more... so that you will have a better idea of whether or not it is right for you.
Enjoy...
Certification Course
They offer more than just a training course to learn transcription, but this is the main part of what they offer so let's start by talking about this.
How It Works
Step 1) Register
The first step is to register. If you are from a country that doesn't speak English as a first language then you may be asked to take a quick English assessment quiz to make sure you have what it takes.
You will be able to pay all at once for life-time access or you can choose to make three separate monthly payments. The cost is either $699 or $249 for 3 months. Of course the one-time payment is a big cheaper... but it is also a heck of a lot of money to be paying all at once.
The price is pretty darn high here, which is why you should continue reading this to see if it's right for you.
Step 2) Complete Lessons & Take Quizzes
The course is broken down into different lessons that focus on different aspects of transcription writing. Some what you will be learning will be in the following areas:
Microsoft Word
Grammar
Punctuation
Spelling
Typing speed
Accuracy
Privacy Guidelines and more..
Even in the material covered this course is pretty well-rounded. As we know, it is a general transcription course, which makes sense as to why it provides a broad base of information.
An outline of the different lessons and what their focus is as follows:
Transcription Tips - As a first lesson, this just gives you a big overview of what transcription is, opportunities, what you will need to do the work, some tips, etc.
Speech - This lesson is focused on the rules of speech in the English language, such as how sentences are arranged. It might seem like common sense to some, but to many (especially to those who have been out of school for a while) it can be a nice refresher that is important... although very basic.
Punctuation - Here you will learn the basics of punctuation, which is definitely a topic that needs to be covered here. Proper punctuation will make your transcriptions more accurate and readable.
Interruptive Dialogue - Interruptive dialogue, or dialogue from multiple speakers, can be a challenge to transcribe. But this is something you will run into a lot and this lesson will cover how to deal with it.
Sentence Structure - This is another lesson that is more of an English lesson, yet I can see its importance. The focus here is on how sentences are structured in English, which having knowledge of can help you transcribe more accurately.
Proofreading - Not much to say here... every transcriptionist needs to have some proofreading skills to check for mistakes. This lesson is all about this.
Keyboard Skills - This lesson is about learning how to use your keyboard more efficiently, which most people don't know much about. This will lead to faster and easier transcription in the end.
Regional Accents - You will deal with some heavy English accents at times, or at least likely will, and this lesson will give you some tips on transcribing such.
Microsoft Word - This is a very important lesson because you will likely be required to transcribe in MS Word format as a transcriptionist. Here you will be shown around the program so you can use it effectively.
Time Management - While this might not be something you'd expect to see here, it is very important. Time management can be difficult when managing more than one transcription project, especially when you are doing this on your own from home without a boss. Here you will learn how to stay organized and maximize time.
Privacy - There are certain privacy rules that transcription companies often have to follow. Here you will learn about them and what has to be done... this includes keeping names unsaid and things like this.
Getting a Job in Transcription - This lesson is focused on the process of getting a job, creating your resume, and what you can expect.
Verbatim vs Non-Verbatim - If some says "y'all" should you write it exactly as it sounds or go for the correct English version, which is "you all"? This type of thing is something you will run into frequently and sometimes you should write it verbatim while other times you shouldn't. Here you will learn when to do which one.
How to Be a Professional IC - Since you will be considered an independent contractor as a transcriptionist, this lesson is focused on how to be one in the most professional way. This is similar to the time management lesson and gives you tips on scheduling, tracking projects, etc.
How to Make the Most Money - Of course we all want to make the most money possible. Here you will learn what jobs pay best, rates, tips and more.
Each lesson is followed by a quiz to help keep you on track. I think this is very necessary and helpful, as it gives a good way of ensuring that you are ready to move on to subsequent lessons.
You will be provided with study material to pass these quizzes and will also be able to retake them until you get a good score.
Step 3) Pass the Final Exam and Get Certificate
At the end of the course there is a final exam and if you pass it you will be given a certificate of completion, which can be beneficial when it comes to getting a job.
This test is graded by real people at TCI that know what they are doing. I'm not entirely sure how much weight a certification like this carries, but there is no doubt it is better than nothing and could be extremely beneficial for beginners seeking employment, as it shows that you are qualified to perform the work.
Monthly Webinars
As a member you will have access to webinars on a monthly basis. This is something that I think is very nice because it makes the program much more interactive.
Any topic dealing with transcription is fair game during these webinars and you will have the chance to ask questions and receive answers from professionals.
Job Board
The job board looks like most other job boards at first glance. You are able to search for jobs based on job title or keyword, location or virtual, and the amount of experience that you have...
The features of this job board aren't near as advanced as a job board like Flex Jobs, but since you are only looking for one type of job it still is pretty decent.
One of the big downsides I noticed right away is that there aren't many job listings for those without experience, which I'd assume would be most people using this job board.
I did a basic search for "transcription" jobs that require less than 1 year of experience and only got 3 results. That said, the job results that came up did seem pretty good for beginners and paid decent as well.
Here is one of the listings...
You will be able to see the type of position it is, the pay, when it was posted, a brief description, and there will be a button to apply.
When you click on the 'Apply Now' button you will be taken to a page with more details about the job. Then you will be able to apply.
The Application Process
You will be able to submit your resume to TCI and then when applying for jobs it sometimes only takes a few clicks of the mouse.
But the application processes will vary depending on the company.
Internship Program
Possibly one of the biggest benefits to this program is that they guarantee internships with real transcription companies. This gives you real-world experience and can also help you land a job fairly quickly.
You aren't guaranteed to get a job, but some companies will hire you on-board if you do well during the internship.
I'm not entirely sure what companies they work with because they don't provide any sort of list, but they do claim that your internship will be "at a leading transcription company".
As far as length goes, you are only guaranteed 5 hours.
After completing the final exam and getting a high enough score, you will be able to sign up as an independent contractor with one of the companies they refer you to. There will be paperwork that you fill out and you will commit to 5 hours of work with them at no pay.
After the 5 hour internship is up you may be given a chance to extend it or to be hired, but this is completely dependent on the situation and the company.
5 hours definitely isn't very long but it is certainly better than nothing.
Accuracy Assessment Tool
The accuracy assessment tool has practice transcription files that you can complete and will be assessed on...
Precision
Spelling
Typing speed
Formatting
So basically what this allows you to do is practice your transcription and be graded on a number of things so that you know where you need improvement.
Cost & Refunds
As you already know, the cost of this program is either a $699 one time fee or you can choose to pay $249 a month for three months, which works out to be $747 total.
That's a lot of money... and there is no free trial... but do they offer refunds if you don't like what you see?
Yes, they do... but not a full refund unfortunately.
Refund Policy
The way it works is you can get a 50% refund but you have to ask for it before you start the 4th lesson of the course... and you have to ask for it in writing for some reason.
So you can complete the first 3 lessons, ask for a refund in writing, and get 50% of your money back.
I'm not entirely sure how this works if you are paying with the $249/mo for 3 months plan though. Because you could easily complete 3 lessons before you make the full payment.
I believe you are locked into paying the full price when you agree to the 3 month payment plan. So even if you request a refund after only paying one month's payment of $249 you are still likely obligated to pay the full price... and then get a 50% refund of the full price.
Complaints
No Free Trial - I would like to see a free trial being offered here but unfortunately we don't get this. The course is quite expensive so it can be a hard decision to make because of there not being such.
No Full Refund - You can get a partial refund before the 4th lesson, as mentioned, but why no full refund?
No free trial, no full refund... what's up with this? They should at least have one or the other.
Short Internship - The internship is definitely pretty short. Don't get me wrong, 5 hours is better than nothing and also sets you up with other opportunities, but I was thinking it would be much longer (and hopefully paid) when I first heard of it.
Job Board Has Lots of Jobs You Might Not Be Qualified For - If you are a beginner just starting out then some of the job postings they list will require too much. I'm not sure why they have some listings in the first place. Maybe they could do a better job at cleaning up the list for more beginner-friendly jobs.
You can search based on experience required, which is nice, but there just don't seem to be all that many postings for beginners.
Student Reviews
I haven't really been able to find any sources of reviews that are very good. There are over 1,200 reviews/ratings on Repugen but these were likely encouraged by the company so I don't trust them 100%.
That said, there really aren't any bad reviews or concerns worth mentioning. There were a few people's reviews I came across that were a bit disappointed that the course didn't provide more advanced training, but that's about it.
It certainly isn't a scam because if it were then people paying almost $700 would be more than happy to complain about it online.
Pros v Cons
Pros
All online and can be completed anywhere
Go at your own pace with lifetime access
Nice course layout with different difficulty levels you can test your skills at and quizzes after each lesson to make sure you are ready to move forward
You are guaranteed an internship after course completion (assuming you get a good score)
They offer ongoing support afterwards
It's not just some stale course... they also offer monthly webinars and Q&A with professionals in the industry
Very well rounded program with accuracy assessment tool
Cons
Very expensive
No free trial
Only partial refund available
Not paid for internship
Internship could be very brief (too brief)
Some job board listings aren't very beginner-friendly
Final Thoughts
What I Like
What I like most is the overall approach that they take with this program, which as I've been saying is very well-rounded. You learn not just about transcription but also other things that will help further you in a transcription career.
That said, one counterargument to this being a good thing is that you could find much of this 'extra' content for free online... but nonetheless it is valuable and helpful.
Who It's Best For
The program is definitely geared towards beginners and not so much a good choice for those who have experience.
Much of what's covered includes the very basics and if you have experience it will be boring and not all that valuable. And of course the 5 hour internship wouldn't be anything special if you already have experience.
It's also important to note that this is a very general program that trains you for general transcription. If you are looking to get involved in legal or medical transcription this could be a first step to getting there, but you will need more than just this course.
Conclusion - Is It Worth The Money?
If you are a beginner looking to get started in transcription then this can provide an excellent start. What they provide is a lot more than just training on how to perform the job, which will help you start a more successful career path.
It's hard to put a price tag on a program like this, but in my opinion it could be worth it. I guess this all depends on how well your transcription job pays that you hopefully land soon after completing the course.
It's an expensive course but hopefully this review gave you a better idea of whether or not it's something you'd like to give a try. One thing I do want to make clear however, is that you definitely don't need a course like this to get started.
An alternative to transcription that you may be interested in, which is also a flexible online opportunity, is making money online like I do. I've been using this program since 2015 to make money online and currently make a living with it.
Also feel free to check out my top income ideas.
Take care and be sure to leave any comments or questions below. I'll get back to you soon 🙂