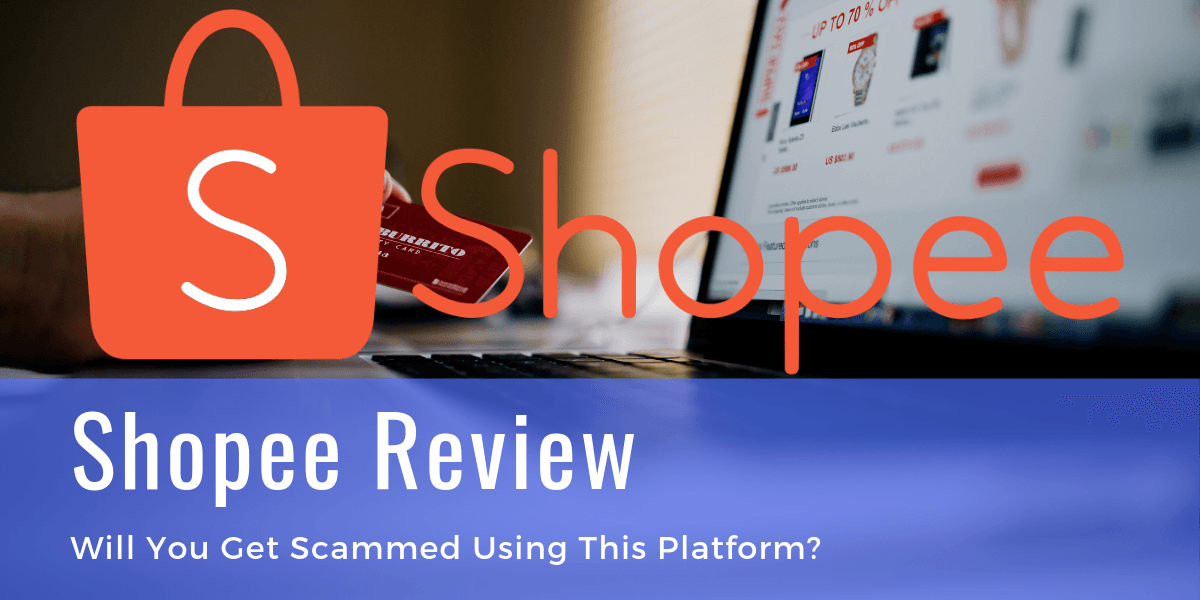 Is Shopee a Scam? – No, But You Could Get Scammed [Explained]
Here at Legendary Wallet we aren't just about making money online, we are also about saving money online and not getting scammed in the process.
Shopee is a massive ecommerce platform that sells all sorts of products, and often at very good prices, which is the reason they have become so popular.
But is Shopee a scam? There are some people claiming that they have been scammed and calling the whole thing a scam, so this is what I will be addressing in my review here.
In this review I'll be going over what exactly Shopee is, how it works, scam accusations, how you can avoid getting scammed and more.
Enjoy...
What Is Shopee?
Shopee is a Singaporean ecommerce platform that was first launched in 2015 by the Sea Group, a company founded in 2009 by Forrest Li and just recently listed on the NYSE in 2017.
It started out as a mobile/social ecommerce platform but has since expanded to have its own website as well, similar to other sites like AliExpress and Lazada.
Right now it is available mainly in southeast Asia but is continuing to expand its operations.
In a nutshell, Shopee is an ecommerce platform for Asian countries that started in 2015 where people/companies can both buy and sell items easily.
How It Works
Buying on Shopee
The buying process is simple and straightforward, as expected.
You will be able to search for products or filter your results based on category, price, ratings, and more.
Fashion
Mobile phones & accessories
Watches
Home appliances
Shoes
Cameras
Food
Auto parts
Laptops and more... you can find it all here.
There are thousands upon thousands of products and a plethora of categories to choose from.
Safe shopping is a must, and also a concern when using the platform.
When buying, it's not like you are buying from Shopee. Shopee is just the platform that connects buyers and sellers. While there are large companies that sell on Shopee, many of the products you will find are being sold by small-scale sellers... anyone can apply to sell on the platform. In this way it is very similar to eBay.
This is great for many reasons but also raises some safety concerns.
Social Proof
Being the social ecommerce platform that Shopee is, if you want to play it safe then only buy from sellers with social proof that they can be trusted.
When purchasing an item you will be able to see the average customer rating, how many ratings there are, and how many of the item have been sold...
You will also be able to click on the star ratings to view what exactly people are saying.
Additionally you can click on the name of the seller to view their shop. Not only will you be able to see when they joined, how many followers they have and their response rate, but you can also look at other products they sell and their ratings...
Shopee Guarantee​​​​
When shopping you will sometimes see "Guaranteed By Shopee" below the are where you click to make a purchase...
This guarantee is a safeguard they have in place to help protect buyers from being scammed and it means that they hold your money safely until you confirm that you received your order, or 3 days after there has been delivery confirmation by the shipping company.
So when you buy an item Shopee takes your money and holds onto it, and then releases it to the seller after you receive the order.
This is yet another level of safety to help protect buyers from being scammed--although there are still some concerns about it as I'll go over in the complaints section.
Selling on Shopee
Shopee, in some ways, is similar to what Ebay is to the US and other western countries.
Not everyone will be accepted, but anyone can apply to become a seller on the platform to sell their own products.
To do so you will have to:
Fill out application on the Shopee website or through the app
Wait for contact by Shopee if approved
Upload product listings & fill in details (good article on listing products)
Set up the logistics and payment methods (they will help you figure this out)
The good news is that there aren't any seller fees. Shopee does not charge commissions and you can use the platform for free... there are no listing fees either.
However, you will have to deal with shipping on your own. Logistics are all handled by 3rd parties.
Inventory storage is also all handled by the seller. Shopee does not store items and has no warehouses.
As a seller on Shopee you are basically using the platform to connect with customers and make the process of selling easier.
And like any good ecommerce platform, your products will naturally be shown to people searching to buy as well as recommended to people looking at similar products.
However, they do give you some ways to run promotions on the platform, such as a "Boost Now" feature where you can boost products you are selling to increase exposure as well as promotional campaigns you can join.
The Social Aspect of Selling
As mentioned earlier, Shopee is more of a social ecommerce platform than other places like AliExpress.
Shoppers will be able to "follow" your store and your ratings will have a lot of impact on success. So sell good quality products, respond to customers in a timely manner, and do all you can to get good ratings.
What Is Shopee Mall?
When shopping you may have noticed that some items are listed under "Shopee Mall", as you can see here...
But what exactly does this mean?
Shopee Mall is for official brands and top sellers. This is where the big businesses sell products on Shopee, such as the Oppo A3s being sold by phone manufacturer Oppo shown above.
When purchasing a product that is listed in this area you will see that there is no Shopee guarantee, but instead the products come with a 100% genuine guarantee, a 15 day refund policy and free shipping in your area.
The reason they don't have the Shopee guarantee is because there is not much of a need for that. These are highly trusted sellers already.
Contacting Shopee
There are several different ways to get in contact with this place if you are having problems or just need some help.
You will be able to submit a contact form through the website, chat with them, or you can call their phone number. The phone number and link for the contact form page will differ depending on where you are at in the world. For Thailand the contact info is:
Contact Form: https://help.shopee.co.th/en/s/contactus
Chat: Open the app and scroll down to the bottom of the Help Center page. Here you will be able to live chat with the support team.
Phone: 02-017-8399
To find the appropriate contact information for your area you can simply go to the website homepage and scroll down to the very bottom of the page where you will see links for the "Help Center".
Before contacting them it may be best to look through some of the information in the Help Center to see if an answer to your question already exists.
Returns & Refunds
If you buy a product from Shopee Mall, which as mentioned includes top sellers and brand-name products, you will be able to get reimbursed for the return shipping cost within 15-20 days after the return has been completed... and you have 15 days to return the item.
There are no pre-paid shipping labels provided however. You have to cover the costs upfront and then they will transfer you the money through the Shopee app.
If you make a purchase outside of the Shopee Mall then the return procedure, if any, will depend on the seller. You will have to get in contact with them and work out an agreement.
What I Like/Don't Like
What I Like
Shopee makes buying and selling online easy, convenient, and they have some safeguards in place to protect users. Their mobile app works great and I like how they put a lot of focus on the social aspect of commerce. One thing that I didn't mention is that sellers will also be able to give buyers ratings, just as it is done on eBay... so the social proof goes both ways. Of course a buyer might not want to deal with a customer with bad ratings either.
What I Don't Like
I'm not too big of a fan of the layout on the website. It's nothing horrible by any means, but it appears they are taking too much advice from sites like AliExpress when Amazon would be a much better choice to copy the layout and style of.
There are also quite a few complaints about the platform, many of which come from the lack of customer support provided, which I will be going over.
Complaints & Scam Accusations
When it comes to complaints about Shopee, there are many. Some good websites I found where customers can make independent complaints include Trustpilot and Site Jabber.
On Trustpilot the overall rating is a 1 out of 5 stars with over 70 reviews (at the time of me writing this)... pretty bad.
That said, usually on these types of websites people always go to complain and not to leave positive reviews, so ratings are usually low and should be taken with a grain of salt.
Some of the more notable complaints include the following:
#1: People Accused of Terms of Service Violations
There have been a handful of people complaining about this. What seems to be happening is people are getting accused of violating Terms of Service when trying to redeem vouchers.
And, since the customer service is pretty bad as I'll discuss more, these people have no idea what they are doing wrong.
#2: Difficulty Getting Refunds
Apparently it is more difficult to get refunds than it may seem. The complaint shown below is from someone who bought a Samsung cell phone that turned out to be a fake. Upon trying to get a refund the customer service did little to help and the customer was unsuccessful.
What's also concerning about this complaint is that, since this was supposed to be an authentic Samsung cell phone, it was likely sold under the Shopee Mall which is supposed to consist of top sellers that can be trusted... but I guess not in this situation.
If dealing with a general store on Shopee, that is not listed under the Mall section, then being able to return an item and get a refund will likely be even more difficult.
#3: No Prepaid Return Labels
I understand that they can't provide prepaid return labels for items sold from a general store on Shopee, but for returns of items bought through Shopee Mall they should be able to and doing so would make things a lot easier for us customers.
After all, they reimburse customers for the return shipping cost in the end anyhow... so why not just cover the cost upfront with a prepaid label?
Lazada, Amazon, etc. all offer prepaid return labels. Shopee needs to get up to speed.
#4: Poor Customer Service
Overall there are quite a few complaints about the rudeness and general lack of good customer service... too many to simply ignore.
The way customer service handles complaints from customers seems to be a joke.
#5: General Scam Accusations
And then of course you have a bunch of people just calling the place a scam but not offering any good information as to why they are calling it such.
#6: The Blackpink Fiasco
In summer 2019 Shopee ran a promotion where the top 40 purchases on Shopee Philippines would get autographs from the popular kpop group Blackpink. This led to a bunch of people buying as many items as possible on the platform just to try to get autographs from the group.
The problem was that there seemed to be an issue with the top 40 leaderboard and many people who thought they would get autographs found out they weren't actually in the top 40 and missed out. So not only did they spend a bunch of money they didn't really want to spend.. but they also fell short of their goal.
There are quite a lot of scam complaints about this and it even has been featured on ABS CBN news. Shopee did make an official statement apologizing about it.
#7: Fake Items
The selling of counterfeit items on Shopee is a big problem... but then again I guess that depends on who you ask.
Is that Gucci pair of slides really Gucci? Are the Ray-Ban sunglasses you just bought authentic?
They do have real brands in the Shopee Mall, but as mentioned in the complaints above, you might even have to be careful with these... and when buying from normal sellers on the platform you need to be even more cautious.
This is also a big problem on Ebay and other similar sites. You must need to be careful when ordering and always be sure to look at other customer reviews and what they are saying.
*Note: Shopee seems to do a lot better job at keeping counterfeits off of their platform than places like AliExpress for example.
#8: The Shopee Guarantee Might Not Guarantee Much
While the guarantee that Shopee has in place, where they withhold payment from the seller until the buyer receives the item, sounds good in theory, it may not be quite as good as you think.
During my research I read one persons thoughts on how the seller could simply ship out a lesser value product to a buyer, wait for it to be delivered and then get the payment. Of course the buyer can argue that they didn't get what they ordered but it seems support isn't that great to deal with when it comes to disputes.
That said, Shopee's guarantee is without a doubt better than there being no guarantee.
How to Not Get Scammed on Shopee
The fact of the matter is that there are people who use Shopee and get scammed.
As I talked about, this place is nothing more than a platform that connects buyers and sellers. Sure, they do offer some buyer protection such as the how they hold onto money until buyers receive their items with the Shopee Guarantee, but there is still a lot of room for scammers to slip through the cracks. The same goes for buying things on Ebay, Amazon, etc.
In order to avoid the scams and stay safe you can:
Only Buy from Sellers with Good Reputations
Always look at the ratings a seller has before buying from them. Social proof goes a long way and seeing what other customers think of a seller is a big deal.
Purchase Items in Shopee Mall
The Shopee Mall is for the most trusted sellers on Shopee. So if you are worried about being scammed, only purchase items listed here.
Conclusion - Not a Scam But You Can Get Scammed
Shopee is definitely not a scam. They could without a doubt make improvements in the way they handle disputes and treat their customer base as a whole, but the platform is simply not a scam.
Can you get scammed? Yes, you sure can. There will always be scammers on ecommerce platforms like this looking to rip people off. This is just the way it is and you can't always count on someone else to protect you from people like this. So be smart, look at the social proof a seller has before making a purchase, and know the risks involved.
Shopee is a good platform with lots of great deals, and it's growing popularity reflects how good it actually is. Some people get scammed but unfortunately these are the voices you hear most, while those of all the satisfied customers often go unheard.