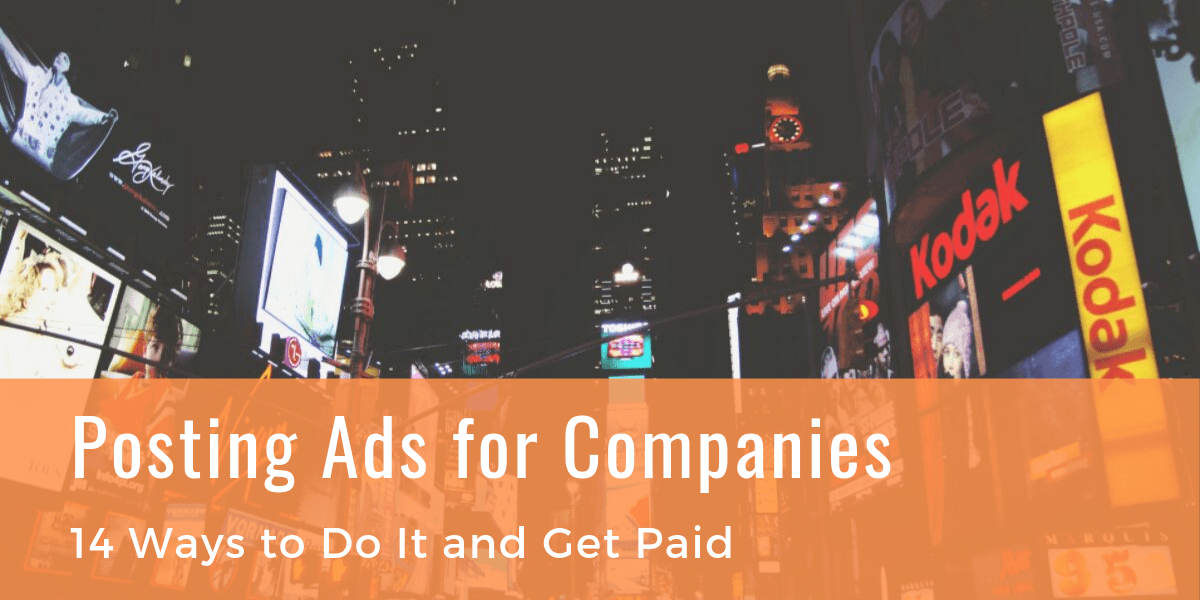 14 Ways to Make Money Posting Ads for Companies
Have you ever heard that you can make money posting ads for companies? Well if you haven't, now you have.
There are many ways to go about doing this, some better than others. The point of this article is to go over a handful of them and give you a better understanding of the opportunities that exist out there so that you have a better idea of what is right for you.
Some opportunities have high earning potential, others no so much
Some require experience, others don't
Some are freelance, some aren't
Some you can get started with for free, others have a startup cost
Let's get to it...
14 Ways to Make Money Posting Ads for Companies
Leveraging a Blog
If you have a blog or are thinking about starting one, you will be happy to know that there are a variety of ways to monetize it by posting ads for companies.
1. Google Adsense
While you aren't actually "posting ads for companies" yourself when you use services like Google Adsense, you are helping companies advertise through ads posted on your blog. How it works is you simply paste a code onto your website and Google handles the rest. They decide what ads will be posted to show your visitors and you get paid based on clicks.
While Google does take a about a 32% cut of the fee advertisers pay to place ads (source: reliablesoft.net), it's still worth it for many blog owners because of how easy it is to implement.
Pros: Easy to get started with, trusted service, no dealing with clients
Cons: Need your own website, low pay, no guaranteed income
2. Sponsored Posts
Sponsored posts are sometimes called advertorials. They are posts that people/companies will pay you to publish on your blog.
If you have a blog that gets a fair amount of traffic, you will naturally have people and companies in your niche reach out to you for this kind of service.
The purpose of these sorts of posts is to drive traffic to another website and/or promotion. So if you have a blog about Yoga for example, you might get contacted by another website in the Yoga niche to publish a post in order to help promote some new product of theirs.
The sponsor (the person paying you) will write these posts so it isn't much work on your part. However, you want to make sure that the content is unique and that it won't tarnish your brand.
As stated, people may naturally reach out to you for these services once your blog is established. What you can also do, however, is make a menu tab labeled 'Sponsored Posts' on your blog to advertise this sort of ad posting service.
Pros: You set your own rates, lots of earning potential
Cons: Need your own website and it will need good traffic for anyone to want to pay you for this, not realistic when just getting started, no guaranteed income
Affiliate Marketing & Referral Marketing
Both affiliate marketing and referral marketing are two 'easy' methods of making money where you are essentially posting ads for companies. Neither require any qualifications to get started with and can both be done for free in some ways.
Affiliate marketing is when you promote products for companies and earn commissions when you help make sales. This is an extremely easy business model to get involved with because it requires almost no startup cost. There is no need to create your own products, deal with customers... all you do is promote.
Example of Affiliate Marketing: There are tons and tons of affiliate programs out there, but Amazon's is the most well-known. In order to earn commissions promoting Amazon products all you have to do is sign up to get started, which is free. Fitness equipment, refrigerators, lamps, go-carts, ping pong tables... there are affiliate programs where you can promote pretty much anything you can think of.
Referral marketing is the same thing just instead of promoting products you are promoting some sort of service or opportunity, where you would use a referral link to get people to join whatever it is you are promoting.
Example of Referral Marketing: There are so many examples. Uber is good and popular one. Anyone can promote the Uber driving opportunity and when you get people to join Uber as a driver, you can potentially earn up to $1,000 for just one referral (depends on how long the driver stays with Uber and how much they drive).
3. Affiliate & Referral Marketing On Social Media
This is going to be the easiest choice for most people, but not necessarily the best.
Promoting a product or trying to get someone to sign up for some opportunity through your referral link can be as simple as posting on Facebook, Twitter, Instagram, etc.
The good news is that this is completely free to do. Joining affiliate programs doesn't cost a thing and there are also lots of free opportunities you can join and then promote with referral links to make money. The bad news is that unless you have a large social media following or have social media marketing experience, this likely won't work out too well.
Posting to your personal social media accounts can be effective, but another approach to take is posting in Facebook groups that are relevant to what you are promoting, which can be very effective if done right.
Pros: No startup cost, easy, good income potential
Cons: Will likely need a large social following or experience, no guaranteed income
4. Through Email
Another option you have that works great for both affiliate and referral marketing is sending out ads/promotions via email. And no, I'm not talking about logging into your Gmail account and sending emails to a dozen or so people who you know. What I'm talking about is blasting out hundreds or even tens of thousands of emails at once to a large lists of people using an email service like Aweber or GetResponse.
If you have a website then you probably know about 'list building', which is when you get your website visitors to give you their emails... which add to your email list--whom you can then send emails to at any time.
However, most people don't have email lists. The good news is that you can actually purchase these online. The bad news is that it can cost a lot and isn't a very good choice (although some people do it and it works well).
Example: You have an email list of people who like dogs. You send out an email about some awesome new healthy vegan dog-food. Some people are interested and buy the product you are promoting, thus earning you a commission.
Pros: Promotions only to targeted people, can contact your list whenever
Cons: Most people don't have email lists, no guaranteed income
5. With a Blog
Just about every blog-type website you find on the internet is involved in some sort of affiliate or referral marketing, including my own. And the ones that aren't... well they probably are just unaware that such an opportunity exists or else they would be.
Have you ever been on a website and seen a button where you can "Check Price on Amazon" or just a general link to "click here to buy" or "click here to sign up"? Ya, these are affiliate or referral links most of the time.
It's effective and it works works great. Since a blog is all about writing and providing good content, what you do is write about whatever it is you want to write about and promote relevant products/services or opportunities.
Promotions could be subtle, such as writing a blog post about 'how to train your dog after buying an electric fence' and promoting some name-brand electric fence. Or, they can be much more focused, such as writing an entire review post about a brand of dog food and promoting it.
Placing ads like this on blogs can be very effective and a huge upside is that you can get free traffic from search engines, which can lead to a passive income opportunity... but the downside is that it takes a lot of work--you need a blog!
Pros: Effective, passive income potential, high income potential
Cons: Takes a lot of work, writing articles/blog posts isn't for everyone, not guaranteed income
6. On Youtube
Youtube is also another viable option that you see a lot of people using. If you like to get on camera and have the personality for this sort of thing then it may be worth considering.
It is free to use and Youtube is considered the second largest search engine, right next to Google--and is continuing to grow. It can be a great option and you will often see Youtubers monetizing their channels with affiliate and/or referral marketing.
Just think about it... how many times have you heard someone on Youtube say to "click the link down below" to buy a product or sign up for something?
And not only can you earn money from this, but you will also earn from the ads that Youtube displays on your videos.
Pros: Free, growing platform, can be extremely effective
Cons: Not every wants to be on camera, will take a while to grow a channel, not guaranteed income
Leveraging a Large Social Media Following
If you have a large social media following, whether it be on Facebook, Twitter, or Instagram, you will be able to leverage this with affiliate and referral marketing as mentioned above, but what you can also do is get paid to give 'shout-outs' and share other people's posts.
This is basically 'sponsored posts' on social media... where you get paid to post something on Facebook (for example) to promote another channel, a product relevant to your following, or whatever it is that someone is willing to pay you to post.
7. Sponsored Shout-Outs
A shout-out on social media is when you simply mention a product, brand, opportunity, etc. in a positive light.
If you have a Facebook page about funny cat videos that has grown to have tens of thousands of followers, you will naturally be contacted by companies looking for you to drive some traffic to them by giving shout-outs.
For this type of thing you will be able to charge whatever you want. There is lots of potential here but you will need a large following for companies to want to advertise through your channel like this.
Pros: Lot of potential, you set your own pay rate, no startup cost
Cons: You need a large social following, can't just start from nothing, not guaranteed income
8. Sponsored Shares
Posting ads for companies can also be as simple as sharing a post on social media.
For example: A cat product company might contact your popular Facebook page about funny cats to share a post that they recently posted on their page. The purpose of this could be to just increase brand awareness and get more followers or it could be more direct... such as sharing a post that is a product promotion.
You actually see this all the time on social media, just most of the time it is pretty much unnoticeable.
Pros: You set your own rates, plenty of potential
Cons: You need a large following, can't start from nothing, not guaranteed income (because you aren't guaranteed people will contact you for this sort of service)
Paid Ads
9. Running Pay-Per-Click Ads
Running PPC (pay per click) ads is something that anyone can start doing and knowing how to do this profitably can be a very good skill to have.
If you want to go at this alone you can combine it with affiliate/referral marketing... running ads on Google (Google Adwords) and other search engines to promote products for various brands and hopefully earn commissions.
Doing this correctly (profitably) can be a challenge. But the good thing is that once you find that profitable sweet spot, you often can simply increase your ad spend to increase your earnings. You don't need to naturally gain a social following, create a blog, wait forever to have a bunch of subscribers on Youtube... instead you just pay for traffic instantly.
Pros: Can be very profitable, easy to scale, can lead to instant profits if you know what you are doing
Cons: Can be very expensive, isn't easy to run a profitable ad campaign, not guaranteed income
10. Managing Company Ad Campaigns
If you have experience running PPC ads you could sell your skills to companies, running their ad campaigns for them. So instead of running your own ads promoting products via affiliate marketing, you are getting paid by companies to run ads for them, sometimes on a per-project/campaign basis.
There are different ways to do this, but what I'm talking about here is freelance, where you can set your own pay rates.
If you go on sites like Fiverr you will see plenty of people advertising their ad managing services...
There is lot of money to be made here but anyone who does freelance work like this knows that it is difficult when you start out and are trying to get your first clients.
Pros: Good potential
Cons: Need to have experience, hard to get started on freelance websites without a reputation, not guaranteed pay (because you aren't guaranteed clients)
'Real' Advertising Jobs
11. Work for a Company Running Ads
Up until this point every method of getting paid to run ads for companies has been some sort of independent contractor work... where you are not guaranteed any pay. And while these all have great income potential, failure rates are high without a doubt.
If you are a traditional type of person looking for more traditional style work, then the best option would be to find a real job... working as an employee for a company.
There are tons of job board sites out there where you can find advertising jobs: ZipRecruiter, Indeed, Monster, etc.
A quick search for "advertising" jobs on ZipRecruiter brought up well over 100k results for me. And even when I searched for jobs in my area there were over 600. Some of the jobs you can find are entry level while others require a great deal of experience. If this is what you are looking for it's worth doing a few searches to see what comes up.
The upside to jobs like this is, of course, job security and knowing how much money you will make... but one of the big downsides is that you will need education and/or experience or else you likely won't get hired by anyone.
Pros: Job security, salary or hourly wage
Cons: Need experience and/or education, limited earning potential
Offline Advertising
When you think of posting ads you probably think of doing it from the comfort of a computer, and maybe sitting on your couch as you relax. But, there are a few easy ways to make money posting ads for companies OFFLINE.
12. Post Ads on Your Car
Have you ever seen cars driving around with large decals promoting different brands? It is logical to think that these people work for the companies, but a lot of people you see driving around with such are just normal people... who are getting paid to have ads posted on their cars.
Carvertis, StickerRide, etc... there are lots of different websites you can go to in order to sign up to cash in on this opportunity.
You will get paid based on where you live, how much you drive your car around in public, what type of car you have and so on. Of course if you have a nicer car you will be able to get paid more.
*If you have a car like that pictured above then this probably isn't going to work
Pros: Passive income, no work required
Cons: Won't earn much, need a car
13. Get a Tattoo
Don't worry, I'm not talking about a permanent tattoo that is going to stay with you the rest of your life... although you could probably get paid a heck of a lot more for such.
You won't have to walk around with the ugly logo tat on your forehead forever.
What I'm talking about is getting paid to wear temporary tattoos, which you can sign up to do at places like LeaseYourBody.com.
There have been people who have made 10's of thousands of dollars with this, although these are extreme cases and this definitely shouldn't be expected.
Pros: Very easy, passive income, temporary
Cons: Probably won't make much, strange looks from other people guaranteed
14. Wear a Shirt
If getting a tattoo, although temporary, is too extreme for you then you may be more interested in simply wearing a t-shirt. We all wear shirts already anyhow... so what have you go to lose?
There are websites like TeesPay that you can join to get in on this opportunity, but you will probably have to join a waiting list because I guess there aren't all that many advertisers willing to pay for this method of advertising yet.
Additionally, at times you will find companies running their own advertising campaigns and paying people directly to wear clothing with their logos and what not. Cracked did this a while back, but it involved more than just simply wearing their shirts and probably isn't the best example.
Pros: Very easy
Cons: Low income potential, not much opportunity
Scam Warning
Fake job scams in this category are actually pretty common so it's important that you know what to avoid.
Many opportunities are promoted as ways to make easy money "posting links" for companies. If you ever come across an opportunity that says you can make high amounts of easy money, and it just sounds too good to be true... it's probably best to avoid it.
And if you ever have to pay for anything upfront... avoid!.. unless of course you are doing freelance work that requires you to pay for things on your own beforehand, such as setting up a website, paid ads, etc.
Final Thoughts
There are many ways to get paid to post ads for companies, more or less, and I hope this post wasn't too overwhelming. I know I covered quite a lot.
What the best choice for you is depends on what exactly you are looking for. While great opportunities like affiliate marketing are easy and very low cost to get involved in... they are not something you can start making good money with right away. And while working for an actual company as an employee will provide you with good pay from the start, there is less potential and freedom with this.
So they all have their upsides and downsides.
One of the best opportunities, in my opinion and based on my experience, is affiliate marketing. I've been doing this since 2015 and actually make a living doing so. If interested, you can check out this program that I use to get started... just don't expect to make money fast.
Also feel free to take a look at my top picks for making money from home.
Click to add text or drag and drop element from right hand panel