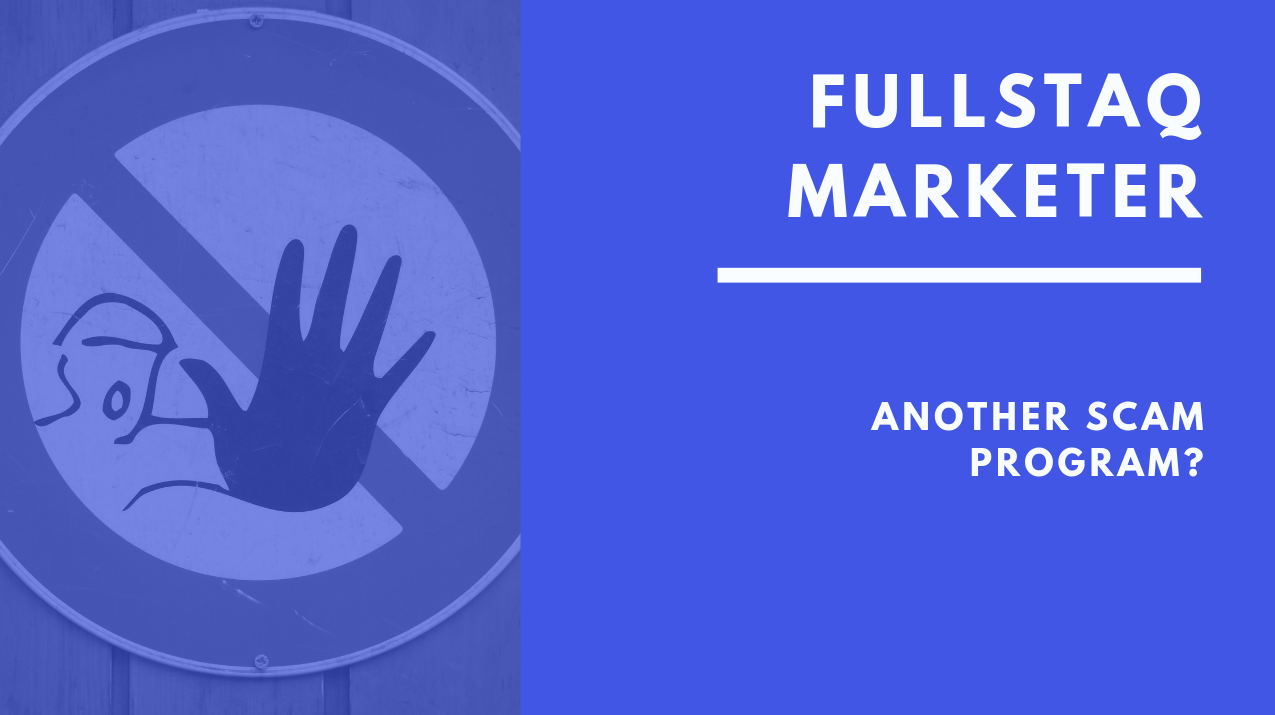 Is Fullstaq Marketer a Scam by Keala Kanae? – Read Before Joining!
Fullstaq Marketer is Keala Kanae's newest program for making money online, and unfortunately just about every review out there (at the time of me writing this) is a bunch of BS that is just promoting it as the greatest thing to bless this Earth.
But is it really that good? Or is Fullstaq Marketer a scam you should avoid? This is what we'll be getting to the bottom of in this quick review.
Fullstaq Marketer is a complete re-brand of his older system called AWOL Academy. According to a press release on PRWeb, Keala Kanae and his partner who were running AWOL Academy together parted ways due to differences in future visions for the program--and Keala then went to on to create this new Fullstaq Marketer program.
Some reviews out there are ranting and raving about how great this new system is, such as that from 'Mark' at NOBSIMREVIEWS, but this guy is well known for writing the absolute worst reviews on the planet and funneling people into his "#1 Recommendation".
From what I have seen in my research there isn't any solid information on this new program yet--just a bunch of BS promoting it, like I said.
What Is Fullstaq Marketer?
It is going to be an educational program for people who want to become internet marketers and make money online--and it is said to have it all, meaning that it is going to have training on all the important aspects of online marketing so that you can develop a good well-rounded set of skills.
Keala claims that only 3% of people finish internet marketing courses and with this new program he hopes to improve on this statistic.
I have no idea where this statistic comes from in the first place and to be honest it doesn't really mean much to me. A lot of people don't finish because they are often forced into purchasing some ridiculously priced $1,000+ membership or digital product to continue.
*I wouldn't be surprised if this statistic comes from members of Keala's past program, AWOL Academy, which was an extremely expensive high-ticket program that I could easily see only 3% of people "completing".
That said, maybe Keala is taking Fullstaq Marketer in an entirely different direction--because he claims he wants this program to be above the deceptive advertising practices that you often see for "make money online" programs--the ones that lure people in with high expectations only to let them down. Maybe this is one of the reasons he decided to quite AWOL and go his own direction--because in my opinion AWOL Academy was part of the shady side of the online marketing education world that he talks about.
Who Is Keala Kanae?
Since he is the creator and all, I think it's a good idea to talk a little more about this man.
If you look up reviews about him you will likely find a fairly long list of complaints--many of them about his ridiculously long 3 hour "training" webinar that is just a funnel to buy the first of a series of higher priced products starting at $99 (which is for AWOL Academy).
There are a heck of a lot of complaints about him and AWOL Academy. People just don't care for the shady marketing tactics he often employs to lure people into his programs.
I understand that people more often than not leave negative reviews on sites like SiteJabber, but I've been reviewing online "money making" programs for years now and I know exactly what these people are talking about when they say he uses deception as a marketing tactic.
How It Works
There seems to be a lot of emphasis made by Keala on making this system better than past systems for completion rate. One of the ways he is said to have improved this new re-vamped version of AWOL Academy is by adding in 'gamification' features, pre-assessments, quizzes after each lesson, exams to monitor comprehension and more.
Members will be encouraged to complete the material throughout the courses in bite-sized pieces and will be rewarded throughout the journey--and will be able to track their progress to know that they are understanding everything before moving forward.
The training is broken down into stages and members are rewarded with points and badges after completing different areas and showing that they comprehend the material.
This is great because I know how easy it can be to get confused on the little things when you are just starting out--then you feel you aren't really getting things (understanding things) and might end up quitting too early.
Also, it has been said that it is going to have an "unprecedented" amount of camaraderie from the community of other members. We'll see how this plays out, but if it is true then that is great. The online marketing training program that I'm a member of (Wealthy Affiliate--which I highly recommend) has a very lively community with a lot of interaction among members--which I consider to be almost as valuable as the training.
The Focus of The Training
As you might be able to guess from the name "fullstaq" (fullstack), the overall goal of this training program is to provide members with a very well-rounded program--so that they can learn all the key aspects of internet marketing and actually go out and make money without being reliant on any one program, method, etc.
Sales funnels, increasing conversions, traffic generation, etc.--this will all be covered.
My guess is that there will be the most focus on affiliate marketing--which is when you promote products online and earn commissions doing so--and I'm sure he will probably push people to promote his Fullstaq Marketer program just like he did with AWOL.
What Happens to AWOL Members?
This is a really good question--what will happen to members of AWOL Academy?
Will they be abandoned and forgotten as Keala moves over to his new program? Will they be given some sort of discount to the new program or given free membership?
Who knows!
The strange thing is that (as I'm writing this) it is still possible to buy into AWOL Academy, even though this is supposed to be shutting down and Fullstaq Marketer is supposed to be launching.
Conclusion
I could make up a bunch of crap to fluff up this review and make it seem more complete, but that wouldn't be very ethical. The information I'm providing here is based on the limited amount of information that exists about this program right now.
There are still a lot of unknowns and unanswered questions. The program is very new and there just isn't much to be said about it yet.
Will Fullstaq Marketer really help change the horrible reputation of the "make money online" industry?
Who knows... but my best guess is probably not. If anything it will probably just add to the bad reputation if it follows in the footsteps of its predecessor (AWOL).
What do you think about Fullstaq Marketer? I always appreciate comments and questions left from my readers 🙂 Also, if you have any additional information that I could add to this review, be sure to let me know!
Before you leave...
Here is my "#1 recommended program" for making money online. I got started with it back in 2015 and have since been able to turn it into a full-time money-maker.