Is Constant Contact a Scam? – Read Before Signing Up
You might have heard some rumors that Constant Contact is a scam, along with people telling you to avoid this place. But is it really? Is Constant Contact a scam or have the people complaining just had unusually bad experiences and/or are just the type of people that like to call everything a scam?
They do have an A+ rating with the BBB, which definitely does not fully answer the question, but is a good sign nonetheless.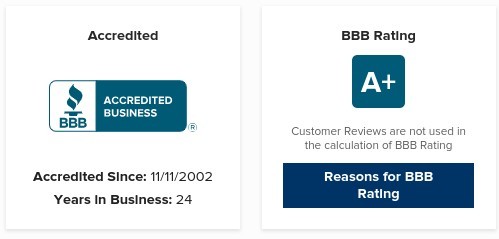 In this quick review we'll be taking an open-minded look at this email service and seeing what all they have to offer, how they compare to other services out there, some of the more common complaints (from people calling it a scam) and more.
Let's dive into it…
Overview of Constant Contact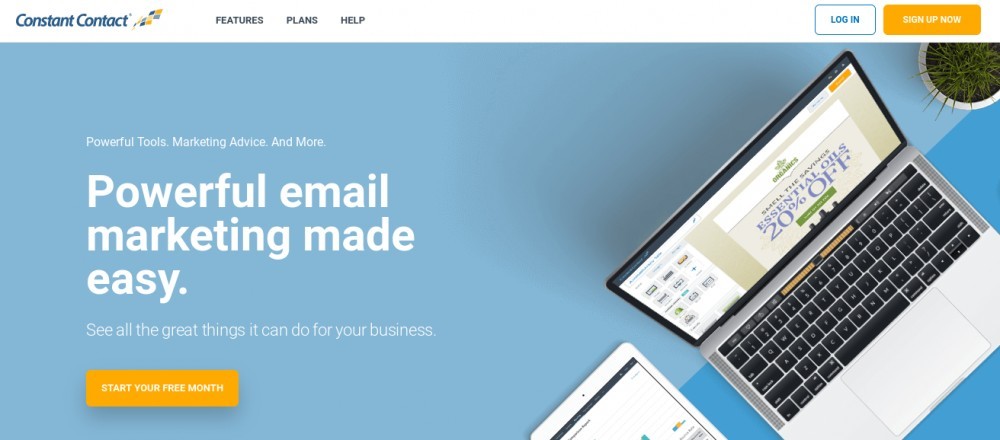 You are probably already well aware–Constant Contact is an email service for small businesses. What it allows you to do is blast out emails to large lists of people with ease, so that you can convert them into customers or keep them returning for more.
Gmail is great for ordinary folks, but certainly doesn't come close to cutting it if you are dealing with a business.
Overall CC is a pretty good service and excells in some area, but lacks in others–making it a good choice for some but a not so good choice for many others.–we'll get into this more–but let's first talk about the prices…
Prices
CC has 2 plans, Email and Email Plus, which start out at $20/mo and $45/mo respectively.
They also have a free trial for the first month, which is a pretty decent length for a free trial, but you may want to proceed with caution after reading the complaints in this review.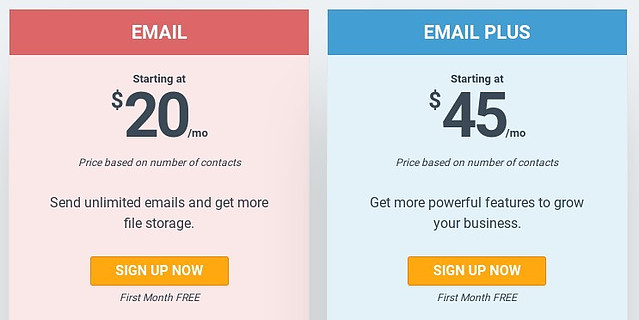 The prices start out at $20 or $45 per month, but that is only if you have 0-500 subscribers. The more subscribers you have the higher the price goes. Below you can see the increasing prices for both plans as your subscriber list increases…
Email
$20/mo for 0-500 subscribers
$45/mo for 501-2,500 subscribers
$65/mo for 2,501-5,000 subscribers
$95/mo for 5,001-10,000 subscribers
$195/mo for 10,001-15,000 subscribers
$225/mo for 15,001-25,000 subscribers
Email Plus
$45/mo for 0-500 subscribers
$70/mo for 501-2,500 subscribers
$95/mo for 2,501-5,000 subscribers
$125/mo for 5,001-10,000 subscribers
$195/mo for 10,001-15,000 subscribers
$225/mo for 15,001-25,000 subscribers
*Surprisingly the price is the same for both plans when you get above 10,000 subscribers–or at least this is how it is listed on their website–which is strange. Why would it be this way? Who knows. What would be the point of staying with the Email plan when you have over 10k subscribers when you could go with Email Plus for the same price? There wouldn't be any point.
You can get a small discount of 15% on either plan if you signup for an expented period of 6-12 months.
Features
Unlimited Emails
Customizable Templates
Branded or Industry Templates
Ecommerce Basic
Automated Abandon Cart Email (Shopify)
Contact List Import
List-Building Tools & Welcome Email
Pop-Up Forms
List Segmentation
Facebook Lead Ads
Marketing Calendar
Image Library
Apps & Integrations
Tracking & Reporting
Mobile App
Support & Chat
Learning resources
Automated Email Resend to Nonopeners
What Separates Email Plus from Email
In addition to everything listed above, Email Plus offers more advanced Ecommerce features where products can be added directly from a Shopify store, customizable popups, A/B subject line testing, event marketing features, and a lot more automation with features such as the automated email welcome series and automated email behavioral series.
Complaints
The whole goal of this review was to see whether or not CC is a scam–and up until this point it does not seem like such–so let's dive into some of the complaints and see why people are calling it a scam in the first place.
Independent review sites like SiteJabber are good places to find a number of complaints left from the public. On These websites anyone can easily leave reviews and–while you can't trust everything you read–it is still a good source of information.
Some of the more common complaints we came across include the following…
Unauthorized Charges
This seems to be the main reason for people calling CC a scam–getting charges on their credit cards when they didn't know they were going to get them. This mostly seems to be coming from people signing up for the "free" trial only to be surprised when they start getting billed on a monthly basis shortly after.
There are also a few people complaining about the price of their plan increasing without them knowing, but this could easily be due to an increasing subscriber count on their part and the price increasing according to that described above.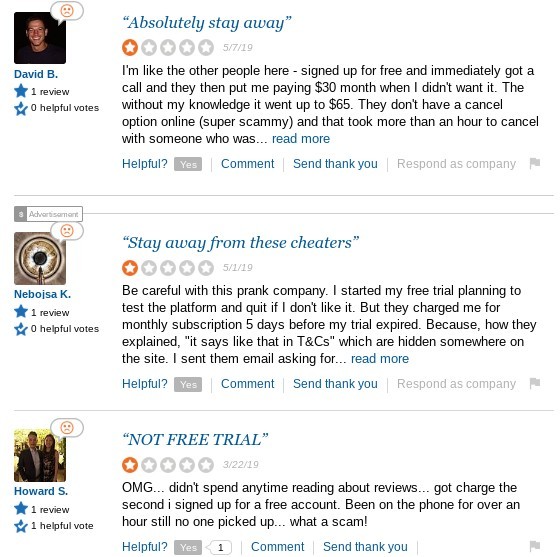 Frozen Accounts
There are also a few complaints I found from people claiming that their accounts have been frozen and even shut down for no reason, but this seems to be a much more rare occurrence and it's nothing that you should be concerned about.
Even with all of the negative reviews, the overall rating on SiteJabber is still a 3.5/5 star rating with over 100 reviews left (at the time of writing this), which really is not too shabby, especially considering the fact that most people leaving reviews on these types of websites are doing so to complain about things.
Lack of Automation
This isn't so much a complaint you will find from customers, but something that we noticed and you should be aware of–which is the lack of automation that CC offers.
We are more specifically telling you about the lower level 'Email' plan, which really doesn't offer much in the way of automation at all–besides an automated welcome message.
Sure, you can upgrade to the Email Plus plan to get a lot more in the way of automated features, but this becomes a lot more pricey and just not the best deal if you are really looking for an email service that provides good automation.
Constant Contact vs Other Services
If it is automation that you are looking for then a service like Aweber would probably be a better choice–which is an email service that many people simply call an 'autoresponder'. Here you can usually set up a series of messages to go out after someone joins, automatically, and the prices are much lower than that of CC if you wanted comparable automation features.
MailChimp is another good choice, and is by far one of the most popular choices out there–one of the big reasons being that they offer a free plan for up to 2,000 subscribers that is pretty darn good.
Who CC Is Best For
There are some ways that CC excels. For example, they have an event marketing feature in which you can manage events with custom invitations, online registration, pavement collections, Etc–and also have a survey feature which not really any other email service offers.
Scam or Not?
While there are a few people who have had some pretty negative experiences with Constant Contact, we see no reason to call this place a scam. They do provide a legitimate service and certainly are not going to risk ruining their 20+ year old reputation by scamming people out of their money.
We understand that it seems like a complete scam to sign up for a free trial and then be charged, but there has to be some sort of explanation for this–and many of the people complaining about such occurrences may have been able to receive refunds which we might not know about.
Conclusion
Constant Contact is one of the many email service providers for small businesses, and is good for many reasons, but it's probably not the best choice for the majority of small businesses out there. While they do provide some unique features such as event managing and surveys, that pretty much no other email service provides, they're definitely lacking in the automation department–which is probably where many small business owners would like to see the most features.
Have you tried Constant Contact? What has your experience been like? Would you recommend them to a friend?
We love to hear from our readers and would really appreciate any reviews, comments or questions left below 🙂