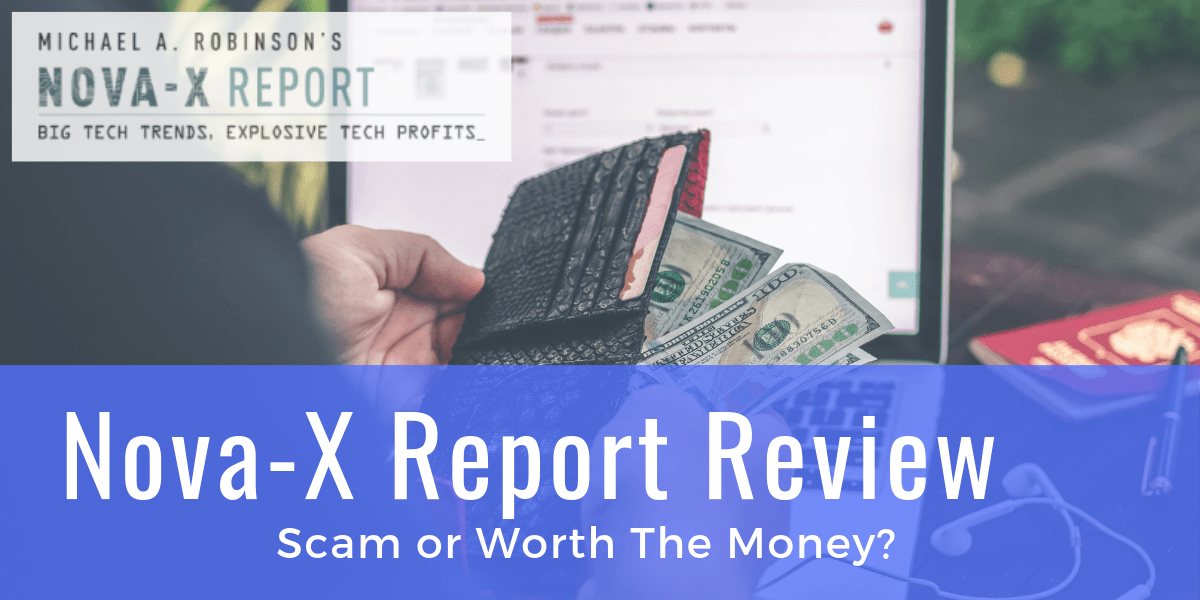 Nova X Report Review- Scam Newsletter or Worth Buying?
Michael Robinson claims that by subscribing to his Nova X Report you will be able to jump in on investment opportunities that could bring you up to 10x gains.
There is a lot of hype surrounding this newsletter and in the promotional material he makes it sound like subscribing would be the best decision you ever make, but is his report really all that great?
Is Nova X Report worth joining or is this nothing more than another scam newsletter it would be better of avoiding?
In this review I'll be dissecting everything about this newsletter so that you know exactly what you are looking at here.
Let's begin...
Nova X Report Review
Name: Nova X Report
Product Type: Investment newsletter
Chief Editor: Michael Robinson
Publisher: Money Map Press
Price: $299/yr
Recommended?: For some (more on this)
Overview
Nova X Report is an investment newsletter by chief editor Michael Robinson that provides recommendations for investments in the tech industry (mostly) that have the potential to bring in large gains.
Members are provided with updated information and new recommendations on a regular basis as well as alerts if things take a turn for the worse or if a new opportunity opens up that is urgent to get in on.
Basically this investment newsletter allows people to follow along with the recommendations Michael makes so that they can make smart investments, even if they have no idea what they are doing (although it is always recommended to do your own research and not just blindly follow recommendations from someone else!).
*Note: There are a lot of recommendations made for investments in the cryptocurrency and cannabis industry too, but these are usually in "special reports" and not in the core newsletter.
The Sales Pitch
There have been and will continue to be many sales far-fetched pitches luring in new subscribers to this newsletter.
Since you are reading this review now there is a good chance you came across one.
As I'm writing this the current sales pitch is an opportunity to cash in on the upcoming "$12 trillion 5G cash rush"...
Basically it is a teaser promotion that is very lengthy and keeps teasing some investment opportunity for a company that is supposedly going to explode in price--and in order to get this "free" report with all the information about the company you should invest in, you first have to subscribe to Nova X Report.
Sneaky, I know. They promote a "free report" but then force you to pay for a subscription in order to get the "free report".
While this is only one example of a sales pitch promoting this newsletter, they are all laid out in the same manner.
What You Get
12 Monthly Editions of the Nova X Newsletter - This is the bread and butter of what you get as a subscriber. In each monthly newsletter (digital and/or print) you will get a very detailed report on what opportunities Michael is looking into. These provide plenty of information on new investment opportunities and really give you are good look into how he identifies and analyzes, which can make you a better investor yourself.
Weekly Briefings - These weekly briefings will give you a nice layout as to where the market is at and where it might be heading, as well as updates on recommendations made and how they are going.
Alerts - If it's time to jump on an opportunity or something goes unexpectedly wrong, you will receive an alert explaining what exactly to do... what to buy/sell and when, etc.
Audio/Video Briefings - This consists of recordings that come straight from the source, meaning the companies that are being looked into as investment opportunities. This could consist of interviews with company execs and things of this nature.
Members Area - Here is where you will be able to access everything that Nova X Report has to offer. You will find all the past newsletters, briefings, etc. and will be able to monitor the performance of how the portfolio recommendations are going as well.
Concierge Service - This is just a fancy term for the support team that is working behind the scenes to answer your questions and manage members' subscriptions. If you have any questions or troubles you can always contact them--but it's important to note that this service does not provide investment advice, only help managing your account, subscription, technical issues with logging in, etc.
Bonus Reports - While these aren't guaranteed and aren't actually part of the service, there are almost always some sort of bonus reports being offered if you subscribe to the Nova X Report. These are usually some sort of report that gives you information about some big investment opportunity coming up--and are usually very over-hyped.
Cost
Unlike many of the other investment newsletters out there that have different membership levels, this seems to have only one and the price is $299 for a year.
$299 is quite a bit of money but according to the checkout page what you are getting is valued at $745, which means that $299 is one heck of a discount. This is because of all the bonuses that they throw in.
However, it is very difficult to place a price tag on services and information like this, and this discount is likely just a marketing stunt. I doubt they ever charge full price (or what they tell us is full price).
Money Back Guarantee
The good news is that there is a 60 day money-back guarantee. They make it sound very simple to get your money back--if you simply don't like what you see you can request a full refund within 60 days.
*Note: There are some complaints I'll go over from people who claim it isn't that easy to get your money back.
Recurring Payments
One thing that is worth pointing out that everyone needs to be aware of is that when you subscribe here you will automatically be billed again when the next year comes around.
A year is a long time away so don't forget this. If you do join be sure to mark your calendar so you aren't surprised when you are billed again or so you don't forget to cancel before being billed if you no longer want the service.
What's The Track Record Like?
Unfortunately there is no good source of information when it comes to finding out the historical performance of recommendations made in Nova X Report.
Newsletters like this are notorious for being promoted in misleading ways... boasting of past profits made but conveniently leaving out any losing recommendations made.
On StockGumshoe they have over 100 votes from subscribers with an overall investment performance rating of 3 out of 5 stars, which really isn't that bad in my opinion...
But this still doesn't give a clear picture of how the track record is.
It would be nice if the company would make this information readily available to the public. But maybe being transparent like this would hurt sales... which isn't a good sign because it leads me to believe there are some things they don't want us to see... some not-so-good things..
Who Is Michael Robinson?
Its always a good idea to look into the people behind newsletter services like this. Who is Michael Robinson? Is this guy even qualified to share his stock recommendations?
Well, yes he definitely is. Mr Robinson spends much of his time today researching new investment opportunities to keep subscribers of this Nova X Report ahead of the masses, but before all of this he was in the trenches.
His past work includes consulting, working as a senior advisor and board member for venture capital firms in Silicon Valley, which he claims gave him a "different way of evaluating startups than a standard financial analyst".
And not that it matters, but besides his involvement and knowledge in the industries which many of his recommended investment opportunities come from, he is also a blues guitarist and a NRA distinguished expert in shotgun, pistol and rifle.
The Company Behind It All
The publisher of this newsletter is a company called Money Map Press, which is actually owned by a larger company named The Agora, which is a massive company that owns just about all the investment newsletter companies including: Agora Financial, Stansberry Research, The Oxford Club and more.
That said, Map Money Press, although owned by The Agora, is independently run out of Baltimore Maryland, address:
1125 N Charles Street
Baltimore, MD, 21201
Toll-free: 1-888-384-8339
International: +1-443-353-4519
Nova X Report is just one of the many newsletter services they offer and they also provide a variety of trading services, elite services and memberships.
As I'm writing this I'm not able to see their rating with the BBB because the company information is being updated. But you can click the link above to see if it's available at the time of reading this.
Reviews and Complaints
Newsletter Complaints
Much of these complaints were found from subscriber reviews left on StockGumshoe, which is an excellent source of reviews for investment services like this.
Some of the more notable complaints include the following:
Horrible "Award Winning Concierge Service" - There are a fair number of complaints I've come across from people who have had one heck of a time trying to cancel a subscription. It appears that their "award winning concierge service" might have won an award for being absolutely awful.
Up-sells - If you join one of the lower cost subscription services they offer you will likely receive promotions in one way or another (by email for example) for some of their higher priced options.
These can get annoying and the complaints about it reflect this.
Losing Investments - Even though these recommendations are made by someone who has a lot of knowledge picking winning stocks, there is still risk involved and not everything goes as planned.
Apparently some of the marijuana stocks he was really teasing (in a teaser to get subscribers for the Nova X Newsletter) didn't go in the right direction and there are quite a few unhappy subscribers...
Ridiculous Teasers - Anyone who has come across one of the sales pitches (teasers) for Nova X Report knows how ridiculous they can be. They are always misleading at the very least and sometimes filled with small lies.
What this creates is a bunch of subscribers subscribing based on information that isn't entirely true... and then leads to unhappy members and a bunch of complaints.
Why do they have to market their services in such unethical ways? Who know... but this is the way they do it.
General Company Complaints
On Pissed Consumer the company Money Map Press has around 130 reviews with an average rating of 2.3 out of 5 (at the time of this review).
This obviously isn't too good but this website is usually where 'pissed' consumers go to complain about things, so it's usually expected that ratings are low.
That said, there are some complaints worth addressing, such as people claiming to receive unauthorized charges, not having any success with the money-back guarantee...
... and of course there are some complaints about the slick marketing tactics used to lure subscribers in.
Is Nova X Report a Scam?
Nova X Report is not a scam but I guess this all depends on how you look at things. If you are able to look past all the crap and ridiculous marketing material they throw at you then you will see there is definitely underlying value.
However, a lot of people are sucked in from the deceptive marketing tactics used and these people often feel scammed because of how they were mislead to subscribe... and I understand this completely.
Again, why Map Money Press has to use marketing tricks like they do is beyond me. It would be nice if they were to just promote their various services in honest ways.
Pros v Cons
Pros
Subscribers don't need knowledge or experience (although it helps)
Michael Robinson is an expert with lots of experience and knowledge in the industry
Provides detailed information on investment opportunities in laymen's terms
Nice breakdown of monthly, weekly, and urgent reports
Cons
Misleading promotions
Risk involved (as there is with any investment opportunity)
Need extra capital to invest
Support doesn't seem to be that great
Conclusion - Worth Subscribing To?
If you can find it in your heart to look past the deceptive marketing teasers and all then you will see that the Nova X Report really is a good product with good value.
While it may not be all that special to an experienced investor that knows how to dissect and analyze new opportunities, it certainly can help out new investors who don't really know what they are doing or people who have full-time jobs and don't have the time to do a bunch of research on the endless opportunities out there.
The detailed monthly newsletters, the weekly reports keeping subscribers updated on the market, the alerts sent out when time is of the essence... these are all very valuable and Michael Robinson and his team do a good job overall.
Recommended: Stock Advisor - one of the very few investment advisory services that I actually recommend.
*Don't forget that there is always risk involved and not all of the recommendations made in this newsletter go on to make gains.
I hope you enjoyed this review and found it helpful. If you have any questions or comments please leave them below and I'll get back to you as soon as I can 🙂